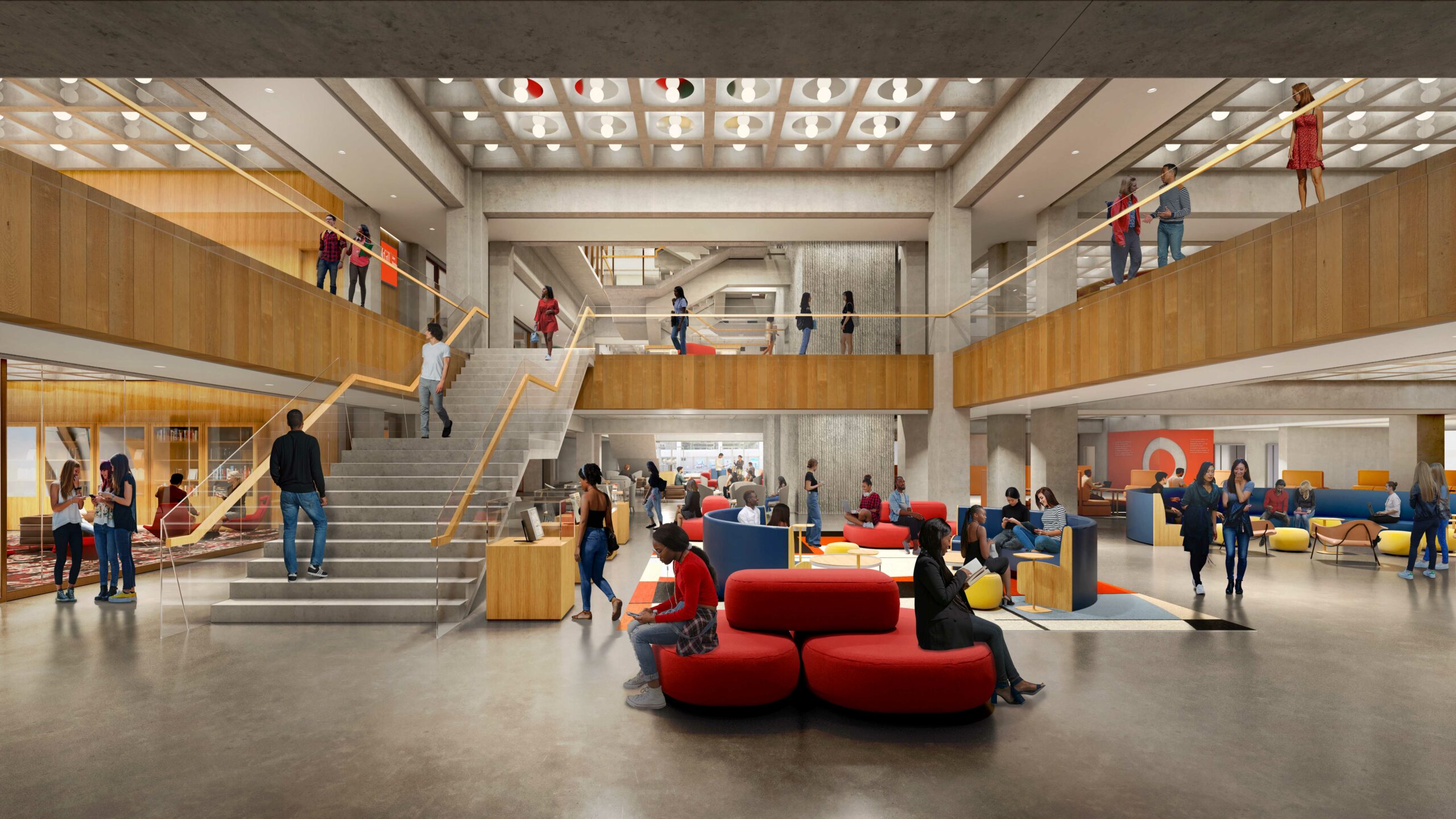 The McLennan Library Building is an iconic presence on the downtown campus. Generations of students have burned the proverbial midnight oil within its concrete brutalist walls since the building opened in 1969.
But a lot has changed in the last 50 years, and what worked well to serve 14,000 students back in the day isn't necessarily the best fit for more than 40,000 students today. Students now struggle to find daily study space, a challenge made even harder during exam crunch time. And that's just for traditional solitary studying, and doesn't account for the growing need for space that facilitates collaborative group work.
As outgoing Trenholme Dean of Libraries Colleen Cook prepared to pass the torch to new Dean Guylaine Beaudry, the pair took the time to update the McGill community about two major parallel infrastructure projects—a new Collection Management Facility and Fiat Lux—that, together, will nearly double the space for students and create a vibrant library environment space that is accessible, comfortable, safe, and sustainable.
New Collection Management Facility under construction
Space issues always involve a trade-off, and increasing study space in the McLennan-Redpath complex is no exception. McGill Libraries are blessed with some 3.9 million print books and 5.3 million e-books. However, as discovered through an extensive analysis, 48% of that collection has not circulated in 30 years.
Books will always play a central role in the life of the Library, but it no longer makes sense to devote a large footprint on campus to keeping print media that isn't in high demand. At the same time, McGill needs to fulfill its mandate to preserving and making available deep, unusual collections for humanity. To this end, construction is already well underway on a new Collection Management Facility in the Industrial Ecopark at Salaberry-de-Valleyfield, just off-island. By moving a large portion of the University's print collection to this new facility—which will be carefully climate-controlled, therefore better preserving the materials—the Library will be able to repurpose prime in-library real estate to better serve the needs of today's students, faculty and researchers.
The 40,000 square-foot building is scheduled for completion in December 2022, at which time work will begin on installing a semi-automated robotic retrieval system. Once in operation, library users will be able to request stored materials online, and the materials will be delivered to the downtown or Macdonald campus within 24 hours.
The retrieval system is anticipated to be finished by mid-2023, when the Collection Management Facility will be ready to receive print materials and the ingestion process will begin. Library systems will keep track of items during the move and will manage loans thereafter. As of mid-2023, the collections from the McLennan & Redpath Library Buildings will become inaccessible to allow materials to be systematically moved and filed in the new facility over the next 6-8 months. Because all McLennan-Redpath holdings will be unavailable during this time, the Library will prioritize processing inter-library loan (ILL) requests from the McGill community.
All told, over 2,3 million physical items from the McLennan-Redpath collections will move to the Collection Management Facility. Materials held in other McGill library branches, such as the Schulich Library of Physical Sciences, Life Sciences, and Engineering, Nahum Gelber Law or Marvin Duchow Music libraries, will remain at their locations and be available as usual during this time.
"We want to encourage instructors to start thinking about what materials they'll need for 2023-24 if they can," says outgoing Dean Cook. "If someone is teaching a course this year, and they know they'll be teaching it again in 2023-24, they can hold on to those materials for next year. If you are an instructor who now knows what items you will need next year, borrow these materials now and hold on to them. We'll always be able to get materials for you through ILL, but sign materials out now before the ingestion process starts if you can."
Fiat Lux Project: Growing brighter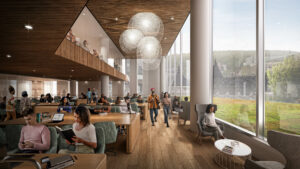 Fiat Lux is a project to transform the McLennan-Redpath complex into a light-filled, largely open-concept space that favours flexibility and multivalence to support different modes of learning, as well as health and well-being. The project anticipates including events spaces, informal learning spaces, ROAAr (Rare Books & Special Collections, Osler Library of the History of Medicine, Visual Arts Collection and McGill University Archives) and a Grand Reading Room. And, of course, lots of study space, with an expected 5,350 user seats.
Technology will be at the core of Fiat Lux, with state-of-the-art equipment as well as programming that will support users in engaging with digital tools and methodologies. A planned Digital Innovation & Scholarship Hub (DISH) will offer highly specialized software and collaborative workstations. (The renovated Schulich Library of Physical Sciences, Life Sciences, and Engineering, scheduled to reopen in June 2023, will include a smaller, pilot version of DISH to try out different ideas.)"The Fiat Lux project is about more than updating the facilities," says Prof. Cook. "It's about making the Library adaptable for whatever the future brings."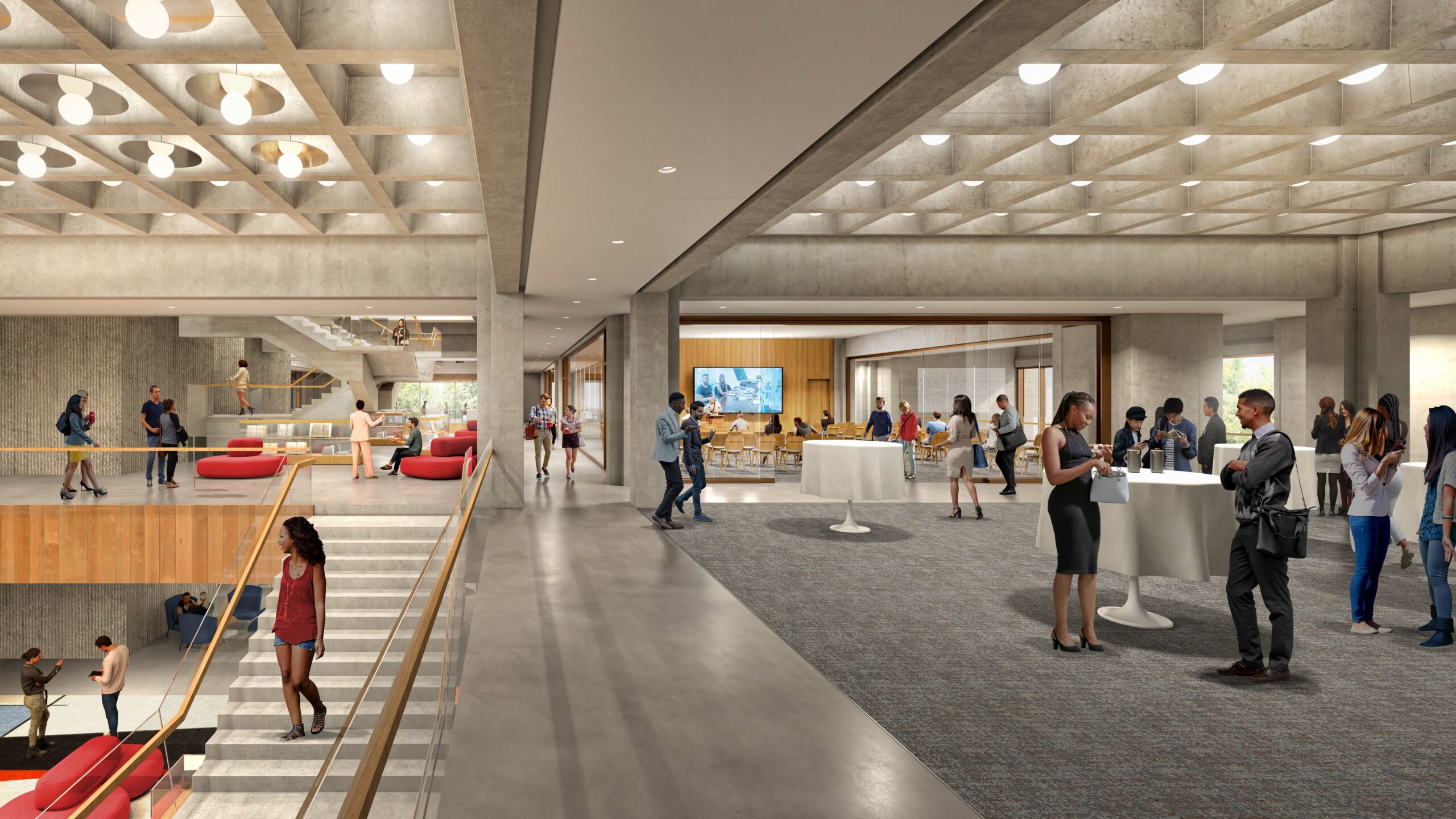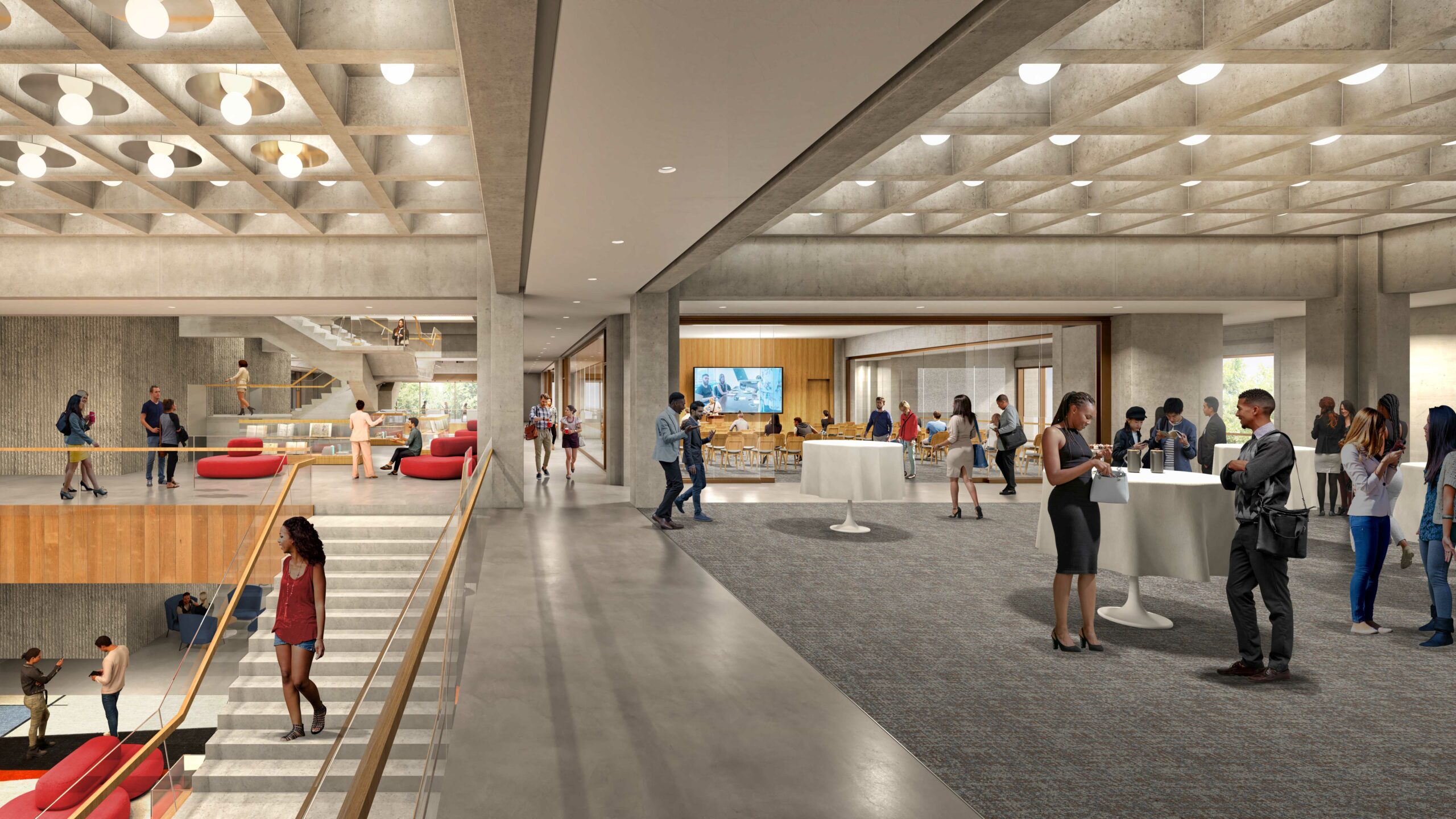 The project continues to move forward and discussions with provincial and municipal authorities are ongoing. Construction is currently anticipated to begin in early 2024, and will take an estimated three years to complete. Although the McLennan-Redpath complex will be closed during this period, the Collection Management Facility will be fully operational and the McGill community will have ready access to all materials. Librarians and staff will continue to provide their customary high level of service to the community from other downtown McGill Library branches. The Library is also exploring the creation of additional temporary satellite student study spaces and service points in other buildings on campus.
"Full steam ahead"
"We've talked about these two projects since 2012," says Prof. Cook. "Both continue to be works in progress and are moving full steam ahead. I want to thank everyone who has been involved with this work. Consultation sessions, feedback fairs, informal and formal conversations – all of it has been essential to the evolution of both initiatives. With each month that goes by, we get closer and closer to realizing this reimagined vision for Library spaces and services."
"I feel fortunate that I'm coming into this office with such a beautiful gift on the table for this community, thanks to all the hard work that's been done by many people over the past years," says Dean Guylaine Beaudry, who began her term on Sept. 1. "These projects will be wonderful contributions to the University."