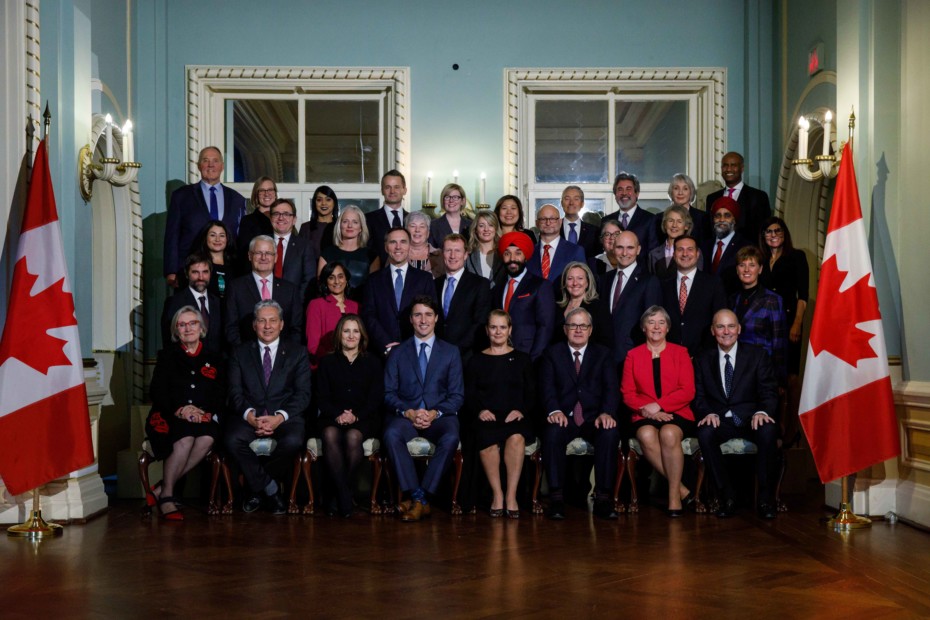 Prime Minister Justin Trudeau (BA'94) unveiled a retooled cabinet yesterday that, including himself, has six McGill alumni on it. The majority of the 37-member cabinet are MPs from Ontario and Quebec, four from British Columbia, one from Manitoba, and one from each of the Atlantic provinces.
"Today, I can introduce the strong, diverse, and experienced team that will work together to tackle the big issues that matter to people from coast to coast to coast," said the Prime Minister. "Whether it's making life more affordable for the middle class, taking action on climate change, or keeping our communities safe we will continue working tirelessly for all Canadians."
Marc Miller (BCL'01, LLB'01), is the only McGill rookie to the new cabinet, being named minister of Indigenous Services. A long-time friend of the Prime Minister, Miller previously served as the parliamentary secretary for Crown-Indigenous relations.
Miller, the MP for Ville-Marie—Le Sud-Ouest—Île-des-Sœurs, has devoted much of his time learning Mohawk. In 2017, he became the first person to deliver a speech in Mohawk in the House of Commons, doing it again earlier this year.
Speaking outside Rideau Hall yesterday, Miller said his file is an essential one. "We owe it to ourselves as Canadians to get this relationship right," he said. "It is an exceedingly complex one but it defines us as a nation, it defines us a people."
Miller's father Carman is an Emeritus Professor of History and the former Dean of Arts, and his mother Pamela is the retired history of medicine librarian at the Osler Library.
Lametti stays put as Justice Minister and Attorney General
Of the returning McGillian members of cabinet, David Lametti (BCL'89, LLB'89) is the only one who will keep the same portfolio. The Member of Parliament for LaSalle–Émard–Verdun, Lametti remains Justice Minister and Attorney General.
A long-time professor at the Faculty of Law, Lametti was elected MP for LaSalle–Émard–Verdun in October 2015. He served as Parliamentary Secretary to the Minister of Innovation, Science and Economic Development from December 2015 to January 2017. He was named Minister of Justice in January 2019.
Karina Gould (BA'10), the MP for Burlington, Ont., was sworn in as the minister for International Development. Elected in 2015, she served as the parliamentary secretary to the Minister of International Development and La Francophonie within the Liberal government. Gould was appointed minister of Democratic Institutions in 2017, making her the youngest female cabinet minister in Canadian history.
McKenna moves to Infrastructure and Communities
Representing Ottawa Centre, Catherine McKenna (LLB'99) was appointed minister for Infrastructure and Communities. Elected in 2015, McKenna was named minister of Environment and Climate Change in Prime Minister Trudeau's first cabinet. One of her first appearances as minister of Environment and Climate Change was at the 2015 United Nations Climate Change Conference in Paris.
On Twitter, McKenna took the time to look back and forward. "The past four years have been incredible. I'm honoured to have been Canada's first-ever Minister of Environment and Climate Change — and I'm so proud of everything we've done together," she said. "I'm excited to take on this new challenge. This is a critically important file — and the links to our climate are clear. I'm looking forward to working with partners across the country to realize the full potential of our infrastructure investments."
McKenna's old portfolio was assumed by Jonathan Wilkinson (MA'92), the MP from North Vancouver. Formerly minister of Fisheries, Oceans and the Canadian Coast Guard, Wilkinson was sworn in as the new minister of Environment and Climate Change. "As someone who entered politics largely as a result of the climate issue, I am honoured to be asked to take on these important challenges as Canada's Minister of Environment and Climate Change," Wilkinson said on Twitter.
Another McGill alumnus, Jim Carr (BA'79), was named special representative for the Prairie provinces. Carr, who represents the riding of Winnipeg South Centre, previously served as minister of Natural Resources as well as minister of International Trade Diversification. Following his re-election on October 21, Carr announced that he is being treated for a form of blood cancer, and asked to serve as a special representative for Alberta, Saskatchewan and Manitoba.