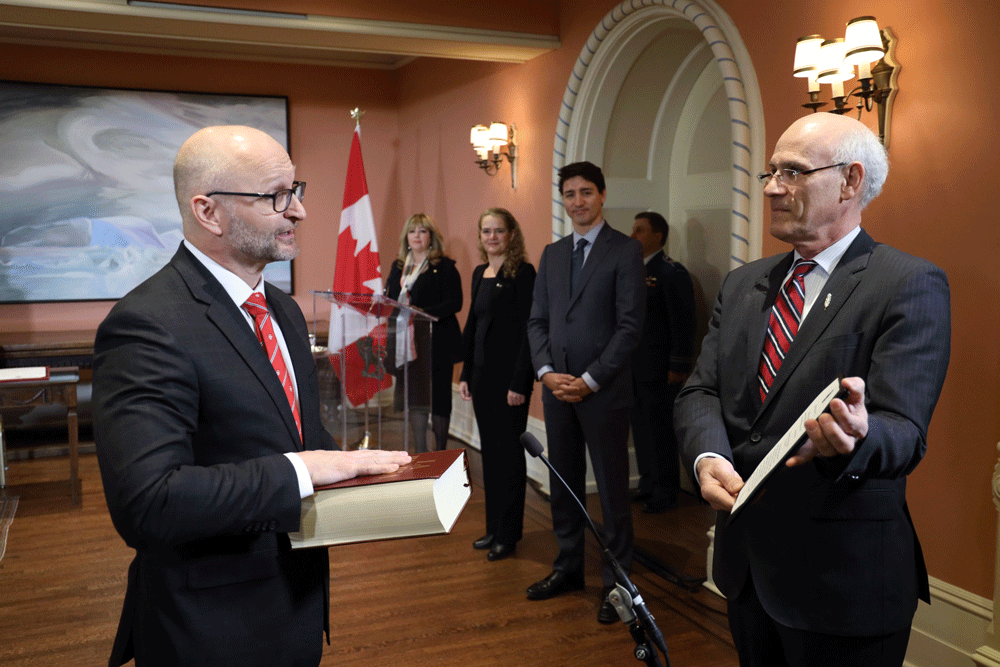 David Lametti, Member of Parliament for LaSalle–Émard–Verdun and a professor at the Faculty of Law (currently on leave), has been named Canada's new Minister of Justice as Prime Minister Justin Trudeau shuffled his cabinet in response to the sudden departure of Nova Scotia MP Scott Brison. Lametti was sworn in earlier this morning proudly wearing his McGill tie.
Lametti is one of five ministers and who were sworn in at Rideau Hall in Ottawa. Other cabinet moves include:
Jody Wilson-Raybould going from the high-profile Justice position to Veterans Affairs.
Jane Philpott going from Indigenous Services to Treasury Board, Brison's former portfolio.
Seamus O'Regan moving from Veterans Affairs to Indigenous Services.
Bernadette Jordan becoming Minister of Rural Economic Development — a new position on the front bench.
A long-time professor at the Faculty of Law, Lametti served as Associate Dean (Academic) between 2008 and 2011. He is a Member of the Institute of Comparative Law, and was a founding Member of the Centre for Intellectual Property Policy; he served as its Director from 2009 to 2012. A McGill graduate, Lametti received his Common and Civil law degrees from the University in 1989.
He is an internationally-recognized expert in property and intellectual property, and has taught or lectured in many of the world's most well-known universities in French, English and Italian.
Lametti was elected MP for LaSalle–Émard–Verdun in October 2015. He served as Parliamentary Secretary to the Minister of Innovation, Science and Economic Development from December 2015 to January 2017.
There are now six McGill grads in cabinet: Justin Trudeau (Prime Minister), Jim Carr (International Trade Diversification), Karina Gould (Democratic Institutions), Catherine McKenna (Environment and Climate Change) and Jonathan Wilkinson (Fisheries, Oceans & the Canada Coast Guard).