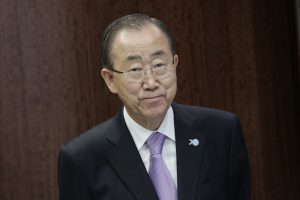 By McGill Reporter Staff
[Editor's Note: All the spaces are filled for this event but you are invited to watch the live webcast in the overflow room, Leacock 232. You can also watch on YouTube, beginning at 2:15 p.m. on Feb. 12.]
As part of his three-day working visit to Ottawa and Montreal, the United Nations Secretary-General, His Excellency Ban Ki-moon, will be on McGill's downtown campus on Friday, February 12, 2016. Ban will speak to a group of political science, law and international students from McGill and other Montreal universities. His speech will be on "Threats and Opportunities: The Power of Young People to Shape a New Future." The event will be webcast beginning at 2:15 p.m.
"We are honoured that Mr. Ban has accepted our invitation to visit Canada so early in the government's mandate," Prime Minister Justin Trudeau, who will be meeting with Ban in Ottawa, said in a statement. Trudeau has expressed his pride in Canada's involvement in UN human-rights and peacekeeping initiatives, and his wish to "restore Canada's voice and leadership role" within the organization.
"Secretary-General Ban has made invaluable contributions to the UN, in particular in spearheading real action on climate change and sustainable development, and in bringing global attention to key humanitarian crises," the prime minister said.
Born in war-torn Korea, Ban Ki-moon grew up watching the UN help his country rebuild – a formative experience that pushed him into a life of public service. He holds a bachelor's degree in international relations from Seoul National University, and a master's degree in public administration from the Kennedy School of Government at Harvard University. Prior to joining the UN, he spent 37 years working in South Korea's Ministry of Foreign Affairs and Trade. During that time, he held posts in Delhi, Vienna and Washington, D.C., and was responsible for portfolios that included Foreign Policy Adviser to the President, Chief National Security Adviser to the President, and Deputy Minister for Policy Planning and Director-General of American Affairs. This year marks the end of his second, and final, five-year term as the UN Secretary-General.
"He has achieved real progress on this generation's greatest global co-operation challenge, which he designated at the start of his mandate as his signature issue: climate change," said McGill political science professor Krzysztof Pelc, who will moderate a Q&A session following Ban's McGill talk. "Two months ago, Ban successfully shepherded world leaders to a breakthrough agreement where all countries committed to lowering greenhouse gas emissions. In doing so, he pulled out the global climate change regime from its prior failed negotiations in Copenhagen in 2009, and reached a deal that many claimed was politically unworkable."
"On migration issues, Mr. Ban has taken a very principled attitude and promoted the active role of the UN," said François Crépeau, a McGill law professor who serves as the United Nations Special Rapporteur on the human rights of migrants. "The organization of the High Level Dialogue on Migration and Development, in October 2013, and of the coming September 2016 Summit on Addressing Large Movements of Refugees and Migrants, as well as numerous statements and releases on migration issues, are a testament to his will to position the UN as a relevant forum where migration issues can be discussed by states and where solutions to dilemmas can be found."
During his Canadian visit, Ban will also meet Governor General David Johnston, Quebec Premier Philippe Couillard, and Montreal Mayor Denis Coderre. After his McGill address, Ban will meet with Montreal-based UN staff, including members of the Council of the International Civil Aviation Organization.