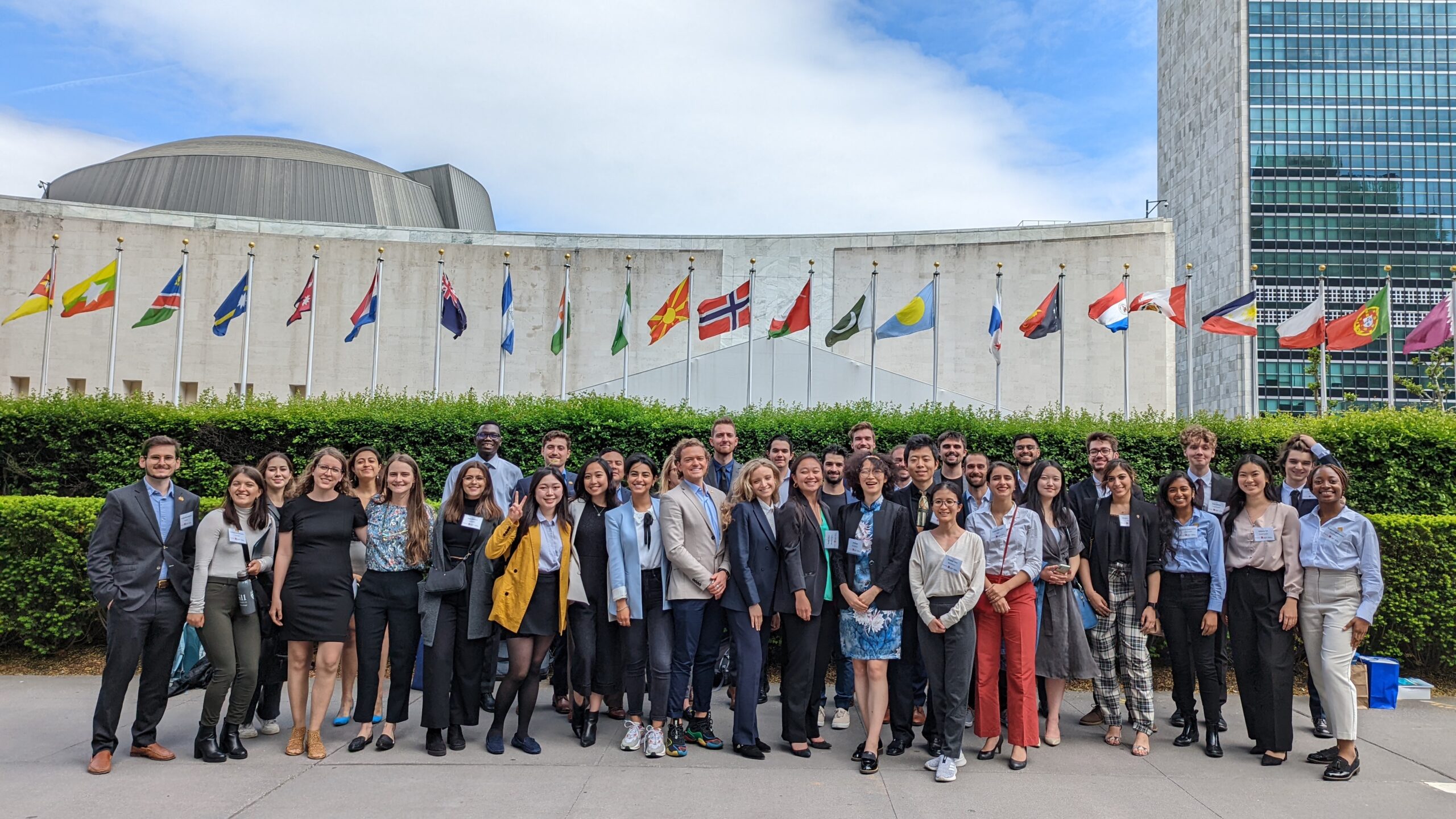 In September 2020, McGill's Bicentennial kicked off impact200, also known as the Bicentennial Student Sustainability Challenge, with the mission of empowering students and recent alumni to create Bright Spots and develop innovative solutions to address society's most pressing challenges.
At the awards ceremony in December 2021, five finalists of impact200 – Algo, Coolhealth, MentalLingual, Miniwaste, and Unearth – were invited to the United Nations (UN) in New York City, by Chantal Line Carpentier, McGill alum, impact200 judge, and Chief of the United Nations Conference on Trade and Development (UNCTAD), New York office of the Secretary-General. Last winter, Carpentier was a coach working with sustainability innovators at Université de Sherbrooke and wanted to provide an opportunity for further networking between like-minded students – allowing for Université de Sherbrooke to take part in McGill's Bicentennial celebrations.
Alongside fellow start-ups supported by the Dobson Centre for Entrepreneurship and student innovators from Université de Sherbrooke, impact200 teams accepted the opportunity to present their pitches to experts in the fields of entrepreneurship and sustainability at the United Nations, and at Dobson's Sustainability Day, held at the Consulate General of Canada to New York. The three-day trip made for an experience filled with opportunities to build valuable connections.
The networking tour
To kick off the visit to New York City, participants were invited to a networking event organized by McGill's University Advancement. This event allowed for students to meet with alumni in a social space, prior to their presentations that followed the next day.
Dobson Sustainability Day took place at the Consulate General of Canada in New York, beginning with words of welcome by Khawar Nasim, Acting Consul General, and Safia Morsly-Fikai, Head of Information & Communications Technology, as well as an address from Anika Michel, Strategic Monitoring and Government Relations for the Quebec Government Office in New York. A panel of entrepreneurs – Safia Morsly-Fikai; Gregory Larkin, entrepreneur, author, and keynote speaker; and James Green, entrepreneur, and COO of CareAlign – were in attendance. The 12 sustainability-focused start-ups were pitched to an audience made up of McGill alumni, Canadian Consulate colleagues, potential investors, and business partners.
The following day, the teams pitched their start-ups to members of the UN, at the UNCTAD offices. Speakers and collaborators at the UN held Q&As with each of the teams, resulting in opportunities for partnerships and further development.
Many of the start-ups presenting during the networking tour began with an idea for a solution to one or more of the United Nations' 17 Sustainable Development Goals (SDGs). "Our company was designed specifically to target the United Nation's Sustainable Development Goals, by empowering young people through our educational technology," says MK Hickox of unEarth. "Presenting at the UN was a huge moment for us!" For these change-makers, the opportunity to network in New York was more than a proud moment.
A lasting impact
Hear from the start-ups: impact200 
Miniwaste developed FoodMap, an information-sharing platform, connecting small food banks, food donors and people in need, with real-time geographical information on the availability, perishability, type, and quantity of donated food in the city of Montreal. Team Miniwaste, the first place team of impact200, addresses five SDGs; zero hunger, sustainable cities and communities, responsible consumption and production, partnerships for the goals, and climate action.
"We were able to articulate our project to people from different backgrounds and gain genuine feedback from different perspectives. This experience inspired us to explore new paths and new possibilities for our project," says Xining Chen of team Miniwaste. "We also connected with others in the food waste space and we will keep in touch with them for any potential collaborations in the future."
MentaLingual helps individuals gain actionable insights in self-awareness, empathy, self-regulation, social skills, and motivation, using the latest research in behavioural science, through a gamified, scientifically backed EdTech tool. The MentaLingual team addresses SDGs good health and well-being, quality education and reduced inequalities, by "democratizing access to mental health, addressing misinformation and stigma regarding mental health, and collaboratively helping people improve their own well-being and that of others."
"The networking tour had a great balance between pitches to investors and informational presentations to UN officials. The tour reinforced what our team already knew but could not experience during the pandemic, which is that there are several incredible start-ups coming out of McGill tackling current global issues with innovative solutions," says Emily Chen. "Our team will benefit from having discussed the trajectories of each entrepreneurs' respective start-up, their experience in the Dobson Cup, and how they built their business from an idea."
unEarth is an interactive platform that teaches youth how processes within environmental systems are linked. Enriched with current scientific literature and animations, unEarth are available in English, French and Spanish. This team tackles SDGs quality education, life below water, life on land, by "empowering young people through our educational technology."
"We had the chance to meet, discuss, and learn about entrepreneurship in a supportive international space. From the UN to the Canadian consulate, we really came to appreciate the strength of the McGill community," says MK Hickox of unEarth. "Networking gave us the chance to learn more about the Canadian EdTech industry, and how we can further develop our company. We also made some contacts at the UN that will enable us to reach more students abroad."
CoolHealth is developing a solar direct-drive vaccine cooler, to provide sustainable cooling in mobile clinics globally. The prototype will be implemented in Burkina Faso to serve internally displaced communities, especially women and children, in collaboration with local partners. Addressing SDGs good health and well-being, affordable and clean energy, reduced inequalities, the CoolHealth team states their cooler will result in "60 per cent less vaccines lost to poor refrigeration, at least 50 vaccinations administered per day, and [the cooler] will be cleaner and more affordable than current devices."
Algo aims to remove algal blooms by collecting the excess algae and converting it into biomass. Once recovered, this biomass can be used as a sustainable source of energy such as biofuel or biogas, or it can be used as fertilizer. Algo, the impact200 Public's Vote winning team, addresses six SDGs: Clean water and sanitation, affordable and clean energy, sustainable cities and communities, responsible consumption and production, climate action, and life below water.
"Since we're a newer start-up, opportunities such as this networking tour have taught us a lot about the value of building connections with others. As our circle of peers and acquaintances expands, so does the scope of our knowledge, as well as the range of resources that are available to us," says Kimia Shafighi, CEO and President of Algo. "We hope that people will be intrigued by the novelty and the innovation of our start-up and see the potential in its ability to clean waters and provide algae-derived products."
Hear from the start-ups: Dobson Centre for Entrepreneurship Teams 
Hydrolux is powering the future of industrial transport by "making green hydrogen greener," a viable solution to climate change for heavy-duty users. Hydrolux's mission is "providing green hydrogen at a competitive price compared to fossil fuels for warehouse forklifts as well as for the transportation industry."
Interius Farms aims to feed communities with clean, fresh and sustainable produce through "vertical farming," an energy-efficient growing system functioning year-round. "The judges from the Consulate General of Canada event were very interested in our business and offered to connect us to investors within their networks," says Tristan Zeman, President and Co-Founder of Interius Farms. "Since the event, we have been introduced to potential key investors with whom conversations are ongoing."
Nurau is an app that responds to the question, "Why are we using individual approaches to a collective problem?" Combining employee learning with mental wellbeing, users can access live certified microtrainings with experts and colleagues, taking a preventative and collective approach to wellbeing.
Off The Grid has developed an innovative spinning bike that converts users' energy into electricity. All eco-friendly training equipment is designed, manufactured and assembled in Quebec. "We got a really good lead with one of the panel members," says Charles Couture-Lebrun, CEO of Off The Grid. "We are confident this could result in our first sale in the USA."
Ozone Technologies leverages advances in 3D printing and robotics to provide affordable and sustainably produced bionic limbs to people living in low to middle income economies. This team makes affordable bionic limbs for the West-African Region, and upcycles waste plastic from production into fine art pieces and sculptures. "Being the first time our team was pitching in person, it was refreshing to talk to a live audience about what we have been working on," says Edem Dugbenoo of Ozone Technologies. "Sharing the vision we have for Ozone Technologies and receiving extremely pertinent and insightful feedback from judges and attendees of the networking events was our highlight."
Peko Produce is Vancouver's first "peculiar" produce delivery service, fighting food waste by taking "imperfect" and surplus harvests and delivering them to consumers. "Being able to speak at the Consulate General of Canada and the United Nations was a life-changing moment for us," says Arielle Lok and Sang Le, the pair of Co-Founders from Vancouver. "It felt like one of the pinnacles of our start-up journey. It was incredibly rewarding, and we were immensely grateful to have been selected to present with a great cohort of entrepreneurial spirits."
Vertité uses the latest indoor farming technology that cultivates local, pesticide-free strawberries, all year long. "Our long-term goal is to help lead the next wave of agriculture. To us, that means sustainably growing healthier, tastier food closer to consumers," states the Vertité mission. "We believe cities of all sizes can grow their own healthy, delicious food with the help of indoor farming.
Hear about Université de Sherbrooke's start-ups 
"We came to New York so that the students could meet other entrepreneurs and innovators passionate about sustainability and get to share insights with them," says Julien Lamarche, Entrepreneurship Advisor at Université de Sherbrooke. "It was also an opportunity for the students develop their first pitch in English and get feedback from members of the UN on how we could have a larger impact."
Ferreol is a backcountry ski business that also designs ecofriendly materials to make the industry more sustainable. Their skis are currently on the market, and they are doing research and development with key industry players so that they can licence their new technologies in the following years.
Désherbex is developing an autonomous weeding robot to reduce the use of pesticides in the root vegetable culture. This team is currently in the field with their first client and aim to enter the market next year at a larger scale.