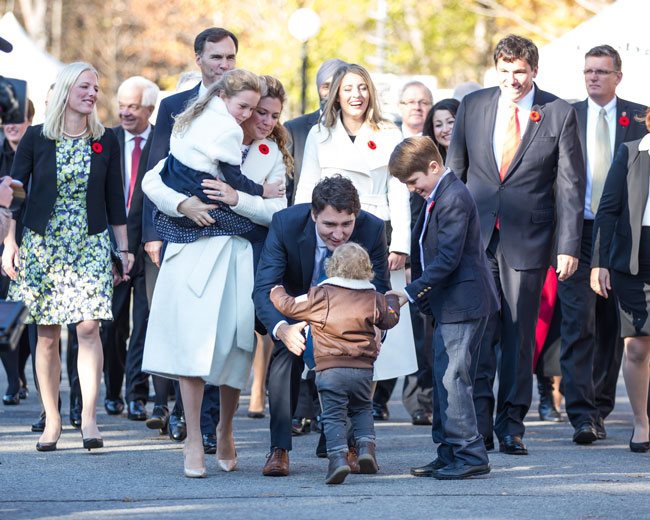 By Neale McDevitt
Gerald Butts (BA'93, MA'96), one of Prime Minister Justin Trudeau's most trusted advisors, knows a good omen when he sees one. "An improbably beautiful day in #YOW," he tweeted yesterday just prior to Trudeau being sworn in as Canada's 23rd Prime Minister. "A sunny day for sunny ways. #PM23"
After one of the longest election campaigns in Canadian history, and one that was won, in large part, on a platform based on optimism and positivism, it was only fitting that the sun shone down on Trudeau as he walked out the doors of Rideau Hall as Canada's newest prime minister.
Trudeau (BA '94) is the third McGill alumnus to hold Canada's highest seat, joining the exclusive company of Sir John Abbott, (BCL 1854) and Sir Wilfrid Laurier (BCL 1864).
"It's an incredible pleasure for me to be here today before you to present to Canada a cabinet that looks like Canada," said Trudeau immediately after the swearing-in ceremony, standing in front of his 30-member cabinet. One glance at the smiling group was all it took to see that Trudeau had delivered on his promise of gender parity, as exactly half its members are women.
"Because it is 2015," said Trudeau when a reporter asked why it was important to have an equal number of men and women in his cabinet. But it was also clear that Trudeau had handpicked the group with an eye on balancing diversity, experience and regional representation.
Eighteen members are first-time MPs, including 30-year-old Maryam Monsef, the minister of democratic institutions, who came to Canada from Afghanistan as a child when her family was fleeing the Taliban.
But that is balanced by the veteran politicians onboard, including Ralph Goodale, minister of public safety and emergency preparedness. Goodale was first elected to Parliament in 1974, when Pierre Elliot Trudeau was prime minister and Justin was a two-year-old toddling around 24 Sussex.
Five members of the new cabinet are of South Asian descent. Justice minister Jody Wilson-Raybould, is a member of the We Wai Kai Nation. Two cabinet members have disabilities.
In short, the first Liberal cabinet in a decade is an inclusive one.
Included on the new cabinet are three McGill alumni – and all three have been handed weighty portfolios.
John McCallum (PhD'77) is the new minister of immigration, refugees and citizenship; Jim Carr (BA'79) is the minister of natural resources; and Catherine McKenna (LLB'99) is the minister of environment and climate change.
In all, 25 McGillians will sit in Parliament when it resumes on Dec. 3.
RELATED STORIES
Justin Trudeau: From McGill to 24 Sussex
Twenty-five McGillians off to Parliament