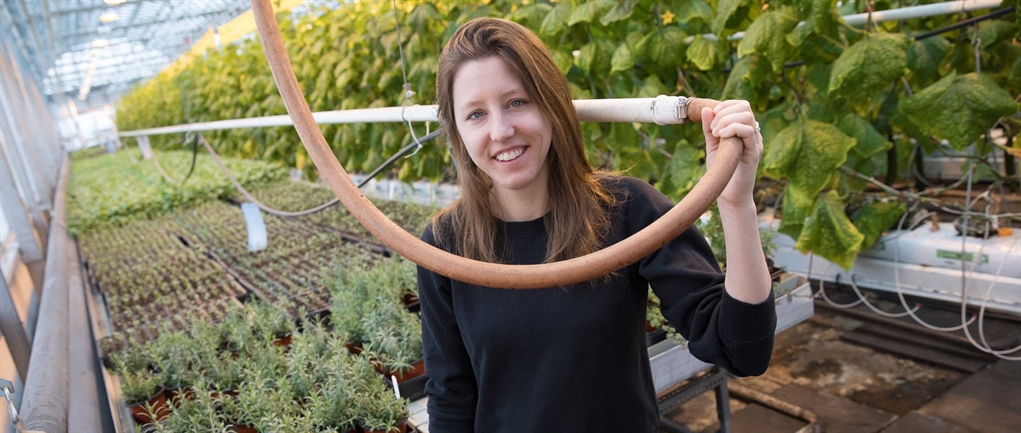 Four Convocation ceremonies on Nov. 5 celebrated the exceptional achievements of the latest 1,686 McGill students to graduate from the University's 11 faculties. The Fall Convocation was virtual, as was the spring event—COVID-19 oblige.
The four pre-recorded ceremonies are available on the Virtual Convocation Hub.
The Convocation address was given by Lauren Rathmell (B.Sc.'10), who co-founded Lufa Farms, the world's first mega-sized rooftop greenhouse. The sustainable urban agriculture company grows pesticide-free vegetables, fruits and plants atop commercial buildings in greater Montreal.
Principal Suzanne Fortier said in the video that "McGill aims to equip students with the agility, training and experience to drive change and develop solutions when and where they are needed most. As an accomplished McGill alumna, Lauren exemplifies this. Within a year of graduating, she applied her McGill training to co-found Lufa Farms, which has since grown to a team of hundreds and a community of thousands. She is an inspiration for everyone."
Commandeered greenhouse
Rathmell paid tribute to her "McGill origins story," graduating in biochemistry from the Macdonald campus and then "taking one step at a time."
"I started by doing independent studies and research at the Mac campus – essentially taking over a whole section of the research greenhouse out there. And I grew a LOT of vegetables. I learned the basics of hydroponics and I absorbed everything I could from the professors."
"That set the stage," Rathmell added, "and gave me the initial tools I needed to tackle the challenge of developing our methods of responsible agriculture."
In his introductory address, Chancellor Michael A. Meighen told the Fall 2020 class that "I know this is disappointing for you, and it's disappointing for me not to have a chance to congratulate you in person on your accomplishments."
"But your success, dear graduates, gives us all a good reason to rejoice in 2020. Every graduate keeps the memory of graduation. Yours will certainly be different. But it will also be unique in the history of McGill, and a memento of the great achievements that you accomplished in a time of great adversity."
McGill's 200th anniversary in 2021
"What a journey you've had!" said Fortier. "We always expect bumps and hurdles on any journey, but you are facing one of the biggest health crises the world has ever seen. You met the challenges of COVID-19 with the same strength and resilience that brought you here today."
"You join a global network of McGill graduates who will be celebrating with us next year our 200th anniversary. I hope that you will come back to your alma mater on that occasion."
This autumn's graduating class also received congratulatory messages from Prime Minister Justin Trudeau and Quebec Premier François Legault.
"You have reasons to be proud of yourselves," Legault said, praising the determination of the graduating class in the face of COVID-19's challenges. "Bravo."
"You've made it!" said Trudeau, who graduated from McGill with a BA in 1994. "As a McGillian, you're a proud product of years of perseverance and sacrifice. You've overcome so much and worked so hard, and it's made you who you are today. And now, this is your moment—this is your time."
"Do something good, something right, something sustainable"
Rathmell stressed the importance of "first principle thinking… Any problem, any shoes you want to fill, any role you want to partake in, can be tackled by first defining the problem you're trying to solve. That's really a key first step. We always start with that, and then ask 'Why?' like a five-year-old until you really understand the core of the problem."
The world is rallying around causes like sustainability, she noted, and "it's an incredible opportunity to do something good, something right, something sustainable, and to ride that forth into solutions that can have an impact. It's OK not to be sure—I wasn't sure—and to try things that come along. Also, do not be afraid of committing to something greater than yourself. That's so important right now."
"McGill has armed you with an incredible toolkit. You are definitely ready and able to take on what comes next with what you've learned and experienced there."