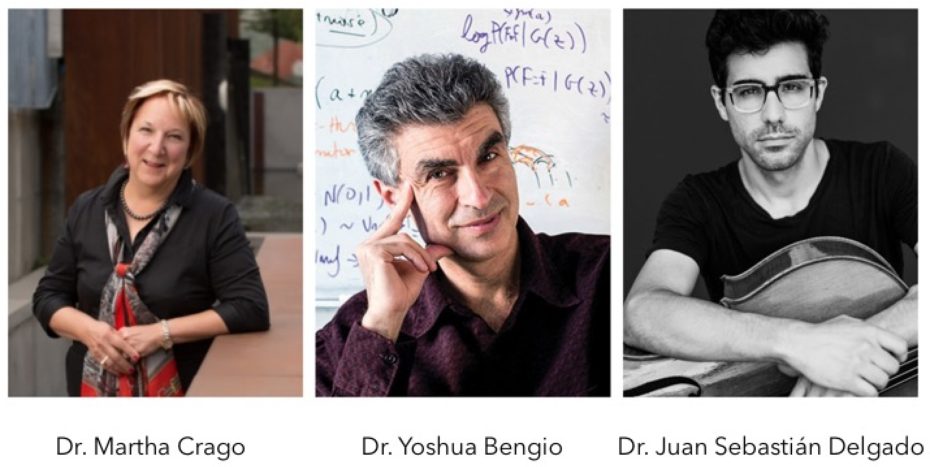 Obtaining a PhD makes it more likely you'll have a wider array of careers to choose from and be well-positioned to pursue your intrinsic interests. Students pursuing a doctorate acquire exceptional analytical skills, critical thinking capability and creativity, among other competencies.
But the widespread perception that a university tenure-track position is the sole viable life-track for a PhD is misguided.
TRaCE McGill – which stands for Track, Report, Connect, Exchange – is holding a virtual Bicentennial event on Friday, March 26 at 2 pm. Three distinguished guests, each of whom graduated with PhDs from McGill, will dispel myths and inform prospective and current students about the beneficial impact of a PhD, within academia and without.
Dr. Martha Crago, (PhD in Communication sciences and disorders, '88) McGill Vice-Principal (Research and Innovation), Dr. Yoshua Bengio (BEng '86, MSc '88 and PhD in Computer Science, 1991) a world leader in artificial intelligence and co-recipient of the A.M. Turing Award, and Dr. Juan Sebastián Delgado (PhD in Music Performance, 2017), a prize-winning cellist, will answer questions from McGill graduate students on various topics related to the pursuit of a doctoral degree.
Advice for 21st century
The special Bicentennial, to be broadcast on YouTube, is called Celebrating McGill PhDs with Three of our Best. Moderated by Hannah Korell, PhD candidate in English, and Helen Martin, PhD candidate in Psychiatry, the co-hosts will be Prof. Paul Yachnin, Tomlinson Professor of Shakespeare Studies in the Department of English and Director of the TRaCE McGill Project, and Dr. Marie-Claude Felton, TRaCE Project Manager. Yachnin will introduce the three guests before turning questions over to the students for the hour-long session.
They will ask the guests about their experiences on their path to a PhD. Why did they choose McGill to pursue a PhD? How do they feel about the support they received? What experiences during their studies had the greatest impact on the work they do now? And what advice do they have for PhD students in the 21st century?
"We want graduate students to understand the multiple career paths that are open to them… and that they very often don't know about," said Yachnin. "They think there's really only one way out and it's through a tenure-track job at a university."
"We try to bring grads back who are not in the academy. They're doing all these really cool things. I love the University, I have nothing negative to say about it, but there are other places in the world."
He calls the grads who share their career stories with PhD students "wonderful, very forthcoming, truthful and energetic."
An ethical network
Students are the prime audience for TRaCE – but not the only one.
"Faculty members who are doing great work supervising PhD students… may think about what kind of changes they might be willing to make in how they supervise," Yachnin added, "and how the programs themselves can be adjusted so that they help these brilliant young people take their knowledge and ability to places outside the university."
"This is all about helping people share valuable knowledge, about how to do a good PhD and to do good after you complete your PhD."
"We're building an ethical network," Yachnin said. "We want people to have a sense of responsibility and connection, between grads and students who are in-program now."
Yachnin recalled that in one of a series of TRaCE events with McGill alumni recently, a McGill medicine PhD "who's got a fabulous career, paused and said 'Wait a minute; to listen to us, you'd think we always knew what we were going to do, that we were kind of right on it, we knew our path. But none of us really knew what we were doing.' And you could actually hear a kind of cheer from all the students."
"It reinforces and reassures students about career paths."
Yachnin noted that TRaCE, a premier program that tracks the progress of McGill grads and allows them to network and counsel each other, is organizing a series of events, including "a 'speed-consulting' event where in-program students get to speak for three or four minutes to a grad student."
Celebrating McGill PhDs with Three of our Best, Friday, March 26 at 2 pm. Learn more.