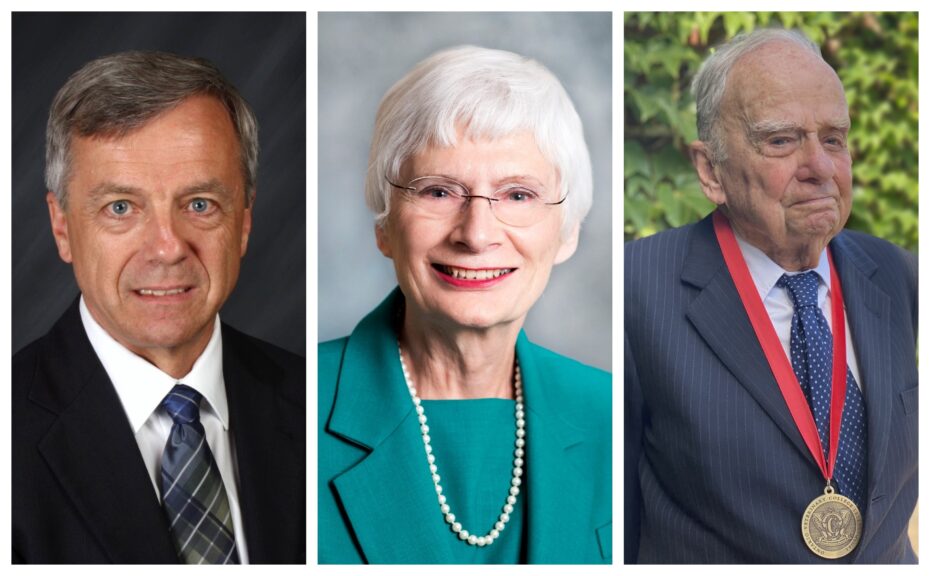 As part of the Fall 2021 convocation—which will see graduating students cross the stage for the first time since the COVID-19 pandemic began—McGill will confer honorary degrees to three highly talented and engaged individuals who serve as an inspiration for its community of students, professors, researchers, and staff:
Robert Thirsk (Thursday, November 25, 2021, 10 a.m.) A Canadian icon of science and space travel, Dr. Robert Thirsk has made key contributions to medicine, science, the Canadian Space Program, and science education in Canada. He holds the Canadian record for the most time spent in space. Robert Thirsk has also been a tireless advocate for scientific education, particularly for Canadian youth.
Angela Swan (Friday, November 26, 2021,10 a.m.) Angela Swan is a distinguished legal scholar, practitioner, teacher, mentor and an acclaimed figure in both Canadian contract law and the Canadian legal community. She has inspired and informed several generations of law students with her legal expertise and scholarship. Angela Swan is a proud member of the LGBTQ2+ community and contributes to its ongoing development.
Roger Warren (Friday, November 26, 2021,3 p.m.) A generous, inspiring, and humbling philanthropist, Roger Warren he established the Rathlyn Foundation as a small, private family foundation to support medical research, veterinary science, and education. In addition to his financial support and long-term giving that will continue to benefit students for years ahead, Mr. Warren has generously offered his time and energy over the years to supporting McGill students.
"This year's honorary doctorate recipients excel in a diverse range of areas and are a source of awe and inspiration to our community," says McGill Principal Suzanne Fortier. "Their work is transformative, changing how we understand ourselves and our world, and helps to push the boundaries of the possible. Their leadership and generosity serve as wonderful examples for us all. It will be a pleasure to welcome them in person to receive our University's highest honour."
The Fall 2021 in-person fall convocation ceremonies will be held at the Salle Wilfrid-Pelletier, Place des Arts. Among the health measures that will be in place, proof of vaccination and masks will be required for graduates, families, and guests. A livestream of the ceremonies will be available here.
Read full profiles of this year's hon doc recipients here.
The three Fall 2021 Convocation hon docs are in addition to the four hon docs awarded during special virtual ceremonies in October.