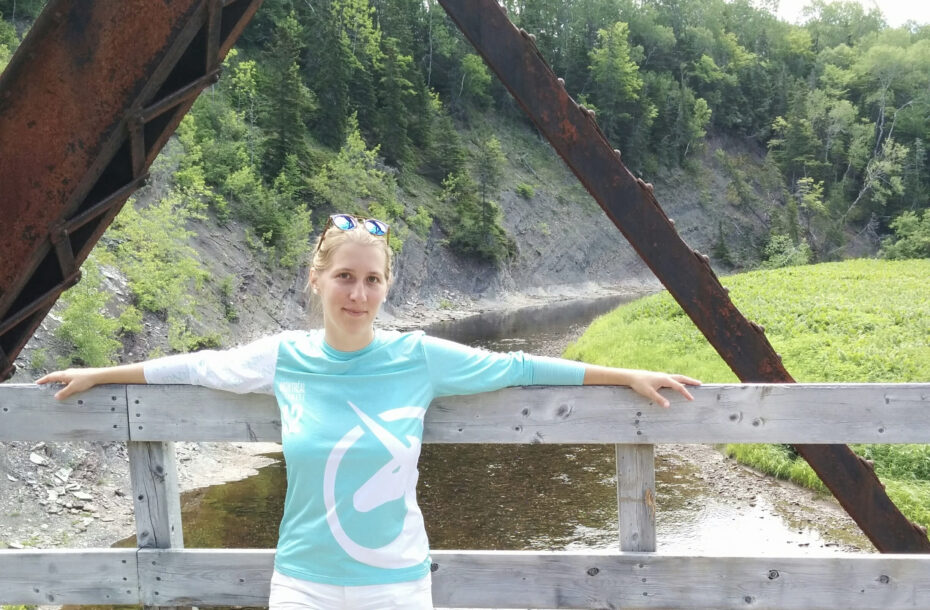 The Principal's Prize for Excellence in Teaching recognizes the commitment of outstanding teachers who are the very core of the academic experience of McGill students. During Fall 2021 Convocation ceremonies, six of McGill's exceptional educators will be awarded a Principal's Prize. Giulia Alberini, a member of the School of Computer Science in the Faculty of Science, is one of two winners of the Principal's Prize in the Faculty Lecturer category.
Giulia Alberini teaches COMP 202 and COMP 250, a pair of large introductory classes that attract hundreds of students. It is a challenging environment for both teachers and students. COVID-19 hasn't made it any easier.
"As always with courses with massive student enrolment, the issue has been keeping the course content up-to-date and relevant for as large of a portion of the class as possible," says Alberini. "The challenge has been the same but the pandemic has amplified its difficulty. Losing that human interaction from before has meant losing some of the orientation I use to tweak my courses. I can say I've adapted, but I'm far from happy with my current approach."
Some people might say that Alberini is being a tad hard on herself. Some people, such as Provost Christopher Manfredi, for example.
"Dr. Alberini has transformed dreaded introductory courses into rewarding and enjoyable experiences for students," said the Provost during the morning Convocation ceremony on November 25, in which Alberini was presented with her Principal's Prize for Excellence in Teaching. "During the height of the pandemic, she implemented a flipped classroom model and assigned students to learning groups supervised by TAs, effectively creating a feeling of community in an online class of almost 700 students."
The Provost cited one student who said "In a course that I found initially daunting and a bit scary, this professor made a huge difference: she was approachable, open, and clear about expectations. Through activities, talk and live classes, she clearly put a lot of thought and effort into making the classroom a productive and encouraging space." "[…] it was truly an incredible learning environment (I felt like a bee in a bee hive (very active and important and part of a team) all while being 100 per cent online!"
Looking out onto a "room of friendly faces"
Part of Alberini's success is her ability to make meaningful connections with her students.
When asked what are her recollections of her first teaching experience at McGill, Alberini doesn't talk about being intimidated by row after row of students staring at her in silence.
Instead, she talks about "how quickly an auditorium with hundreds of students became a room full of friendly faces. I especially remember the students, those who participated in class, who asked me questions at the end of the lecture, and those who came to see me during office hours. I had the chance to keep in contact with several of them through the years and I think this was the biggest gift.
"It may sound cliché, but having the close-up perspective of seeing students grow as academics and people is often my driving inspiration," says Alberini. "This is even more poignant for those who chose to be TAs and mentors, as that affords me more time to interact and learn about them. As a mentor and supervisor, I live vicariously through their struggles and achievements, making the journey all the more worthwhile."
According to Provost Manfredi, the TAs and mentors who work with Alberini are equally inspired by her.
"Dr. Alberini successfully supervises teams of 45-55 TAs and TEAM mentors every semester. Her commitment to her TAs is notable as she introduced TA awards to the School and created training sessions for TAs that were so successful that they serve as a model to other departments in the Faculty," said the Provost. "One of her former TAs writes, 'Her passion for teaching ignited mine and guided me towards a future in research and academia.'"