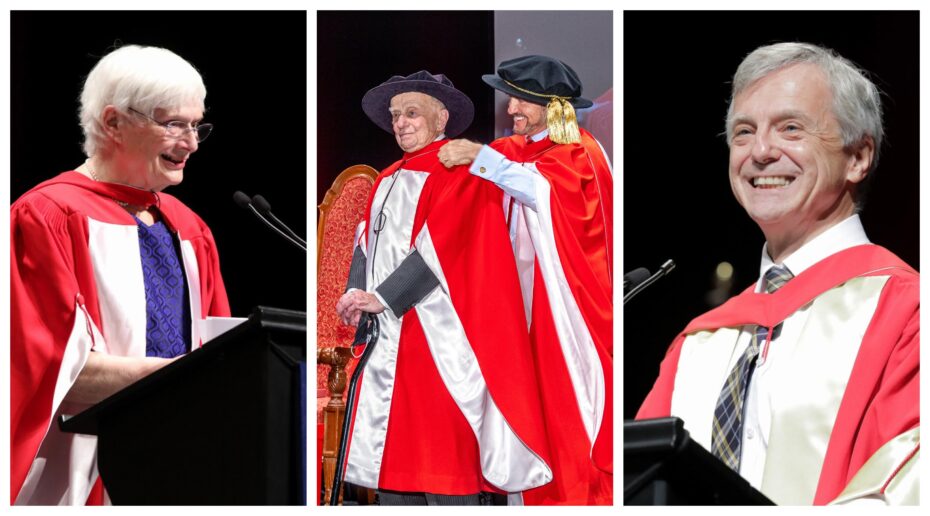 The Fall 2021 Convocation ceremonies on Nov. 25 and 26 took on special significance for the McGill community, in that they were the first in-person ceremonies held at the University in two years, after the forced COVID-19 hiatus. As part of the ceremonies, McGill conferred honorary degrees to a trio of three highly talented and engaged individuals who serve as an inspiration for its community of students, professors, researchers, and staff. Click on the video to watch the words of wisdom for the Class of 2021 as imparted by each Honorary Doctorate. 
Robert Thirsk, M.D.C.M., O.C., O.B.C. 
B.Sc. (ME) (University of Calgary), M.Sc. (ME) (Massachusetts Institute of Technology), M.D.C.M. (McGill University), M.B.A. (MIT Sloan School of Management) 
Doctor of Science, honoris causa (D.Sc.) 
A Canadian icon of science and space travel, Dr. Robert Thirsk has made major contributions to medicine, science, the Canadian Space Program, and science education in Canada. 
A McGill M.D.C.M. graduate, Dr. Thirsk began his distinguished career as a member of the Canadian Space Agency's astronaut corps in 1983. His first space mission was in 1996, a 17-day flight aboard the space shuttle Columbia. Later, in 2009, Dr. Thirsk spent six months as a flight engineer aboard the International Space Station conducting cutting-edge interdisciplinary research and complex robotic operations on behalf of Canadian and international researchers. Along the way, he set the Canadian record for longest time spent in space – 204 days, 18 hours. 
Much of Dr. Thirsk's work has been dedicated to making space flight safer for astronauts, from researching the effect of weightlessness on the heart and blood vessels to strategizing the delivery of remote healthcare to future deep space explorers. He has also been a vocal champion of science education, particularly for Canada's youth. 
Robert Thirsk's remarkable career as a scientist and astronaut, his commitment to science education and his generous dedication to community engagement make him an inspiring role model for all, and especially for future scientists of Canada. 
Angela Swan 
B.Comm., LL.B. (University of British Columbia), B.C.L. (Oxford University) 
Doctor of Laws, honoris causa (LL.D.) 
Angela Swan is a distinguished legal scholar, practitioner, teacher, mentor and an acclaimed figure in both Canadian contract law and the Canadian legal community. She received a Bachelor of Commerce and an LL.B. from the University of British Columbia and a B.C.L. from Oxford University. She was admitted to the Law Society of Upper Canada in 1970.  
With over fifty years experience in the legal profession, she has expertly filled a number of roles from professor to esteemed counsel. An award-winning author, renowned educator, and frequently cited scholar, she is regarded as one of the most distinguished experts in Canadian contract law and private law broadly. 
Professor Swan has inspired and informed several generations of law students with her legal expertise and scholarship. Her accomplishments are all the more remarkable for a trans woman of her generation. Angela Swan is a proud member of the LGBTQ2+ community and contributes to its ongoing development.  
Angela Swan has a distinguished record of achieving the topmost professional standards of conduct, ethics, reliability, and diligence. Her name is synonymous with "excellence" in contract law and is a shining example of a dedicated teacher and mentor. 
Roger Warren 
Doctor of Laws, honoris causa (LL.D.) 
A generous, inspiring, and humbling philanthropist, Mr. Roger Warren has been quietly making an impact within Canadian education institutions and beyond for over 50 years. 
Completing three years of a Bachelor of Commerce degree at McGill University starting in 1951, Mr. Warren struggled with undiagnosed dyslexia and was unable to complete his fourth year. This made an enormous impact on him, instilling a deep sense of compassion for others facing their own challenges, which in turn became the motivation behind much of his engagement and giving. 
Roger Warren began his career in the investment business in 1954, working in Toronto, New York, and London, England. In 1984, he established the Rathlyn Foundation, named after his parents' Ontario cottage, as a small, private family foundation to support medical research, veterinary science and education. The Rathlyn Foundation has since grown tremendously and supports numerous institutions such as McGill University… Through the Foundation, Mr. Warren has endowed graduate and professional degree fellowships at McGill across the Faculties of Arts, Law, Science, and the Desautels Faculty of Management, as well as scholarships for Indigenous students. 
Mr. Warren is a prime example of how extraordinary success can be achieved by overcoming challenges. His generosity, perseverance, and determination to help others have created monumental strides for the Canadian education sector and are an inspiration to all.