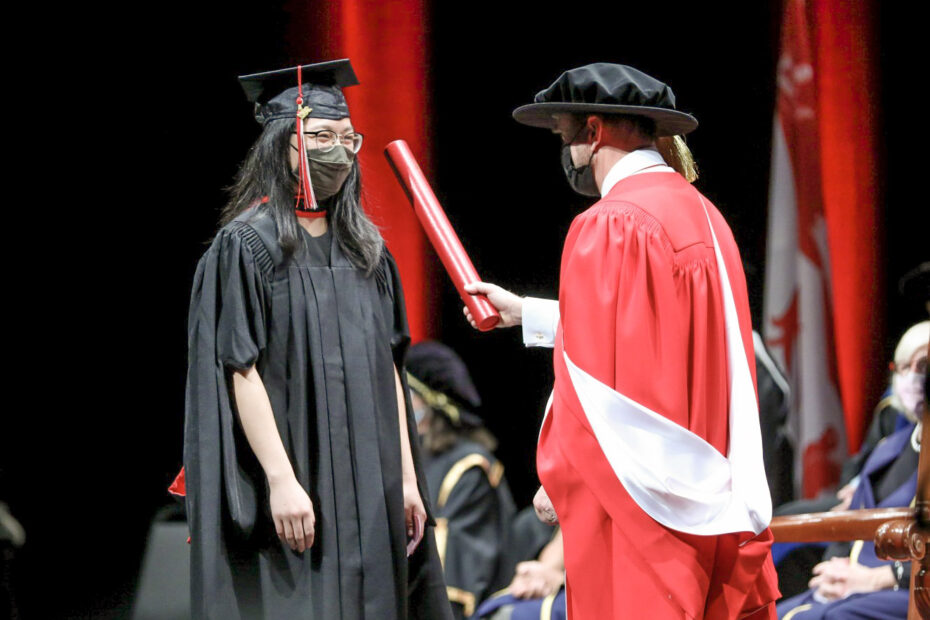 Convocation is always a time of joy and celebration—and even more so for McGill's Fall 2021 Convocation. On the morning of Thursday, Nov. 25, the strains of "Hail! Alma Mater" once again rang through Place des Arts' Salle Wilfrid-Pelletier as the University marked a happy pandemic milestone: the first of four in-person Fall 2021 Convocation ceremonies. The event was the first time that newly minted graduates were able to physically cross the Convocation stage since October 2019.
"Congratulations to the Class of 2021 and a warm welcome to you, your family and friends who have joined us to celebrate your achievements," said Principal and Vice-Chancellor Suzanne Fortier. "It's been far too long that we've been able to celebrate together in person. What a wonderful day!"
Thursday morning's event celebrated the achievements of students in three faculties: Dentistry, Science, and Medicine and Health Sciences. Doaa Mohammed Taqi, who received her PhD in craniofacial health sciences, held the honour of being the first McGill student to cross the Convocation stage post-pandemic.
"Convocation is a natural time to reflect on your accomplishments and your journey," said Principal Fortier, "and what a journey you've had! Of course, we always expect some bumps and hurdles on any path, but you had to face the biggest health crisis the world has ever seen. You met the challenge of the pandemic with the same strength and determination that brought you here today."
A first for Chancellor McCall MacBain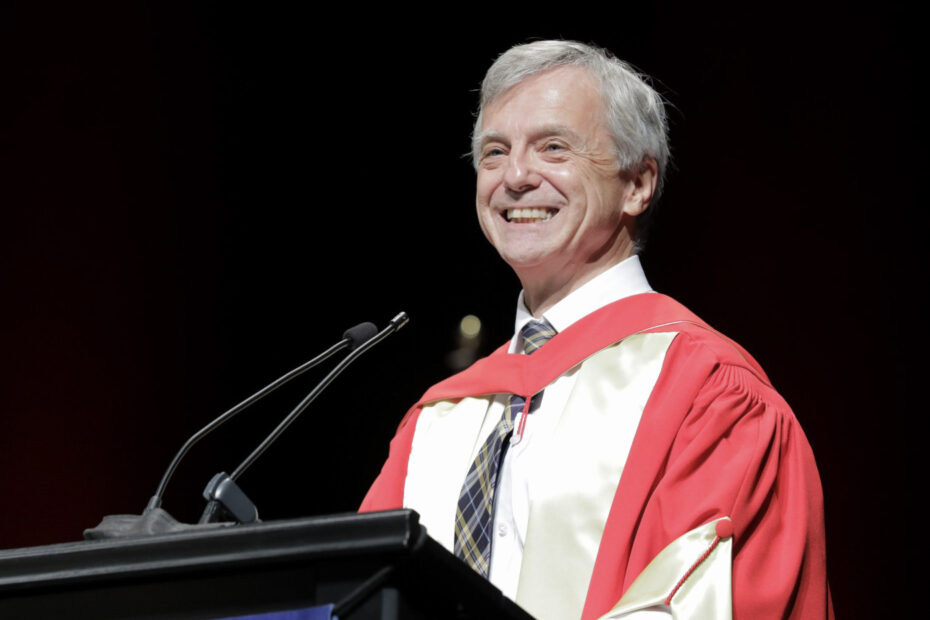 Thursday morning's ceremony also marked the first time that Chancellor John McCall MacBain presided over an in-person Convocation since his appointment in July 2021. In addressing the Class of Fall 2021, he suggested that happiness and success can only be found where the answers to three questions overlap: What do you like to do? What are you good at? And what can you do that is good for humanity, human progress and employment? He urged the graduates to take their time in exploring those questions. "Others will tell you—by your academic grades, by hiring you, or firing you, or your job evaluations, etc.—what you're good at, and only you know what you like."
Former Canadian astronaut Robert Thirsk received an honorary doctorate during Thursday morning's ceremony—almost 39 years to the day, he noted, that he sat in that very same concert hall to receive his McGill medical degree. In his address to the Class of Fall 2021, he shared some advice that he would give to his younger self were he able to travel back in time to 1982.
"Embrace the highs and the lows," he said. "For much of my career, I wore a big goofy grin on my face, a grin that indicated personal satisfaction, and joy. From these uplifting career experiences, I learned valuable lessons, lessons about cross-disciplinary teams, about international collaboration, and about stewardship of our planet…. [However] my best learning occurred when I was uncomfortable. The best decisions that I made in life were made when I was feeling uncertain. The achievements of which I am most proud happened when I was thrust into a position of leadership before I thought I was ready.
"Your university education has already exposed you to the kind of struggles of which I speak. Having gained new and many skills through your postsecondary education, do not shy away from similar future struggles. Adversity is a key element of a purpose-filled life.
"Let's be bold. Let's embrace adversity. Let's pursue the impossible. And let's have fun."
Lessons from the pandemic
Principal Fortier left the graduating class of Fall 2021 with one last assignment—not for credit, but nevertheless essential.
"I'd like you to think about this very important question: What did you learn during the pandemic? As for me, I would say that the crisis has reminded us, as never before, of the fundamental importance of our humanity. We've witnessed how interconnected we are globally, as we learn to face the storm together across the planet. We've developed a more acute sense of the value of being together to learn, explore, discover, and to challenge ourselves. We have a renewed confidence in our ability to overcome obstacles. Along with this confidence, we have learned the importance of belonging to a caring and sharing community. The pandemic reminded us how vital it is for us as humans to reach out to each other, and to share emotions and experience, whether being on campus with friends and classmates, away from screens, or cheering for our favourite team, attending a concert, or lining up at the hotdog cart.
"It was also an opportunity to reflect on the notion of humility. Despite the extent of our knowledge and the advancement of our technologies, we found ourselves lacking an immediate solution to face the virus. We were reminded of our vulnerability, and the need to continue our quest for knowledge…. As you go into the world, think of how you can apply your knowledge, skills and leadership to improve your community both locally and globally. We're counting on you to build forward better. With all you have to offer—your passion, creativity and audacity—be daring and do not hesitate to stray off the beaten track to follow your most profound aspirations."
A second Convocation ceremony, held the afternoon of Nov. 25, feted the latest graduates in the Faculty of Agricultural and Environmental Sciences, the Faculty of Engineering and the Desautels Faculty of Management. New graduates in the Faculties of Arts and Law will have their moment in the sun on the morning of November 26; as will students in the School of Continuing Studies, Faculty of Education and Schulich School of Music that afternoon. Live and archived video streams of all four ceremonies will be available on the Convocation website.
The four November ceremonies are focused on the Fall 2021 Convocation cohort. The thousands of McGill graduates who participated in virtual convocations in 2020 and in Summer 2021 will soon be invited to special in-person celebrations in 2022.