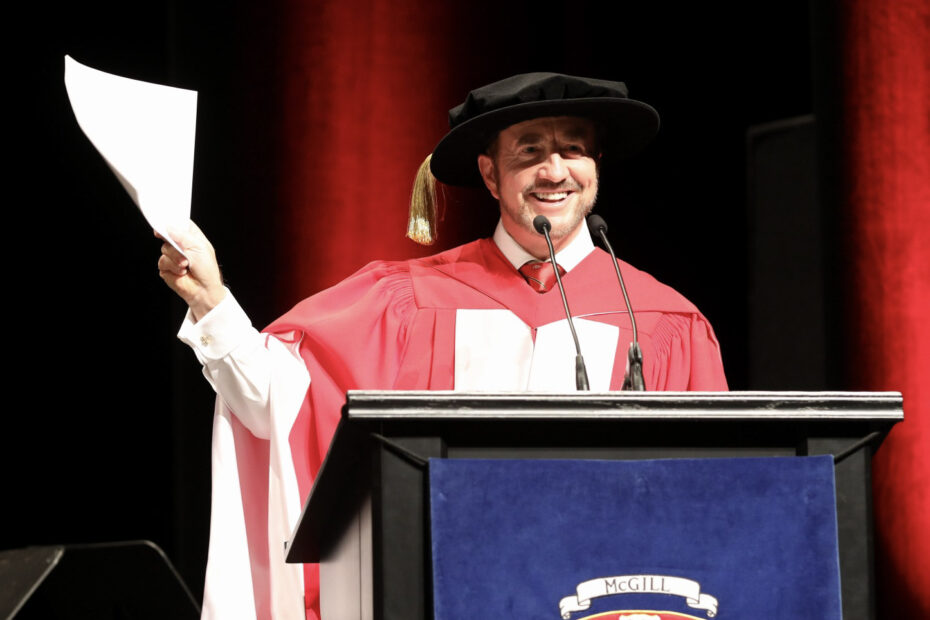 The morning of November 25, 2021, was a day of firsts. It was the first time since October 2019 that newly minted McGill graduates were able to physically cross the Convocation stage. The morning Fall 2021 Convocation ceremony was the first time in more than two years that family and friends could gather to cheer on their loved ones' academic achievements. And the ceremony marked the first time that John McCall MacBain presided over an in-person Convocation since his appointment as McGill's Chancellor on July 1, 2021.
Mr. McCall MacBain began his address by expressing how proud he is of the Bicentennial graduating class. "Nothing could have prepared you for a university experience that required you to attend classes online, isolate from your family and friends, and to adapt to a whole new way of living," said the Chancellor. "Congratulations to the students, and the faculty, on your inner strength in confronting this unexpected obstacle."
From valedictorian to Chancellor
Originally from Niagara Falls, Ontario, the Chancellor graduated from McGill with an Honours Bachelor of Arts degree in 1980. In fact, he told the crowd, "I actually stood on this stage as valedictorian a little over 41 years ago." He went on to share five lessons that he's learned since his last appearance on the Place des Arts stage.
The first lesson, he said, "is you never know when you've had a good day." He recalled two times in his life when he'd been fired from a job. The first time, at age 17, led to him starting the small business that paid for his McGill education. The second time, at age 29, resulted in him buying Trader Classified Media, the company that he built into a multinational corporation employing 7,500 people in 23 countries. "Those were really two bad days when they happened, but actually they became two very good days."
The Chancellor's second piece of advice: limit your pride and ego. "People who behave like kings are slow to adapt. Change and adaptation hurt their pride because they have to admit that their old ways just are no longer working. Ego ahead of capabilities leads to a false sense of security."
Don't be afraid to take some chances
Third on Chancellor McCall MacBain's life lessons: Take a risk, even if it means the possibility of ridicule. He recalled applying for 35 scholarships to do an MBA at Harvard University—and losing 34. "I could be ridiculed as the biggest scholarship loser," he recalled, "but I took the risk."
For his fourth nugget of wisdom, the Chancellor gave the graduating Class of Fall 2021 some homework. He suggested that happiness and success can only be found where the answers to three questions overlap: What do you like to do? What are you good at? And what can you do that is good for humanity, human progress and employment? He urged the graduates to take their time in exploring those questions. "Others will tell you—by your academic grades, by hiring you, or firing you, or your job evaluations, etc.—what you're good at, and only you know what you like."
Ethics was the subject of his fifth area of advice. "How many times have people made poor decisions because they thought no one would find out?" he wondered. "If you don't want your friends to read about it on the front page of the newspaper, or on the Internet, don't do it. Assume your decisions will be public."
Chancellor McCall MacBain closed with a few prescient words from his own 1980 valedictorian address, written in a time of punch cards and typewriters, not smartphones and global pandemics: "Although many of the topics we have studied at McGill may no longer be relevant or remembered in the future, we have learned to think—and no future changes will make thinking outdated."