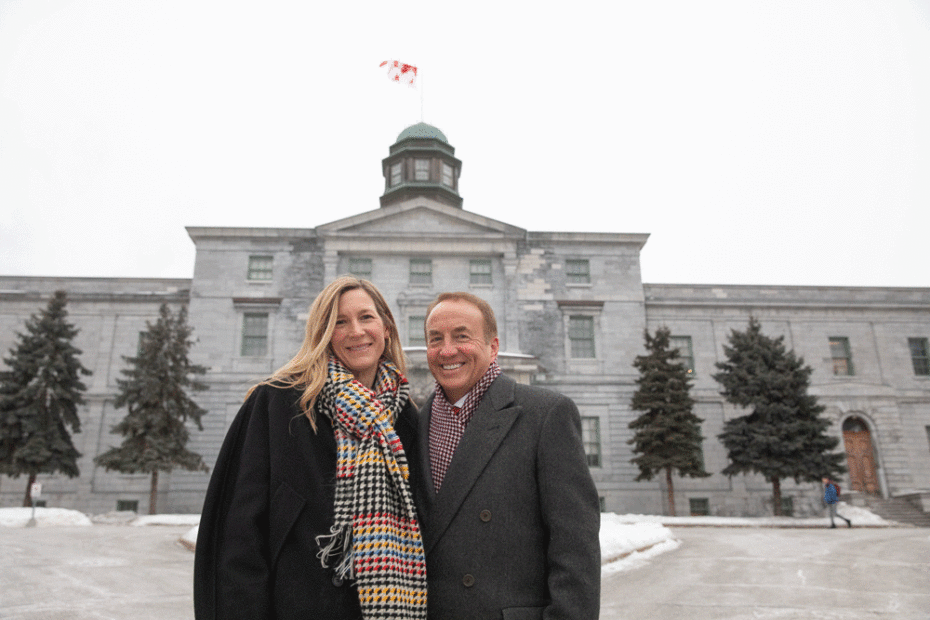 One year after announcing a historic $200 million gift to create a new scholarship at McGill, the McCall MacBain Foundation is now set to start looking for the first cohort of McCall MacBain Scholars.
The scholarship was created to celebrate McGill's 2021 bicentennial. The awards are designed to support outstanding leadership-driven graduate students who show "exceptional character, community engagement, leadership potential, entrepreneurial spirit, academic excellence and intellectual curiosity."
"This is not your typical scholarship," says Franca Gucciardi, Chief Executive Officer of the McCall MacBain Scholarships at McGill and of the McCall MacBain Foundation. "We're looking for people who'll be coming from different disciplines with a wide range of leadership skills and so the scholarships won't be awarded solely on a student's academic strengths."
Starting this week, the Foundation will hold a series of information sessions for prospective students at McGill and on university campuses across Canada. Gucciardi said a tour of Canadian universities with John McCall MacBain is also planned to promote the new scholarship ahead of applications, which start this coming June. "We hope McGillians – faculty, staff, alumni and current students – will help spread the word to colleagues at other universities. This is a unique opportunity that could change a student's life – and a few words of encouragement from their faculty could make all the difference."
"This an exciting time for McGill and we look forward to welcoming the first group of McCall MacBain Scholars to our university in September 2021," said Suzanne Fortier, McGill's Principal and Vice-Chancellor. "McGill has always provided its students with the necessary skills to become leaders and this visionary support from John and Marcy McCall MacBain will further our commitment to excellence."
In its first two years, the scholarships will cover tuition and fees for 20 Canadian students pursuing a master's program or a second-entry professional undergraduate program (i.e. dentistry, law, or medicine) and a $2,000 monthly stipend during academic terms.
McCall MacBain Scholars will also participate in a comprehensive enrichment program, including access to mentors and an interdisciplinary curriculum, designed to accelerate their leadership potential. In 2023, scholarships will also be made available to international candidates.