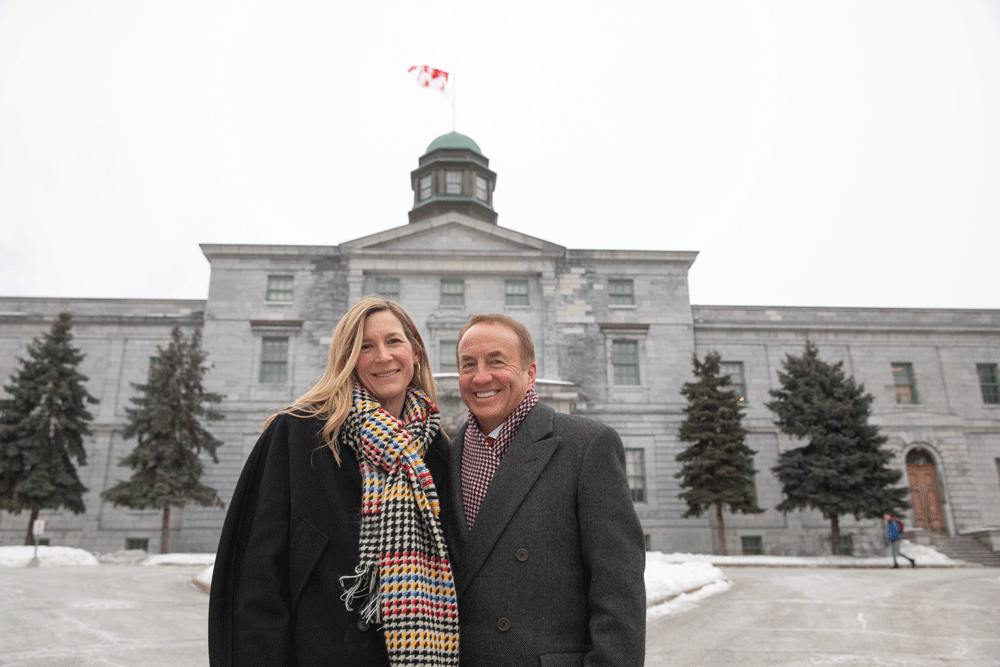 Imagine what would happen if you took the best practices and ideas from leading scholarships around the world, applied your own experience and passion, located the program at McGill – and then added an unprecedented $200 million in support?
That's exactly what John McCall MacBain and Dr. Marcy McCall MacBain have done to create the McCall MacBain Scholarships at McGill to provide outstanding students from Canada and internationally with the opportunity to pursue a master's or professional degree, combined with a world-class enrichment program.
"I was a scholarship student at McGill so I'm hoping other people will have the same opportunity to come to McGill through the scholarships," says John McCall MacBain, BA'80, LLD '14. "That's why we're developing this program which, in three to four years, will bring in 75 students on campus at any one time."
"We've been working on scholarships for the last 12 years through our McCall MacBain Foundation so we know what works," says Marcy McCall MacBain.
"We are incredibly grateful to John and Marcy McCall MacBain for their visionary support of McGill's students," said Suzanne Fortier, McGill's Principal and Vice-Chancellor. "As McGill prepares to celebrate its Bicentennial in 2021, the McCall MacBain Scholarships embody our vision for McGill's third century: a place where students become future-ready and prepared to contribute to shaping our rapidly changing world."
In initiating this gift in honour of McGill's bicentennial, the McCall MacBains and their Foundation recognize an important gap in the Canadian higher education landscape: that there is currently no comprehensive, leadership-driven scholarship in the country for master's and professional degree students.
Focus on master's level students
"In many ways, this is a critical time for students," says Marcy. "A master's degree can allow students to focus and accelerate their learning. We want to encourage people to take that extra leap. I hope that's what this scholarship does."
A critical component of the program is selection. The next months will focus on developing a network of selection committees across Canada in order to seek out students with potential and make a committed effort to find the scholars who deserve an opportunity and who may not have been offered one before.
Another key component of the program is the immersive experience that will be part of the scholarship at McGill, an experience which will include mentorship, faculty advisors assigned to each student, summer programs, lectures and more.
"That's fundamental," says Marcy. "Doing anything without a supportive community behind you is difficult. We both recognize the importance of having a community which believes in you and which can also help."
Originally from Niagara Falls, Ontario, John came to McGill to study Economics, graduating with an Honours Bachelor of Arts degree in 1980. During his time at McGill, he was deeply involved in student life, including serving as President of the Students' Society of McGill University.
No free lunch
"When David Johnston was appointed Principal of McGill, I took him down to the Chateau Champlain for lunch," he recalls. (The student society paid).
"McGill allowed me to become involved in leadership positions in many places," he says. "I just took advantage of that."
After graduating from McGill, John subsequently obtained a law degree from University of Oxford as a Rhodes Scholar, followed by an MBA from Harvard Business School, before launching a successful entrepreneurial career.
Marcy is originally from Huron County, Ontario, and obtained an Honours Bachelor of Kinesiology from McMaster University in 2000. She then completed a Master of Science in International Health Policy at the London School of Economics and Political Science and a DPhil in Evidence-Based Health Care at the University of Oxford.
The McCall MacBains and their Foundation have been longtime supporters of McGill and deeply influential patrons of higher education around the world. In 2013, they were lead donors to McGill's History in the Making Campaign, establishing the McCall MacBain Fellowships in the Faculty of Arts. They have also given generously to the Mandela Rhodes Scholarships in South Africa, the Kupe Leadership Scholarships at the University of Auckland, the Loran Scholars Foundation in Canada, and to other educational causes, as well as supporting projects in health, climate change and environment. In 2013, the Foundation committed £75 million to the Rhodes Trust in Oxford to help fund the Rhodes Scholarships and to aid in the expansion of the scholarship program around the world.
Inaugural scholars arrive in 2021
Applications for the scholarship program will open in the fall of 2020 to students from across Canada for the inaugural class. McCall MacBain Scholars will begin their studies at McGill in the fall of 2021. The Scholarships will be expanded to include international students in the third year of operation. Within five years, the Scholarships will grow to support up to 75 scholars on campus. McCall MacBain Scholars will be able to choose among existing master's and professional degrees such as Law and Medicine, as well as McGill's newly-created interdisciplinary Master of Arts and Science, which is under development and is expected to be inaugurated to coincide with the inaugural class.
"We're going to work together with McGill to make these the best scholarships so we're dedicating a lot of personal time to do that," adds John. "If we have the best program at an excellent university, and are deep enough in the communities to find great candidates, we think we will get a very good source of students and we'll get some future leaders."