Having spent the better part of two decades working with war-affected children and families, McGill's Myriam Denov knows that the horrors of war often cannot be expressed through words or narrative. A full professor in the McGill School of Social Work and the Canada Research Chair in Youth, Gender and Armed Conflict (Tier 1), Denov is a specialist in art-based and participatory research. Her work has contributed to a novel understanding of the gendered realities of war and inaugurated a new generation of research exploring the role of children's agency within military settings.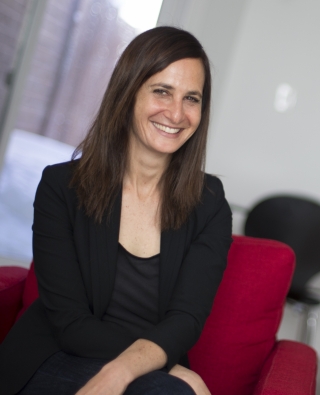 The Social Sciences and Humanities Research Council of Canada (SSHRC) today honoured her with an Impact Insight Award, which is given annually to an individual or team whose project has made significant contributions to knowledge and understanding about people, societies and the world.
"Both SSHRC and McGill have supported my initiatives to include war-affected children as core members of my research teams, designing the research, and collecting and analyzing data," said Denov. "They have helped to champion what I think of as 'scholarly risk-taking'." She added: "This award is shared with my committed research partners in Uganda, Rwanda, and Cambodia and is a tribute to the remarkable and courageous war-affected children and families that I have had the privilege to work with."
Beyond the academy, Denov has used her research to advocate for and improve the lives of children and families affected by war. She is the Founder of Global Child McGill, a research group that examines the migration and resettlement realities of war-affected refugees in Canada. Her research has shaped Canadian policy and practice not only through dissemination at Canadian government agencies, but also through commissioned reports.
"Prof. Denov embodies the key qualities of an Insight Award winner: unmatched scholarly productivity in a demanding field, a stellar international reputation and commitment to address some of the most challenging social issues", said Prof. Martha Crago, Vice-Principal, Research & Innovation. "We congratulate her on this well-deserved award and thank the SSHRC for recognizing the power of academic excellence and leadership to improve the living conditions of war-affected children and families around the world."
Denov was the first social work researcher to be awarded a Killam Research Fellowship (2020) and the first social work researcher in Canada to be awarded a Tier 1 Canada Research Chair (2014). In recognition of her research and practice, she was awarded the McGill Faculty of Arts Distinction in Research Award (2018), Membership in the Royal Society of Canada College of the Royal Society of Canada (2015), Trudeau Research Fellowship (2014), and James McGill Professorship (2013).
Impact Award winners receive a medal and the Insight Award is accompanied by $50,000 in research funds. "Canadian social sciences and humanities researchers play a vital role in helping us to understand the impacts of the significant challenges of our age — including systemic inequality, climate change, and, of course, the COVID-19 pandemic. Their research will help us to face these challenges head on and build a more just and prosperous society for all," said The Honourable Navdeep Bains, Minister of Innovation, Science and Industry.