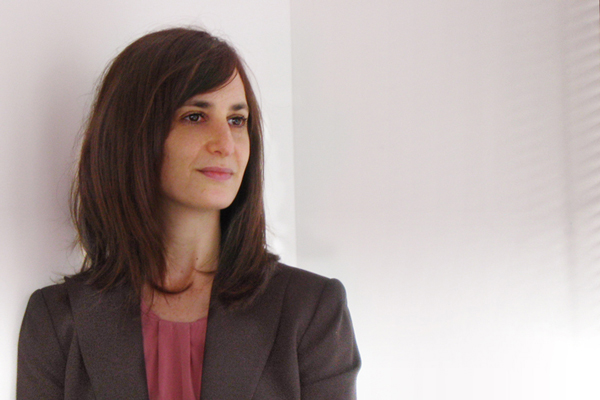 Participatory research uses art to shed light on the lives of children born of war
By Meaghan Thurston
There are thousands of children born of war-time rape worldwide, but very little is known about their lived experiences and their relationships with their families and communities. Professor Myriam Denov, of McGill's School of Social work, has been awarded one of Canada's most prestigious research awards to help fill this knowledge gap. One of three recipients of Trudeau Fellowships awarded in Canada in 2014, she hopes to shed some light on an "invisible, but resilient" population of children and youth.
The project will be conducted in partnership with two NGOs: Canadian-based Children/Youth as Peacebuilders (CAP) and Watye Ki Gen, a local African organization that works specifically with women who have survived armed captivity. The Trudeau Fellowship program provides its Fellows with access to a vast network of scholars and mentors focused on research on human rights and advocacy, in addition to $225,000 in funding over three years.
Bearing witness
Denov became aware of the issue of children born of wartime rape when working in Sierra Leone and Colombia with former child soldiers. The image of the "iconic child fighter" is a young man armed with an AK-47. Yet, many girls too have been involved in armed conflicts worldwide. In Uganda, where Denov will carry out her Trudeau research, civil war raged for more than two decades and tens of thousands of children were abducted to fight for the Lord's Resistance Army (LRA), perhaps as many as 30 per cent of them girls, many of whom were forced to become "wives" to rebel commanders and gave birth to children. While there has been investment in recent years in scholarship regarding the reintegration of child soldiers and the realities of wartime sexual violence, "there's been an invisible population, and that's the children born of these atrocities," says Denov.
For the former child soldiers, reintegration into their communities can be its own battle; however, their children may face an even greater challenge. Denov remembers one former child soldier named Mamusu, then 17 years of age with two young children, who seemed to be followed by the "stain of war." "Mamusu reported experiencing stigma and rejection by family and community because of her former affiliation with an armed group, as well as being a victim of sexual violence. Community members often referred to her children as 'devil children' and 'rebel babies.' She wondered what would become of them."
CAP and Watye Ki Gen are currently undertaking a quantitative study to determine how many children were born of rape during the conflict, with estimates of as many as 10,000.
Children know best
Denov has made her mark nationally and internationally by focusing her research on marginalized groups of children and youth, but she is also a pioneer, and an emerging expert, in the use of participatory methods of research. In Sierra Leone, for example, she employed a community-based participatory research method called PhotoVoice, which combines the use of photography with group and community awareness building.
In the PhotoVoice project, children and youth used cameras to document their daily lives. Motivated by their art-marking, peer-to-peer-groups facilitated discussions about their past experiences, their post-conflict lives, and their potential opportunities for the future. One former child soldier participating in the research program captioned a photo he had taken of a man in his community, saying: "I want to be like the man in this picture. He is an educated man, he spends time with his books and I have never seen him sitting idly around. I see him as a role model and I want to be even more educated than he is."
Denov is certain that the Trudeau project's success hinges on involving the children and youth in the research, as actively as possible. She intends that they will be trained to conduct research themselves and she fully expects that they will outshine their adult counterparts, as they have done in her previous studies. "In my previous work we had young people that not only demonstrated excellent research skills, but also went beyond their role and became mentors for other war-affected youth. It really opened my eyes to the capacity of young people and confirmed my hope of bringing young people into the process of research."
She credits the Child's Rights Unit of the Canadian International Development Agency (CIDA) for taking a chance on her participatory methodologies at the beginning of her research career, at a time when it was not widely accepted to do so. "I had an idea to engage children beyond being research subjects and CIDA was cutting edge in terms of supporting research that was children's rights focused. I proposed to them this idea of child participation on the research team, and I thought 'they're never going to let me do this.' My hat's off to them because they supported it, and they encouraged me, and through that project many doors opened that led me to where I am today. It has allowed me to work with youth and young people in so many different contexts."
Denov's interest in art as a research tool has been amplified by what she's seen work on the ground. When working with young people, art has proven to be an accessible means of communicating about hard issues, whether it's through mask-making, drawing, or photography. Denov hopes to use similar arts-based research methods in the Trudeau-funded project, including engaging children and youth as researchers and as facilitators of peer-to-peer focus groups.
A global issue
She sees the potential for her research-findings to influence public programs and policies beyond the borders of Uganda among other marginalized populations of youth, or in situations where their citizenship or status is challenged, for example with refugee youth and aboriginal youth. In Quebec between the years of 1998-2007, eight of the top ten countries from which the province accepted refugees were war affected nations (Ministère de la Citoyenneté et de l'Immigration, 2009).
The influx of refugees who have been a part of armed conflict is in part why, at home in Montreal, Denov facilitates a support group for youth affected by war. "They're survivors," she says. "They look like average teenagers…but I know I wouldn't survive the conditions they lived in, and they have. Many of them tell me that people in Canada, including helping professionals, don't understand what they have been through and it's difficult to find appropriate support when they need it."
And she is already looking ahead to the possibility of conducting a multi-country study of children born of war, further expanding the field of knowledge. But for now, she has some leg work to do in Uganda, which is made easier by the support she will receive from the Trudeau Foundation and her NGO partners. "This is a challenging topic and I am incredibly grateful that they are taking it on."