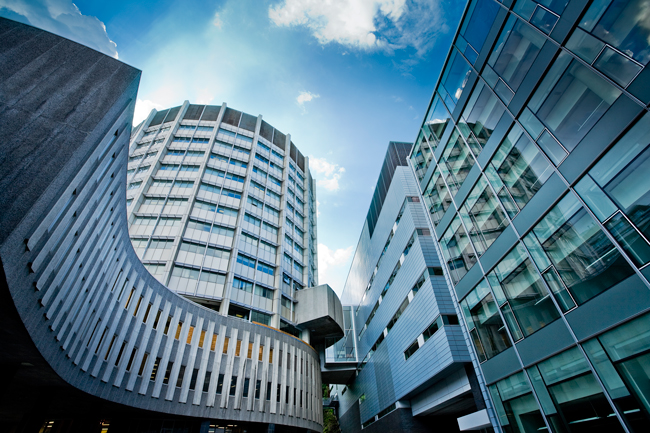 The following message was sent to the McGill community by Fabrice Labeau, Deputy Provost (Student Life and Learning), on May 8
Dear members of the McGill community,
We're slowly beginning to see some changes in our day-to-day activities, and are gradually taking small steps toward "normal." The McGill administration continues to very closely monitor the COVID-19 situation in Montreal; all our decisions carefully follow directives from government and public health authorities. As we wrap up our work week, I'd like to take a moment to update you on how the University's planning activities are progressing in some key areas.
Research activities phase-in
As I wrote to you in an earlier message, the first stage of the progressive research phase-in will begin next week. McGill continues working with the faculties involved to determine additional processes and procedures that are necessary before any research activity can safely re-start.
Once underway, the University will continually monitor how the phase-in is progressing. We will evaluate the protocols enacted in re-opened buildings, the compliance with the University's safety directives, the need and availability of personal protective equipment (PPE), and the outcomes of Environmental Health and Safety (EHS) inspections.
McGill's Emergency Operations Centre (EOC) is planning the second stage of the research phase-in. At this time, we are considering opening some research labs in the following buildings:
Life Sciences Complex: Bellini Building, Goodman Cancer Research Centre, and McIntyre Medical
Macdonald Engineering
McConnell Engineering
Rutherford Physics
Stewart Biology
Principal Investigators whose labs are located in any of the above buildings will soon receive information, from their faculty Dean, about how to submit a request to resume their research. Please note that there is no set timeline for this second phase yet. Dates will be announced once the first phase is carried out successfully.
As a reminder, researchers and employees who are being granted permission to work on campus are required to read and abide by the University's directives for facilitating a safe and efficient transition.
Additional stages of the research phase-in will be announced later this month. The EOC, along with the Research Planning Group, continues to coordinate with individual faculties in determining access to labs based on a number of factors, including: building and room capacity, viability of implementing physical distancing and other preventative measures, and research activity priorities.
Construction activities
A number of McGill construction activities will resume as of this coming Monday. These include the Outaouais campus, projects underway in buildings where limited research access is being restored, and physically isolated projects that occupy an entire building or an entire section/wing (such as the University Centre, Leacock Amphitheatre/West Terrace, Stewart Biology West Wing, McIntyre Garage, Lyman Duff/Pain CERC).  For construction activities in buildings where access is not yet being restored, project managers will be in touch with individual units and building directors. McGill will also authorize some supervised site visits by engineers and architects as part of projects that are at earlier stages (e.g., scope or design).
Thank you for your continued dedication to the University's mission as we all adapt to an unpredictable world. Stay safe, and I hope you enjoy the weekend.
Sincerely, 
Fabrice Labeau 
Deputy Provost (Student Life and Learning), on behalf of the Emergency Operations Centre
 _________________________________________
Chers membres de la communauté mcgilloise,
Notre quotidien change imperceptiblement et peu à peu, les choses reviennent à la normale, si je peux m'exprimer ainsi. La direction de l'Université continue de suivre de très près la situation à Montréal et appuie rigoureusement toutes ses décisions sur les directives du gouvernement et de la santé publique. La semaine de travail s'achève, et j'en profite pour vous dire où en est l'Université dans sa planification.
Reprise de la recherche
Comme je vous l'ai indiqué précédemment, la première phase du redémarrage progressif de la recherche débutera la semaine prochaine. De concert avec les facultés visées, l'Université détermine actuellement les mesures supplémentaires qui devront être mises en place pour que ces activités puissent reprendre en toute sécurité.
L'Université surveillera de près cette remise en route de la recherche. Nous évaluerons les protocoles en place dans les pavillons rouverts, le respect des consignes de sécurité de l'Université, la disponibilité de l'équipement de protection individuel (EPI) requis et les constats des inspecteurs de l'unité Santé, sécurité et environnement.
Le Centre des opérations d'urgence (COU) de l'Université s'affaire à planifier la deuxième phase du redémarrage de la recherche. Pour l'heure, nous envisageons la réouverture de certains laboratoires dans les pavillons suivants :
Complexe des sciences de la vie : Pavillon Bellini, Centre de recherche sur le cancer Goodman et Pavillon des sciences médicales McIntyre;
Pavillon de génie Macdonald;
Pavillon de génie McConnell
Pavillon de physique Rutherford; et
Pavillon de biologie Stewart.
Les chercheurs principaux ayant des laboratoires dans ces immeubles recevront sous peu de leur décanat de l'information sur la marche à suivre pour présenter une demande de reprise des activités de recherche. Précisons que l'échéancier de cette deuxième phase n'est pas encore établi. Les dates seront annoncées une fois la première phase terminée.
Les chercheurs et les employés autorisés à travailler sur le campus devront lire et observer à la lettre les directives de l'Université afin que la transition se fasse sans heurts et en toute sécurité.
D'autres phases de redémarrage seront annoncées d'ici la fin du mois. Le COU, en partenariat avec le Groupe de planification de la recherche, poursuit sa collaboration avec les facultés pour formuler des consignes d'accès aux laboratoires en fonction de plusieurs facteurs, à savoir : capacité de l'immeuble et de la salle, possibilité de respecter les règles d'éloignement physique et les autres mesures de prévention ainsi que priorités de recherche.
Reprise de la construction
Certains chantiers seront relancés dès lundi sur nos campus. Ce sera le cas de notre chantier au campus de l'Outaouais, des chantiers en cours dans des immeubles rouverts en partie pour la recherche et des chantiers physiquement isolés occupant entièrement un pavillon ou une partie d'immeuble (par exemple le Centre universitaire, l'amphithéâtre de la terrasse ouest du Pavillon Leacock, l'aile ouest du Pavillon de biologie Stewart, le garage McIntyre et les rénovations du Pavillon Lyman‑Duff pour la recherche sur la douleur). Si le chantier se trouve dans un pavillon encore fermé, le gestionnaire du projet communiquera avec l'unité et le directeur d'immeuble visés. Par ailleurs, des ingénieurs et des architectes pourront faire des visites supervisées dans le cadre de projets à un stade moins avancé des travaux (en phase de conception, par exemple).
Je vous remercie de demeurer résolument axés sur notre mission universitaire en ces temps pour le moins imprévisibles. Portez-vous bien et passez un beau week-end.
Cordialement, 
Fabrice Labeau 
Premier vice-principal exécutif adjoint (études et vie étudiante),
au nom du Centre des opérations d'urgence de l'Université