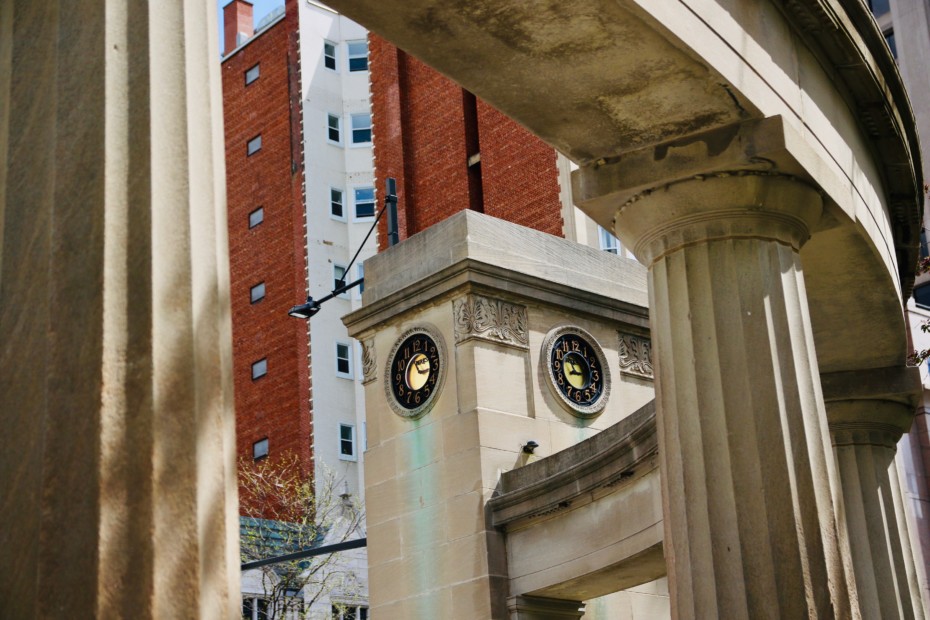 The following message was sent to the McGill community by Fabrice Labeau, Deputy Provost (Student Life and Learning).
Dear members of the McGill community,
This week brought some important announcements from the Quebec government about the gradual loosening of some restrictions related to the COVID-19 pandemic. As we head into the weekend, I'd like to share some clarifications about how the new directives will impact our work lives in the weeks ahead, as well as other news.
While the University remains operational,  members of the academic, administrative and support staff who are not already working on campus carrying out necessary functions should not report to work on campus on Monday. Pending further notice, staff are to continue working remotely from home and are not authorized to come to campus. Over the coming weeks, however, some researchers may be granted access to different buildings and labs; please see details below.
Research phase-in
As I shared with you earlier this week, the Quebec government has authorized universities to progressively resume some research activities, in a limited manner, over the coming weeks. Research activities in the fields of health, natural sciences, agriculture, forestry and engineering are being prioritized at this time. McGill's Emergency Operations Centre (EOC) is currently working with relevant faculties to develop the processes, procedures and protocols necessary to facilitate a safe and efficient transition, and will be providing these guidelines shortly.
As communicated earlier this week, the EOC, along with the Research Planning Group, will be coordinating with individual faculties who will take the lead in determining access to labs based on a number of factors, including: building and room capacity, viability of implementing social distancing and other preventative measures, and research activity priorities. Deans or their delegates will review and approve implementation plans and schedules within their respective faculties.  Details on how such requests can be made will be forthcoming. As these plans are approved, some researchers and other employees will be granted access to a very limited number of buildings and labs by their respective faculties.
Employee and student safety
In this context, researchers who will be authorized to work on campus will be required to observe safe distancing from colleagues, and to implement an enhanced cleaning and disinfection process for their workspaces. This process will include cleaning workspaces at the beginning and end of each shift, and disinfecting high-touch areas. Details will be included in the guidelines established by the EOC. It is important to note that, contrary to some rumours, the coronavirus is not known to spread through ventilation systems or the water supply.
The Quebec government continues to monitor the situation in Montreal. As the government eventually lifts restrictions for other work-related sectors and activities, we will inform you of these details as they become available.
Change to VPN access
The recent increase in remote-working has made it even more important to protect our infrastructure from cyber threats.  Starting on Tuesday (May 5), Two-Factor Authentication (2FA) will be required to connect to McGill's Virtual Private Network (VPN), to ensure that only members of the McGill community have remote access to our internal network.  You will not be able to access the VPN without 2FA. Details about how to set up 2FA are here. If you need technical assistance, you can book a live support session with IT.
Compensation
Until further instructions are communicated in the near future, regular and contractual University employees who have a valid contract after May 1, including casual and work study employees who were scheduled to work, will continue to be paid.
Thank you for reading, and for your continued collaboration in navigating this unprecedented terrain. Stay safe, and I hope you enjoy the weekend.
Sincerely, 
Fabrice Labeau 
Deputy Provost (Student Life and Learning) 
 __________________________________________________
À tous les membres de la communauté mcgilloise,
Cette semaine, le gouvernement du Québec a fait des annonces importantes sur la levée graduelle de certaines restrictions liées à la COVID-19. À l'aube du week-end, je vous apporte quelques précisions à l'égard des répercussions qu'auront ces nouvelles directives sur notre vie professionnelle dans les semaines à venir, et j'en profite pour vous communiquer d'autres nouvelles.
Bien que l'Université continue d'exercer ses activités, les membres du personnel enseignant, administratif et de soutien qui ne sont pas actuellement sur le campus pour accomplir des fonctions indispensables ne doivent pas s'y présenter lundi. Jusqu'à nouvel ordre, les employés doivent demeurer en télétravail et n'ont pas l'autorisation de se rendre sur le campus. Toutefois, il est possible que certains chercheurs puissent accéder à des pavillons et à des laboratoires au cours des semaines à venir.
Reprise graduelle de la recherche
Comme je vous l'ai annoncé cette semaine, le gouvernement du Québec a autorisé les universités à reprendre progressivement certaines activités de recherche dans les prochaines semaines, moyennant toutefois quelques restrictions. Pour l'instant, les chercheurs pourront se remettre à la tâche dans les domaines suivants : santé, sciences naturelles, agriculture, foresterie et génie. Le Centre des opérations d'urgence de l'Université (COU) s'affaire actuellement, avec les facultés visées, à établir un modus operandi et des protocoles en prévision d'une transition sans heurts et sécuritaire; ces directives vous seront communiquées sous peu.
Plus tôt cette semaine, je vous ai également annoncé que le COU, en collaboration avec le Groupe de planification de la recherche, ferait appel aux facultés, qui devront formuler les consignes d'accès aux laboratoires en fonction de plusieurs facteurs, à savoir : capacité de l'immeuble et de la salle, possibilité de respecter les règles d'éloignement physique et les autres mesures de prévention ainsi que priorités de recherche. Les modalités et l'échéancier de mise en œuvre devront être approuvés par le doyen de la faculté ou son délégué. La marche à suivre vous sera communiquée ultérieurement. Une fois l'approbation obtenue, la faculté permettra à certains chercheurs et à leur équipe d'accéder à un nombre très restreint d'immeubles et de laboratoires.
Sécurité des étudiants et des employés
Dans ce contexte, les chercheurs à qui sera accordée la permission de travailler sur le campus devront se tenir à une distance sécuritaire de leurs collègues et resserrer les pratiques de nettoyage et de désinfection de leur zone de travail. Ainsi, ils devront nettoyer leur poste au début et à la fin de leur quart de travail, en plus de désinfecter les surfaces touchées fréquemment. Le COU fournira de plus amples renseignements à ce sujet dans ses directives. Précisons ici que contrairement à ce que veut la rumeur, le coronavirus ne se propage pas par l'entremise des systèmes de ventilation ou d'approvisionnement en eau.
Le gouvernement du Québec continue de suivre de près l'évolution de la situation à Montréal. Dans le cas où le gouvernement prenait la décision de mettre fin aux restrictions pour d'autres activités et secteurs professionnels, nous vous en ferons part dès que nous en aurons été informés. 
Nouveau mode d'accès au réseau privé virtuel
En raison de la progression récente du télétravail, il est plus important que jamais de mettre notre infrastructure à l'abri des cybermenaces. C'est pourquoi à compter du mardi 5 mai, l'authentification à deux facteurs (2FA) sera obligatoire : ainsi, seuls les membres de la communauté mcgilloise pourront se connecter à distance à notre réseau privé virtuel (RPV). Si vous n'activez pas la 2FA, vous ne pourrez pas vous connecter au RPV. Pour savoir comment l'activer, cliquez ici. Si vous avez besoin d'aide, vous pouvez réserver une séance de soutien à distance auprès des TI.
Rémunération
D'ici la diffusion imminente de nouvelles informations à cet égard, les employés de l'Université réguliers et contractuels titulaires d'un contrat valide après le 1er mai, y compris les employés occasionnels et les étudiants du programme travail-études qui devaient travailler, continueront de toucher leur rémunération. 
Je vous remercie de votre attention et de votre collaboration indéfectible en cette période inédite. Portez-vous bien et passez un beau week-end.
Cordiales salutations, 
Fabrice Labeau 
Premier vice-principal exécutif adjoint (études et vie étudiante)