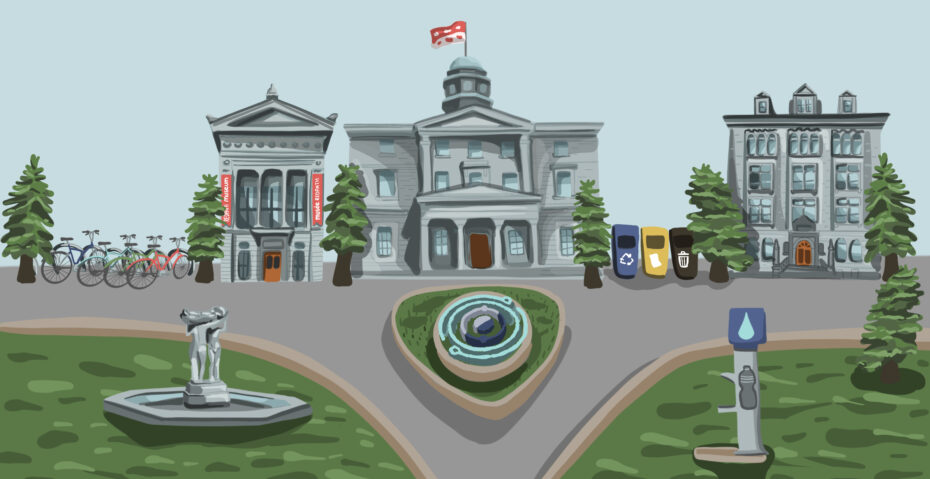 As world leaders meet in Glasgow for COP26, the 2021 United Nations climate change conference, communities around the globe will be reflecting on their role in mitigating the impacts of climate change – McGill among them.  
McGill first committed to achieving carbon neutrality in 2017 with the release of its first Climate & Sustainability Action Plan. The University's long-term target is aligned with the Intergovernmental Panel on Climate Change (IPCC) decarbonization timeline.
The Office of Sustainability sat down with McGill's Francois Miller (FM), Executive Director of Sustainability, and Jerome Conraud (JC), Director of Utilities and Energy Management, to discuss the University's commitment to achieve carbon neutrality by 2040.  
What does carbon neutrality mean?
FM: Carbon neutrality is when the amount of carbon emitted is equivalent to the amount that's either sequestered, mainly through tree growth, or offset, primarily by purchasing carbon credits.
In 2020, McGill's net greenhouse gas emissions were around 42,000 tons of CO2e, and we are aiming to get this number down to zero by 2040.
Why did McGill commit to achieving carbon neutrality by 2040?
FM: The science tells us that, at the global level, we must become carbon neutral by 2050 to stay within a reasonable amount of warming, so within 1.5 degrees Celsius. We wanted to adopt a target internally that aligned with the science produced by universities just like ours, and to be even more ambitious. That's why we aimed for 2040. Alongside Jerome's [Utilities and Energy Management] team, we did a very thorough gap analysis to establish a plan and strategy to achieve this long-term target.
The second reason why I feel it's important is that once we establish a carbon neutrality target, it gives a focal point for all sorts of initiatives on campus. It acts as an ambitious target that motivates and mobilizes internal teams and, more broadly, the McGill community.
Why is it so important for McGill to have a carbon neutrality target?
JC: From a business perspective, it removes the uncertainty of: "Are we going carbon neutral? When? What do we have to do to get there?"
I think it's definitely an added value. Having a set date for the delivery of [the carbon neutrality] objective helps us see what projects we have to put in place over the long term to get there on time. It gives us time to find funding for these projects and make sure that everything happening on campus is done considering that McGill has to become carbon neutral.
How is McGill's carbon neutrality target unique?
JC: First, we're very broad in our carbon neutrality objectives. We're not only looking at Scope 1 [direct] and 2 [indirect from purchased energy] emissions. We're also looking at select Scope 3 [other indirect] emissions, mainly commuting and directly funded air travel. This is unique to McGill and helps position us as leaders.
And then the other [unique factor] is our approach to carbon neutrality. We focus first and foremost on carbon reduction at the source. That's where most of our efforts and funding are targeted. Second, we are looking to maximize carbon sequestration, say, at the Gault Nature Reserve or at the Morgan Arboretum.
And finally, [we aim] to use offsets or credits as a last resort, for emissions that might be difficult or impossible to reduce. We're still going to have to travel – we're an international university – and we'll still emit until the aviation industry brings about its own transition.
I don't think that society at large will just get away with climate change by just planting trees. It's not going to happen. We have to transition the way we work, the way we build, the way we operate, and the way we do business.
What are some of the hurdles that an institution like McGill faces on the path to carbon neutrality?
JC: When we look at our Scope 1 and 2 emissions, we have to transform our energy systems. They're pretty old, and the campus keeps growing.
We also need to transition our systems to move away from fossil fuel use. Technologically, we are lucky enough to be in Quebec, where the carbon footprint of the power grid is extremely low. We can convert to electricity, but that creates new risks – it makes us depend on only one source of energy and one supplier. We want to maintain a diversity of energy sources.
FM: At the moment, the two main sources of Scope 3 emissions that we take into account in our [Greenhouse Gas] Inventory are commuting and air travel. Those two sources combined in a non-COVID, or normal, year are roughly one-third of our [total] emissions. So, [the Office of Sustainability is] designing programs and initiatives to address those emissions, just as Jerome's team is working hard to transform our energy systems to address Scope 1 and 2 emissions.
What lessons from the past year can McGillians take with them on the path to carbon neutrality?
FM: We all have a tendency [to be set in our ways], and when a major crisis happens, that's when new patterns are established – new ways of doing things that seemed impossible in the past. Maybe that's one of the key learnings from the pandemic. There are alternatives that allow us to stay connected with near-zero carbon footprint associated.
What projects can McGill look forward to on its journey to carbon neutrality?
JC: In terms of infrastructure projects, I'm looking forward to some geo-exchange or ground source energy projects that we're looking into. [Also, I'm looking forward to] finding innovative sources of funding for these different projects.
The commissioning of [the new electric boiler] project is going to be a major gamechanger on campus. It should be commissioned in 2023 and will help us bring our emissions down substantially—probably 20 to 25 per cent of McGill's total emissions.
FM: We're supporting initiatives to improve bike infrastructure on campus, to allow and encourage people to commute to campus in a low-carbon fashion. We are also establishing a carbon offsetting program in partnership with Indigenous communities in Panama to address emissions that cannot be reduced or sequestered.
Learn more about McGill's journey to carbon neutrality by reading the McGill University Climate & Sustainability Strategy 2020-2025.