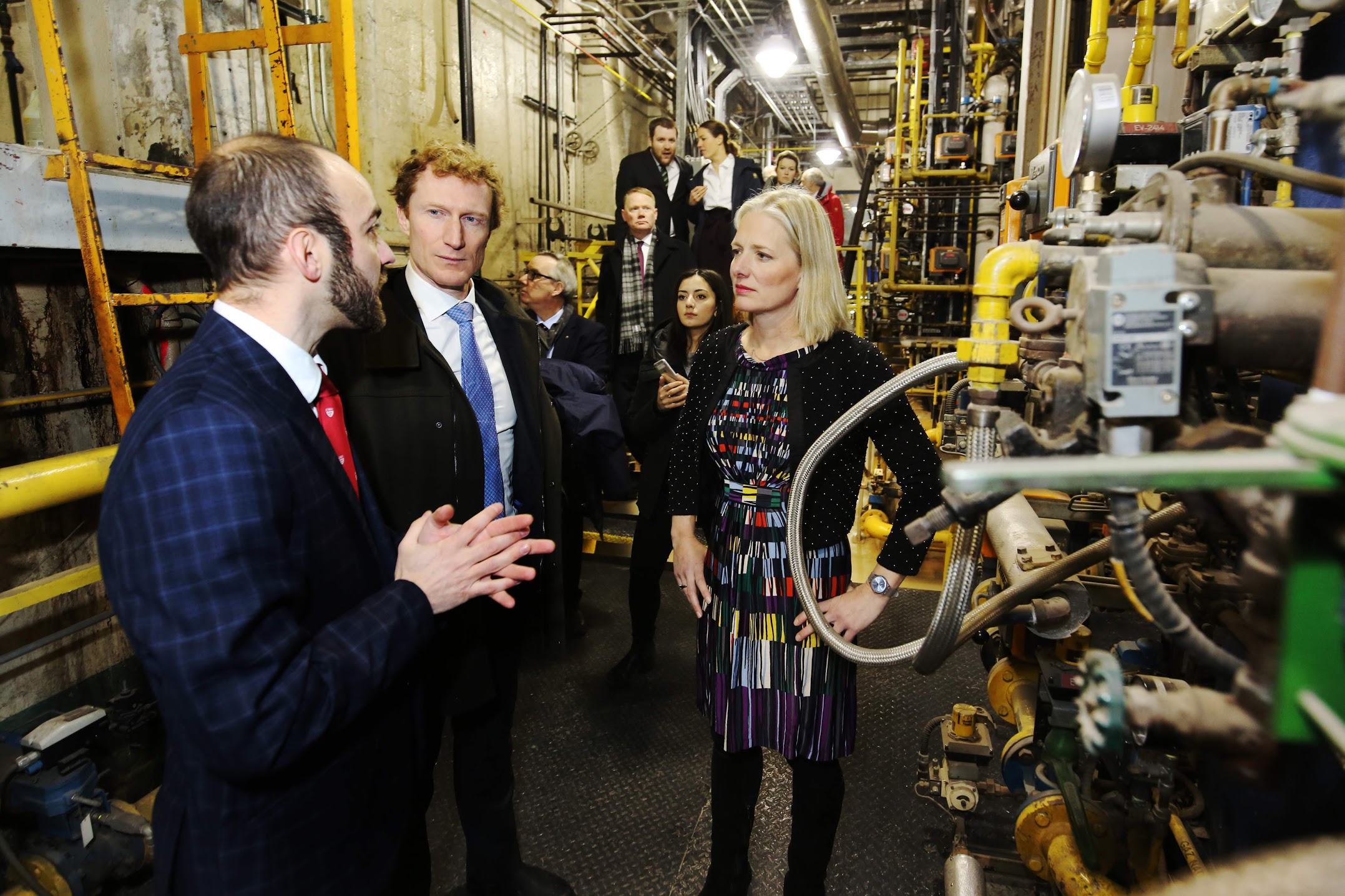 Rarely has anyone sounded as enthusiastic about touring a power plant as Catherine McKenna, Canada's Minister of Environment and Climate Change. "I can't tell you how happy I was to visit your boiler room," the Minister said at a press conference in the mezzanine of the Lorne M. Trottier Building earlier today.
Minister McKenna was on campus to announce the Federal government's support of the University's efforts to reduce its carbon footprint.  The government is investing up to $1.8 million to help McGill upgrade its heating equipment and distribution system, upgrades that will reduce fuel consumption, reduce emissions and make the local air cleaner.
At the downtown campus, fossil fuel-based heating equipment will be replaced with clean electricity and heat exchangers will be installed, recovering heat and reducing energy use even further. At the Gault Nature Reserve site, oil-based heating equipment will be replaced with clean electricity. These investments are practical ways to reduce both air and carbon pollution, save energy and reduce costs.
Being cleaner by getting smarter
"We didn't get out of the Stone Age because we ran out of stones. We got smarter," said the Minister, praising McGill for coming up with practical solutions to reduce its environmental impact. "We can tackle climate change by doing things in a smarter, cleaner way."
The funding comes from the Government of Canada's Low Carbon Economy Fund – an important part of Canada's climate plan. The ambitious plan puts Canada on track for the biggest reduction in carbon emissions in the nation's history. The plan has over 50 measures, including investing in clean energy and phasing out coal power, building public transit, and introducing a price on pollution so that it is no longer free to pollute.
"We challenge businesses, universities, hospitals and schools around Canada to come up with solutions that will reduce emissions," said the Minister. "McGill came up with a very practical solution. By moving from natural gas to electricity, you can do things in a very clean way."
On the road to carbon neutrality
Jerome Conraud, Interim Director Utilities and Energy Management, explained that some two-thirds of McGill's emissions come from buildings' energy use, with the bulk of that coming from the downtown powerhouse. The gains to be had from the upgrades are significant.
"Together these projects are expected to generate greenhouse gas emission reductions in the order of 9,900 tons of CO2 equivalent per year," said Conraud. "This is the equivalent of the emissions generated from the energy use of 2,300 typical Canadian households in a year.
"This means an 18 per cent reduction of today's level – which would set [the University] on the right course for achieving carbon neutrality by 2040 or, we hope, even sooner," said Conraud, noting that the Gault project means the Nature Reserve will run on 100 per cent renewable energy by next year.
As part of its Vision 2020 Climate & Sustainability Action Plan, McGill has committed to achieving carbon neutrality by 2040.
Impact of climate change felt across Canada
Citing last year's deadly heat wave in Eastern Canada; devastating wildfires out west; and billions of dollars of crops ruined in the prairies by freak cold weather in late summer, Minister McKenna stressed that the impact of climate change is being felt across Canada.
"The good news is that we have an opportunity to do better. We have an opportunity to do things in a smarter way, in a cleaner way. We know that the economies that are leaders in clean solutions will be the most successful," she said. "Canadians across the country are coming up with innovative and affordable solutions to increase energy efficiency and reduce emissions, saving people money and creating good jobs along the way. By investing in these projects, from coast to coast to coast, the government is making sure we are positioned to succeed in the $26 trillion global market for clean solutions and to create good middle-class jobs today and for the future."