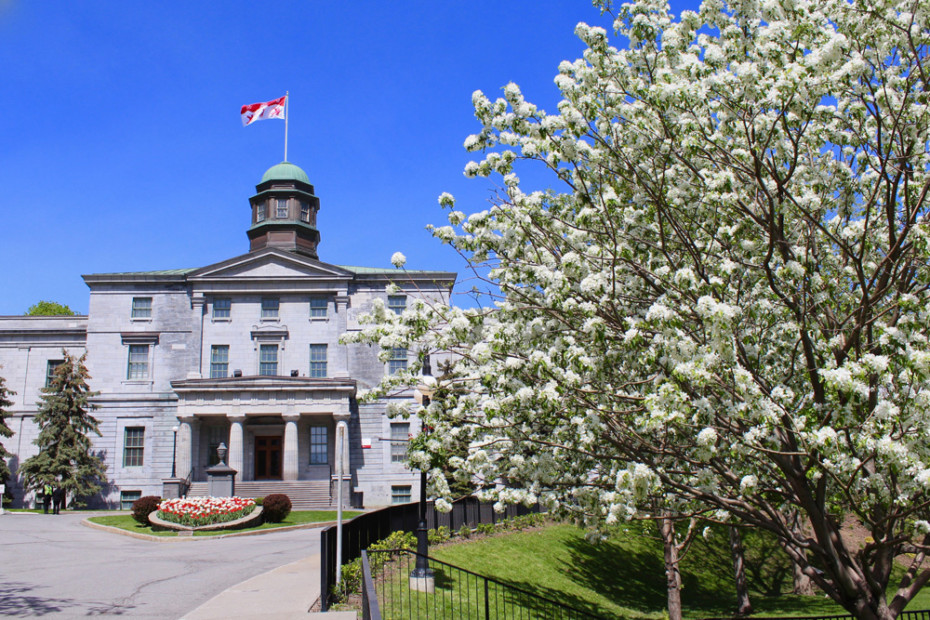 McGill has been recognized as one of Canada's Greenest Employers for a fourth consecutive year, Mediacorps announced on Monday, April 19. The University's employee-led sustainability initiatives, community partnerships, and commitment to reducing its environmental footprint contributed towards the designation.
Canada's Greenest Employers is an editorial competition organized by Mediacorp Canada Inc., which also hosts the Canada's Top 100 Employers project. The Greenest Employer designation highlights organizations for "exceptional sustainability initiatives" and environmental leadership.
Winners were selected based on their success across four areas: unique environmental initiatives and programs, environmental footprint reduction efforts and successes, the degree to which their employees are involved in these programs, and the extent to which these initiatives have become linked to the employer's public identity.
"Year after year, we are honoured to see our community's efforts in sustainability recognized," said Executive Director of Sustainability Francois Miller. "It is their contributions that further embed sustainability in McGill's DNA, making our University a more sustainable place to work and study."
Staff-led sustainability initiatives push McGill towards zero-waste
Staff-led initiatives are integral to furthering a culture of sustainability across the University, making McGill an equitable and ecological space to work and study.
One such example is the Goodman Cancer Research Centre (GCRC) Green Initiative, a joint effort between staff and students that is dedicated to reducing, reusing, and recycling non-hazardous plastic waste coming from the Centre's labs. The group institutionalizes sustainable practices within their labs by diverting plastic waste away from the landfill.
"Empowering members provides them with the opportunity to exercise their own agency and still work as a team as they advance towards reducing the amount of waste they produce," wrote Carlis Rejon and Sudipa Chatterjee, who lead the GCRC Green Initiative.
"People inevitably put their best foot forward when they care about something individually but work collectively, especially when it comes to strengthening a fledgling sustainability initiative. The GCRC Green Initiative is a proof of it."
The GCRC Green Initiative, in tandem with other such staff-led projects bring the University closer to its long-term environmental footprint reduction targets of carbon neutrality by 2040 and zero-waste by 2035. Other examples include Buildings and Grounds' Rethink React: Waste at McGill educational campaign and the Sustainability Project Fund-supported Active Transportation at Gault.
McGill's zero-waste target was introduced in the recently launched McGill University Climate & Sustainability Strategy 2020-2025, and is also moving closer to becoming reality through a composting pilot project, which also contributed to the Greenest Employer designation.
In the first two months of the pilot project in late 2019, 2,300 litres of well-sorted organic waste were collected from the McConnell building lobby and diverted away from landfill. When on-campus events resume, organizers will also be able to opt-in to an expanded organic waste collection service provided by Events Support.
Accountability and community partnerships further sustainability at all levels
Also contributing to McGill's Greenest Employer designation is the recently established Board Committee on Sustainability. This committee, which formed in 2020, further institutionalizes McGill's commitment to building a culture of sustainability across its campuses.
Externally, McGill's community partnerships also emphasize our work on social sustainability initiatives. Enrolment Services' Branches Program, for example, co-builds transformative mentorship opportunities and networks of support for Indigenous learners to pick their educational paths. The program aims to learn from and incorporate Indigenous perspectives, uphold partnerships, and promote experiential learning.
Through the Chez Doris Legal Clinic, student interns from the McGill Faculty of Law offer legal information and assistance to the charitable organization's clients year-round under the supervision of a law professor. The interns help clients with legal matters pertaining to tenant rights, family law, and criminal law, working towards the Clinic's objectives of making legal advice accessible to low-income and vulnerable individuals.
"Sustainability at McGill is more than just green," said Miller. "We are proud of our community's efforts to continuously make our institution more sustainable for all."
As a McGill employee, are you interested in learning how you can contribute to the University's sustainability efforts? Find out more here. You can learn more about the Canada's Greenest Employer competition here.