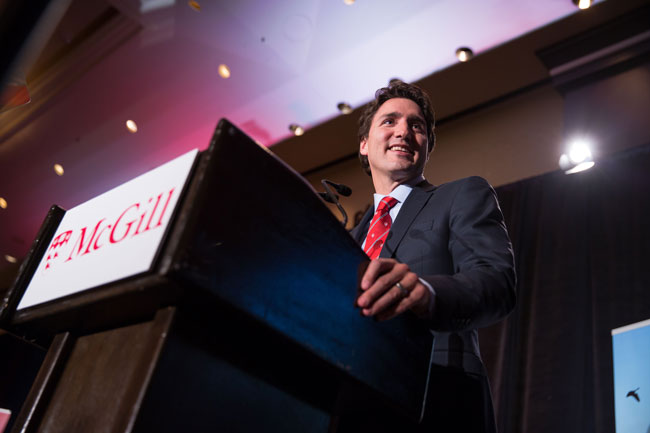 By Neale McDevitt
In the end, Justin Trudeau, the man Conservatives tried to brand as 'just not ready' to be prime minister, turned out to be, in the eyes of Canadian voters, just the right man for the job.
With Trudeau at the helm, the Liberal Party of Canada completed a stunning reversal of fortune last night to become the first 'third party' in Canadian history to win a federal election.
But even the staunchest Liberal supporters sporting the rosiest coloured glasses could not have foreseen the wave of red that rolled across Canada last night. En route to forming a majority government, the Liberals took 184 seats to 99 for the Conservatives, 44 for the NDP, 10 for the Bloc Quebecois and one for the Green Party.
Considering how far back the Liberals started, it was a landslide.
Trudeau, who earned a Bachelor of Arts from McGill in 1994, opened his acceptance speech by quoting another distinguished McGill alumnus. "More than 100 years ago, a great prime minister, Sir Wilfrid Laurier [BCL 1864], talked about sunny voices. He knew that politics can be a positive force and that is the message that Canadians sent today. Canadians chose change, real change. Sunny ways, my friends, sunny ways," said a smiling, though raspy voiced, Trudeau. "This is what positive politics can do. This is what a positive, hopeful vision and platform [can do]. Canadians from all across this country sent a clear message tonight – it is time for a change in this country, a real change."
Change was the word of the night, as the electoral map underwent a remarkable transformation. That map is decidedly more red this morning as the Liberals added 150 new seats – including at least one in every province – to their existing 34.
On the other side, the Conservative Party lost 67 seats from the 166 it held going into the election. In his concession speech, outgoing PM Stephen Harper praised Canadians and the democratic process. "While tonight's result is certainly not the one we had hoped for, the people are never wrong," he said. "The people of Canada have elected a Liberal government, a result we accept without hesitation.
"To all Canadians of every stripe in every corner of our country whether victorious or not, I salute you," continued Harper. "Your efforts keep our democracy strong."
Harper told Conservative supporters and volunteers to hold their heads up high, while he shouldered the blame for the devastating results. "For all of those who, for the past decade and a half, have built our party and contributed to our campaign, you have our deepest gratitude. You should feel nothing but pride," he said. "Know also this; the disappointment you also feel is my responsibility and mine alone."
While Harper did not resign during his speech, a short statement by John Walsh, President of the Conservative Party of Canada, was issued at virtually the same time Harper was speaking. The statement said Harper had effectively stepped down, instructing the newly elected Parliamentary caucus to appoint an interim leader and the Conservative national council to begin the leadership selection process.
In some ways, the NDP fared even worse than the Conservatives, dropping 59 of 103 seats and being stripped of its Official Opposition status. Leading in the polls at the beginning of the 78-day campaign, the New Democrats never gained traction and, instead, stumbled on several issues, most notably, the niqab debate. Garnering less than 20 per cent of the popular vote by night's end, the NDP lost virtually all the substantial gains it had made during the 2011 election when the Jack Layton-led 'orange wave' overwhelmed Quebec.
"From the beginning, this election was about change. And tonight Canadians have turned the page on 10 long years and have rejected the politics of fear and division," said NDP leader Tom Mulcair (BCL'76, LLB'77) in his short but gracious concession speech. Following his speech, Mulcair confirmed to reporters that he will be staying on as leader of the party
Mulcair echoed a familiar theme – that many Canadians had had their fill of Stephen Harper and what critics called his partisan and autocratic style of leadership. Instead, voters chose to back the vision put forth by Trudeau of a nation that harkens back to the traditional Canadian values of diversity, inclusion and positivity.
"[Canadians] share with me the conviction that politics doesn't have to be negative and personal to be successful – that you can appeal to the better angels of our nature and you can win while doing it. Tonight we proved that," said Trudeau, borrowing from U.S. president Abraham Lincoln's first inaugural address. "I hope it is an inspiration to like-minded people to step up and pitch it; to get involved in the public life of this country; and to know that a positive, optimistic and hopeful vision of public life isn't a naive dream. It can be a positive force for change.
"I want to remind everybody that Conservatives aren't our enemies, they are our neighbours," said Trudeau, extending a figurative olive branch at the finale of this long, often contentious campaign.
Somewhat surprisingly, the lengthy campaign seemed to benefit Trudeau more than his more experienced counterparts. While his critics – and the Conservative Just Not Ready ads – suggested Trudeau was too inexperienced to lead the country, the MP from Papineau never really faltered during the 78-day campaign. Some of Trudeau's strongest moments – and moments where he began to shed his neophyte label – were during the leaders debates where many experts say he out-duelled Mulcair, a former criminal lawyer and a renowned debater.
"The Conservatives spent $25 million on attack ads and that will have a momentary affect. But, in the end, if the charge they are making is not true and you are able to demonstrate to Canadians in a very clear way that it isn't true, they will respond because Canadians are fair people," said Trudeau's principal advisor, Gerald Butts (BA'93, MA'96), in an interview with the CBC.
"I think that people have been underestimating Mr. Trudeau since before he was in public life," continued Butts. "What he's accomplished tonight has never been accomplished before and he's done it because he stayed focused on the things that really matter to Canadians… He was convinced that there were a few things that he wanted to talk about for 78 days – the diversity of the country; the middle class being its strength; and a plan to lift 315,000 children out of poverty – and he stuck to those things."
In the end, Trudeau reached out to all Canadians, saying the Liberals' stunning result was as much a tribute to ordinary  citizens as it was to the party. "We won this election because we listened. We did the hard work of slogging it across the country. We met with hundreds of people in the dead of winter in the Arctic and with thousands of people in Brampton in the middle of this campaign," he said. "You built this platform, you built this movement. You told us what you need to be successful… You told us about the kind of country you want to build and leave to your children. You are the inspiration for our efforts. You are the reason why we worked so hard to get here tonight and you will always be at the heart of the government we will form.
"We beat fear with hope. We beat cynicism with hard work. We beat negative divisive politics with a positive vision that brings Canadians together," continued Trudeau over the cheers of his supporters. "Most of all we defeated the idea that Canadians should be satisfied with less; that good enough is good enough; and that better just isn't possible. Well, my friends, this is Canada and in Canada better is always possible."
At Senate, Principal Suzanne Fortier noted Trudeau's election and the fact that he's an alumnus and the third McGill graduate to sit in the Prime Minister's chair.
"The transition process is under way in Ottawa, and we are looking forward to working with this new government at the earliest moment in order to advance our priorities," she said.
Noting that a number of Trudeau's close advisors also come from McGill, along with the 25 alumni who now find themselves in the House of Commons, "we have great representation in Ottawa," she said.
Related article
Twenty-five McGillians off to Parliament
Listen to the interview Justin Trudeau did with Management professor, Karl Moore on CJAD earlier this year.