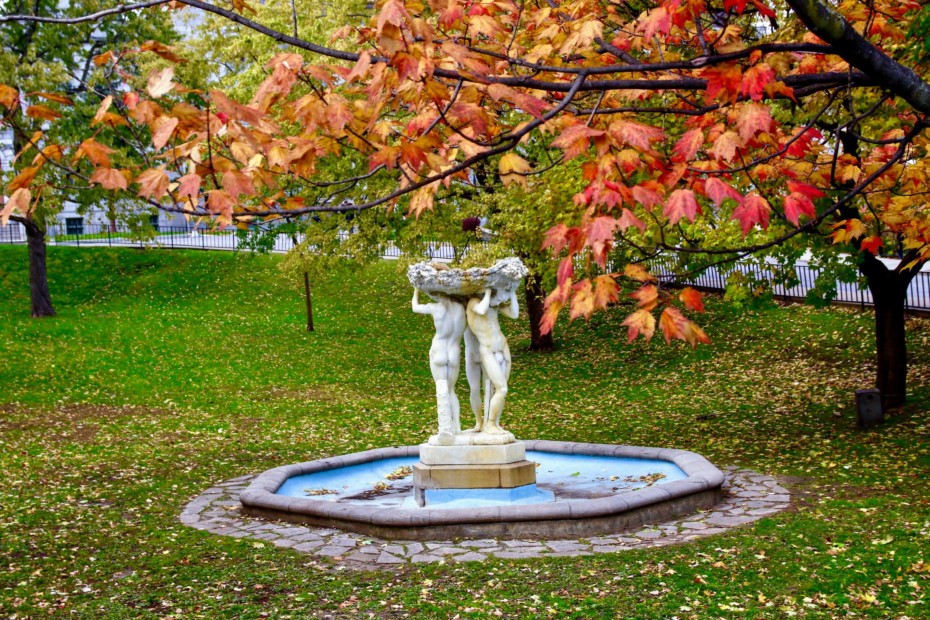 The following message was sent to the McGill community by Principal Suzanne Fortier on May 6.
Dear members of the McGill community,
The month of May always brings a different feeling and a different rhythm to McGill's beautiful campuses. Many activities move outdoors, "the beach" gets filled with people, children run around, and many of us take the time to sit on a bench and enjoy a chat with colleagues.
These scenes remind us of what has been missing over the past several weeks: "la chaleur humaine."
While we are now getting very good at connecting and living in the virtual world, we are also keenly aware of its shortcomings. Perhaps, one of the many things we will have learned from the crisis is a deeper appreciation of human connectedness in all of its manifestations.
During this period of physical distancing and isolation, we have been comforted by creative and generous artistic expressions, some from artists of other eras and some from our contemporaries. In these times, some works take on a very different meaning. Rereading Albert Camus' "The Plague" was such a different experience for me. In the current context, one passage particularly resonated: "There are more things to admire in men than to despise."
On that note, I would like to express my admiration, as well as my gratitude, to all the artists who are helping us remain connected to the human spirit.
Since I returned to my alma mater seven years ago, McGill's Schulich School of Music has been a great source of joy and pride to me. I have missed my weekly visits to attend concerts and classes. As my weekly messages wind down, I would like to share with you this wonderful video of McGill's Symphony Orchestra playing Beethoven's Symphony No. 6, also known as the Pastoral Symphony, to enjoy.
Let's continue to stay connected.
Sincerely,
Suzanne Fortier
Principal and Vice-Chancellor
_______________________________________
Chers membres de la communauté mcgilloise,
En mai, les magnifiques campus de McGill s'enveloppent d'une atmosphère particulière et changent de rythme. Des activités se transportent à l'extérieur, les pelouses se remplissent de promeneurs et d'enfants, et c'est avec plaisir que nous prenons le temps de nous asseoir sur un banc pour échanger entre collègues.
Ces images évoquent ce qui nous manque depuis plusieurs semaines : la chaleur humaine.
Nous interagissons de plus en plus habilement dans le monde virtuel, mais nous constatons aussi les limites de ce mode de communication. Au sortir de cette crise, peut-être aurons-nous acquis une meilleure compréhension de l'importance des rapports humains sous toutes leurs formes.
En cette période de distanciation physique et de confinement, des artistes de toutes les époques nous réconfortent avec leurs œuvres créatives et généreuses, dont certaines ont aujourd'hui une résonance nouvelle. La relecture de La peste, d'Albert Camus, fut pour moi une expérience complètement différente de la première lecture, et une phrase a particulièrement trouvé écho en moi : « Il y a dans les hommes plus de choses à admirer que de choses à mépriser ».
Je profite de l'occasion pour exprimer mon admiration, et ma gratitude, aux artistes qui nous gardent connectés à notre humanité.
Depuis mon retour à mon alma mater, il y a sept ans, l'École de musique Schulich de McGill est pour moi une immense source de joie et de fierté. Les concerts et les cours auxquels j'assistais chaque semaine me manquent. Alors que mes messages hebdomadaires tirent à leur fin, j'aimerais vous inviter à visionner cette magnifique vidéo de l'Orchestre symphonique de McGill, qui interprète la Symphonie no 6, dite Pastorale, de Beethoven.
Gardons le contact.
Cordialement,
Suzanne Fortier
Principale et vice-chancelière