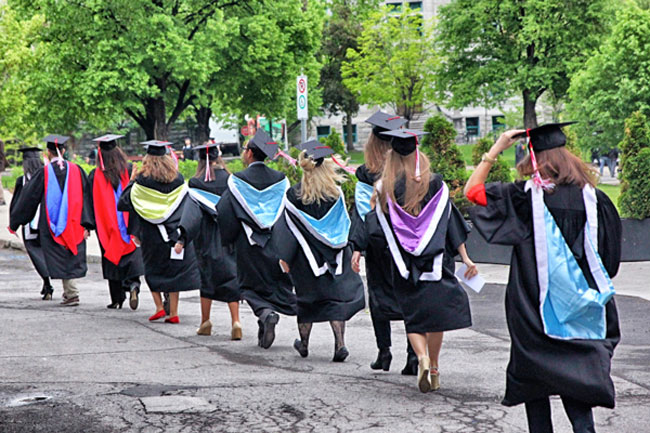 The following is a message sent by Principal Suzanne Fortier to the McGill community on April 24.
Dear members of the McGill community and Class of 2020,
It has been made exceptionally clear during the COVID-19 crisis that promoting and celebrating academic achievement – the knowledge and expertise our students work hard to gain over their time here – remains not just at the core of our mission, but of who we are as a community. In our initial consultations with graduating students and the broader McGill community, we heard overwhelmingly of the importance of an in-person celebration, one where family and friends could share in the excitement.
It is therefore my pleasure to announce that our Spring 2020 graduating students will be honoured during not one, but two, Convocation ceremonies!
The Spring 2020 in-person Convocation ceremonies will be postponed until Spring 2021, our bicentennial year, provided that government and local health authority recommendations allow us to gather together safely at that time. 
We will also have a virtual ceremony for our Spring 2020 graduates to mark an exceptional moment in their lives, made even more exceptional by circumstances that called on all their resilience and fortitude. This will be, we hope, a unique opportunity to celebrate with their family and friends from across the globe.
I know there will be many questions on the nature and timing of events to come. Please know that we are listening to your suggestions, and that more details on both ceremonies will follow in the coming weeks. As a reminder, any member of our community is welcome to submit their thoughts about the Spring 2020 Convocation to the Convocation Subcommittee using this webform by Monday, April 27, at 5 p.m. ET.
Thank you for your patience, your engagement, and your resilience as we work to find new and joyful ways of coming together.
I look forward to celebrating with all of you soon.
Sincerely,
Suzanne Fortier
Principal and Vice-Chancellor

 ____________________________________________
Chers membres de la communauté mcgilloise et de la promotion 2020,
Au cœur de la crise de la COVID-19, nous avons découvert à quel point il était essentiel pour notre communauté de reconnaître et de célébrer l'excellence de nos étudiants et les efforts qu'ils déploient tout au long de leur parcours. Les finissants, et d'autres membres de la communauté mcgilloise, nous ont abondamment parlé de l'importance de célébrations où familles et amis peuvent participer, en personne, à l'effervescence du moment.
J'ai donc le plaisir de vous annoncer que nos finissants du printemps 2020 auront droit à non pas une, mais deux cérémonies de collation des grades.
La cérémonie en présentiel aura lieu au printemps 2021, année de notre bicentenaire, à condition bien sûr que le gouvernement et les autorités de santé publique jugent que nous pouvons nous réunir en toute sécurité à ce moment-là.
Pour nos finissants du printemps 2020, nous organiserons également une cérémonie virtuelle lors de laquelle nous soulignerons cette étape exceptionnelle, qui se déroule cette année dans des circonstances faisant appel au courage et à la résilience de tous. Il s'agira pour nos finissants d'une belle occasion de célébrer avec leur famille et leurs amis de partout dans le monde.
Vous aurez sûrement beaucoup de questions sur la tenue de ces événements. Sachez que nous prenons note de toutes vos suggestions, et que nous vous donnerons des renseignements sur les deux cérémonies au cours des prochaines semaines. Je vous rappelle que l'ensemble des membres de la communauté mcgilloise sont invités à transmettre leurs suggestions au sous-comité de la collation des grades, par l'entremise de ce formulaire, d'ici le lundi 27 avril, à 17 h (heure de l'Est).
Je vous remercie de votre patience, de votre confiance et de votre résilience. Ensemble, nous inventerons de nouvelles façons de nous réunir. 
J'ai hâte de vous retrouver pour célébrer.
Sincères salutations,
Suzanne Fortier
Principale et vice-chancelière