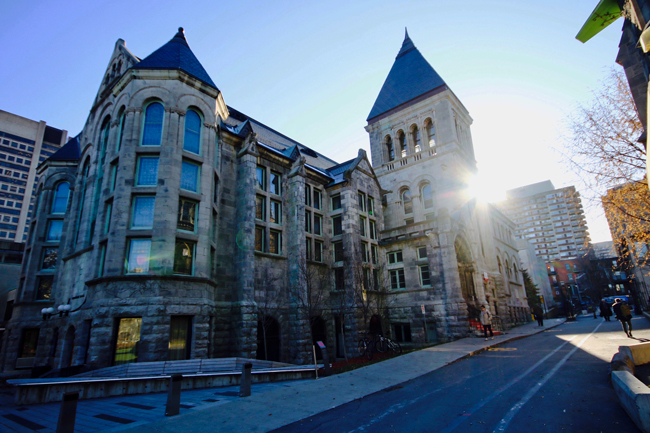 The following message was sent to the McGill community on behalf of Fabrice Labeau, Deputy Provost (Student Life and Learning), on March 27
Dear members of the McGill community,
Information is one of the most powerful tools we have at our disposal during this difficult period. I encourage you to stay abreast of new information coming from trusted sources and to share accurate information with one another.
That being said, I know very well the feeling of COVID-19 overload, which can sometimes leave us feeling anxious and powerless. Be sure to take a break from the coverage.
Please remember that even during these challenging times, there are many facets of daily life that we still control. This includes how we tend to our emotional, social and physical well-being, and how we care for our family, friends and community. Don't forget to go for walks, curl up with a book, phone a friend, play board games with your family.
Here is the most recent information I have for you concerning McGill's COVID-19 measures.
Directives for units working on campus during the reduced on-campus operations period
While the University has moved much of its operations online, and many of its staff and faculty members are working from home, necessary operations are still being conducted on campus.
On March 22, the Quebec government issued a ban on gatherings, with exceptions for work-related gatherings, for which, as much as possible, social distancing principles must be applied. Please keep in mind the following guidelines for units doing  on-campus work during this period:
Respect a two-metre distances while working. Rearrangement of work environments (e.g. spacing out occupation of cubicles, using currently unoccupied offices, etc.) or tasks (e.g. ordering sequentially tasks that are usually done concurrently) may be required.
As much as possible, employees should not enter in physical contact with each other. Tools or devices that are used by several employees will need to be cleaned between shifts. This may mean developing mandatory protocols for beginning and end of work periods (e.g. cleaning of shared tools, protocol for entry/exit to avoid crowding physical areas, etc.).
Employees must practice proper hand washing and coughing etiquette.
Individuals who have symptoms (cough, fever, difficulty breathing) must not come to work and should consult a healthcare professional.
In cases where the configuration and scheduling of work cannot be modified to accommodate a two-metre distance between employees, the unit director or chair has to send a specific proposal for the continuation of the work to Emergency Operations Center (EOC) for discussion of potential accommodations. No work should be started under such conditions without prior approval from the EOC.
The EOC will form a subcommittee to examine such cases, propose work accommodations, and, only in exceptional circumstances, approve work that does not comply with the two-metre distancing requirement.
Everyone, regardless of whether they are working at home or on campus, should follow these guidelines to protect themselves from COVID-19.
Cleaning procedures
McGill's Building Services team has put in place a stringent cleaning protocol to help reduce exposure to the COVID-19 virus. All high-touch surfaces, from toilets and sinks to drinking fountains and handrails, among many others, are cleaned daily using a disinfectant cleaning product. The surfaces are also regularly checked using testing kits to ensure high-touch surfaces are kept to the highest sanitary level possible.
I would like to take this time to thank members of our custodial team for their efforts. Your hard work is keeping our community safe.
COVID-19 resources for graduate students
The office of Graduate and Postdoctoral Studies remains operational with staff working remotely during campus closure. The GPS website has a dedicated page that provides important updates on activities and announcements.
Travel exemptions now in place
In my email of March 21, I mentioned that the Government of Canada would exempt most  international students and temporary foreign workers from border restrictions. These exemptions are now in place. If you're eligible, you can now travel to Canada. You can get complete information on the Government of Canada's website.
People returning to Canada should remember that there is a strict 14-day quarantine in effect, which means they must isolate themselves from contact with friends or family. As well, McGill cannot provide housing for their quarantine period.
International students
I recommend that international students who are not back in their home country contact their country representatives (embassy, consulate, high commission) both to register and to verify what services may be available to them.
Student financial aid
Students with urgent and immediate financial concerns relating to travel, living expenses or to access remote learning (internet or equipment related), may apply to McGill's Scholarships & Student Aid Office for In-Course Financial Aid. This is a bursary and loan program for Bachelors, Masters or PhD students based on demonstrated financial need.
Changes to employee  requirements to use the self-declaration form
As of tomorrow, it will have been 14 days since McGill shut down on-campus activities except for necessary functions. Since the COVID-19 virus is thought to have a maximum incubation period of 14 days, the possible exposure to the members of the community has been reduced. Therefore, we have modified the processes surrounding the self-declaration form for staff, starting March 28, 2020:
Employees who are required to work on campus to provide necessary functions: please complete the self-declaration form if you are unable to come into work because you need to self-isolate.
Employees who are required to work on campus and who have a weakened immune system, a chronic condition or are 70 years old and older: you should remain at home and must send an email to disability.hr@mcgill.ca. The Disability Management unit (HR) will contact you to document your condition.
Employees who are not working on campus: you no longer need to complete the self-declaration form if you need to self-isolate.
Employees who have received a clinical diagnosis of COVID-19: you must complete the Confirmation of Illness form and send it by email to disability.hr@mcgill.ca. The Disability Management unit (HR) will contact you to document your condition.
I know these are stressful times, but the best way to alleviate anxiety is to stay educated. Consult the McGill coronavirus page, which we are continuously updating with new information and FAQs. If you have a question that isn't answered on the FAQ, please write to COVID-19.info@mcgill.ca.
And don't forget to take some time for yourself today. Do the things that give you purpose, make you happy and connect you with others.
Sincerely,
Fabrice Labeau
Deputy Provost (Student Life and Learning)
on behalf of the University Emergency Operations Center
___________________________________________
Le présent message est envoyé au nom de Fabrice Labeau, premier vice-principal exécutif adjoint (études et vie étudiante).
Chers membres de la communauté mcgilloise,
La communication est l'un des outils les plus puissants à notre portée pour faire face à cette période difficile. Je vous encourage donc à demeurer à l'affût de l'actualité relayée par des sources dignes de foi et à transmettre à votre entourage de l'information fiable.
Je sais toutefois, pour avoir moi-même ressenti un trop-plein de COVID-19, que l'excès d'information peut faire naître des sentiments d'angoisse et d'impuissance. Mettez les médias de côté de temps en temps : c'est important.
Et n'oubliez pas que même en ces moments éprouvants, notre quotidien ne nous échappe pas totalement. Dans bien des aspects de notre vie, nous demeurons seuls maîtres à bord : nous décidons, notamment, comment veiller sur notre bien-être émotionnel, social et physique, et comment prendre soin de notre famille, de nos amis et de nos concitoyens. Allez faire des promenades, installez-vous avec un bon livre, téléphonez à un ami ou jouez à des jeux de société en famille.
Voici donc l'information la plus récente sur les mesures prises par l'Université dans la foulée de la pandémie.
Unités présentes sur le campus pendant la période de ralentissement des activités
L'Université a transporté bon nombre de ses activités en ligne, et de nombreux membres de son personnel et de son corps professoral sont en télétravail, mais certaines activités indispensables se déroulent encore sur le campus.
Le 22 mars, le gouvernement du Québec a interdit les rassemblements, sauf s'ils sont liés au travail. Dans la mesure du possible, ces rassemblements professionnels doivent être conformes aux principes de l'éloignement social. Dès lors, les unités présentes sur le campus doivent observer les directives ci-après.
Les employés doivent garder deux mètres de distance entre eux. Le respect de cette consigne peut nécessiterle réaménagement des lieux de travail (p. ex. espacement des bureaux à cloisons, utilisation de bureaux inoccupés, etc.) ou des tâches (p. ex. exécution séquentielle de tâches habituellement réalisées simultanément).
Dans la mesure du possible, les employés ne doivent pas entrer en contact les uns avec les autres.Les instruments ou les appareils utilisés par plusieurs employés devront être nettoyés entre les périodes de travail. L'élaboration de protocoles d'application obligatoire au début et à la fin de chaque période de travail pourrait s'imposer (p. ex. nettoyage des instruments communs, respect de certaines modalités d'entrée et de sortie afin d'éviter une trop grande concentration de personnes dans un même lieu, etc.).
Les employés doivent se laver les mains à fond et tousser dans le creux de leur coude.
Les personnes présentant des symptômes (toux, fièvre, difficulté à respirer) doivent impérativement s'abstenir de venir au travail et doivent consulter un professionnel de la santé.
S'il est impossible de réaménager les lieux ou les tâches de manière à ce que les employés gardent entre eux une distance de deux mètres, le responsable de l'unité doit soumettre au Centre des opérations d'urgence (COU) de l'Université une proposition de poursuite du travail afin que des solutions puissent être envisagées. Les employés ne doivent pas travailler dans ces conditions sans l'approbation du COU.
Le COU formera un sous-comité qui se penchera sur ces cas, proposera des aménagements et n'approuvera qu'exceptionnellement la poursuite du travail dans des conditions ne permettant pas le respect de la distance de deux mètres.
Qu'ils soient en télétravail ou sur le campus, tous les employés doivent suivre ces directives pour se protéger de la COVID-19.
Protocole de nettoyage
Le Service des bâtiments de l'Université a mis en place un protocole de nettoyage rigoureux afin de réduire l'exposition au virus de la COVID-19. Toutes les surfaces touchées fréquemment – toilettes, lavabos, fontaines et mains courantes, notamment – sont désinfectées quotidiennement. En outre, le Service effectue des tests régulièrement au moyen de trousses conçues à cette fin pour s'assurer que ces surfaces répondent aux normes sanitaires les plus strictes.
J'en profite d'ailleurs pour remercier les membres de nos Services d'entretien. Par votre travail minutieux, vous contribuez à préserver la santé de notre communauté.
Étudiants aux cycles supérieurs
Le Bureau des études supérieures et postdoctorales est à pied d'œuvre, à distance, pendant la période de fermeture du campus. Sa page Web consacrée à la COVID-19 comporte de l'information et des annonces importantes.
Restrictions de voyage : exemptions maintenant en vigueur
Dans mon courriel du 21 mars, j'ai souligné que le gouvernement canadien allait exempter la plupart des étudiants internationaux et des travailleurs étrangers temporaires des mesures de restrictions aux frontières. Ces exemptions sont maintenant en vigueur. Si vous y êtes admissible, vous pouvez entrer au Canada. Pour obtenir toute l'information pertinente, consultez le site Web du gouvernement du Canada.
Nous rappelons aux personnes qui rentrent au Canada qu'elles devront se placer en quarantaine obligatoire pendant 14 jours, c'est-à-dire s'isoler de leurs amis et de leurs proches. L'Université McGill ne pourra pas les héberger pendant cette quarantaine.
Étudiants internationaux
Je recommande aux étudiants internationaux qui n'ont pas regagné leur pays d'origine de communiquer avec la représentation de leur pays au Canada (ambassade, consulat ou haut-commissariat) pour s'inscrire, d'une part, et pour connaître les services auxquels ils ont accès, d'autre part.
Aide financière aux étudiants
Les étudiants ayant besoin d'une aide financière urgente et immédiate pour payer des frais de déplacement ou de subsistance, ou s'installer pour suivre leurs cours en ligne (Internet ou matériel), peuvent faire une demande d'aide financière pour étudiants déjà inscrits auprès du Bureau des bourses et de l'aide financière aux étudiants. Ce programme de prêts et bourses est offert aux étudiants au baccalauréat, à la maîtrise et au doctorat dont le besoin d'aide financière a été démontré.
Formulaire d'autodéclaration : changement des modalités visant les employés
Demain marquera le quatorzième jour de l'arrêt des activités sur le campus de l'Université McGill, à l'exception des fonctions indispensables. Comme la période maximale d'incubation du virus de la COVID-19 est, estime-t-on, de 14 jours, le risque que des membres de notre communauté y aient été exposés est moindre. Nous avons donc modifié les modalités de présentation du formulaire d'autodéclaration pour les employés. Ainsi, les directives ci-dessous entrent en vigueur le 28 mars 2020.
Les employés tenus de travailler sur le campuspour le maintien des fonctions indispensables doivent remplir le formulaire d'autodéclaration s'ils doivent se placer en isolement et ne peuvent donc pas venir travailler.
Les employés tenus de travailler sur le campus etdont le système immunitaire est affaibli, qui sont atteints d'une maladie chronique ou sont âgés de 70 ans ou plus doivent rester à la maison et faire parvenir un courriel à l'adresse disability.hr@mcgill.ca. L'unité de gestion de l'invalidité (rattachée aux Ressources humaines) communiquera avec eux pour prendre les dispositions nécessaires.
Les employés qui ne travaillent pas sur le campus n'ont plus à remplir le formulaire d'autodéclaration s'ils doivent se placer en isolement.
Les employés ayant reçu un diagnostic de COVID-19 doivent remplir le formulaire de confirmation de maladie et le faire parvenir par courriel à l'adresse disability.hr@mcgill.ca. L'unité de gestion de l'invalidité (rattachée aux Ressources humaines) communiquera avec eux pour prendre les dispositions nécessaires.
Nous traversons une période stressante, j'en suis bien conscient, mais l'information est le meilleur antidote contre l'angoisse. Consultez notre page sur le coronavirus et sa FAQ, que nous actualisons régulièrement. Si vous avez des questions pour lesquelles vous ne trouvez pas de réponse dans notre FAQ, veuillez les acheminer par courriel à COVID-19.info@mcgill.ca.
En terminant, n'oubliez pas de vous garder un peu de temps pour vous aujourd'hui. Faites des activités qui vous tiennent à cœur, vous font plaisir et vous rapprochent de vos semblables.
Cordiales salutations,
Fabrice Labeau
Premier vice-principal exécutif adjoint (études et vie étudiante),
au nom du Centre des opérations d'urgence de l'Université McGill