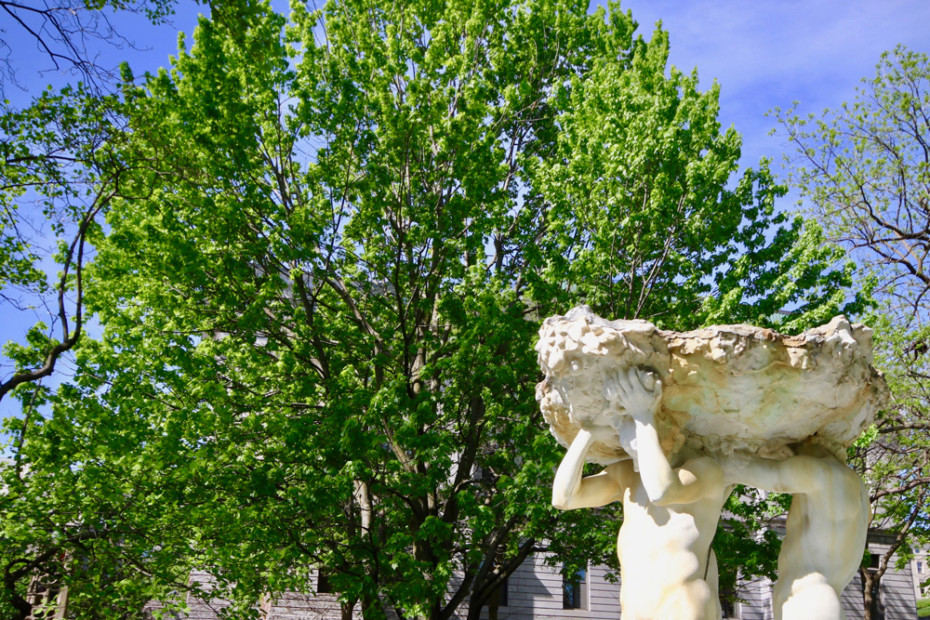 This message was sent to the McGill community on behalf of Fabrice Labeau, Deputy Provost (Student Life and Learning), on March 31
Le présent message est envoyé au nom de Fabrice Labeau, premier vice-principal exécutif adjoint (études et vie étudiante). 
La version française suit. 
Dear members of the McGill community,  
I am very happy to report that classes resumed yesterday in their new remote learning format. While I'm sure most of you already knew this, I feel like this is a major milestone that we should all take great pride in. 
To transition some 2,000 classes to remote learning in not much more than two weeks required the historic collaboration of faculty, students and staff across the University. Congratulations to everyone involved.  
Here are some other updates: 
Reminder for instructors teaching remotely
Overall, the first days have gone well, and it is so encouraging to see the new methods of instruction working effectively. We do want to remind instructors to, as much as possible, record any lecture materials and post content, and assess students in a manner that supports students who may be taking classes while being physically located in different time zones.  Resources in Teaching & Learning Services may help provide some options. Once again, thank you to all instructors for the successful transition to remote instruction.  
Web conferencing and collaboration tools for remote teaching and meetings
As part of McGill's efforts to enable remote work, several units have worked closely together to launch a number of online collaboration services that facilitate remote meetings and teaching. We wish to reinforce the approved, primary purpose of these services. 
To host remote teaching:  
Zoom: McGill's Zoom licenses should be used exclusively for remote teaching. Although units may have previously purchased Zoom licenses to conduct remote meetings (i.e., purposes unrelated to remote teaching), these licenses may no longer work as a result of the recent integration of Zoom with myCourses and the Lecture Recording System. Over the next few weeks, given the responsiveness required for remote course delivery, IT support will prioritize Zoom issues related to remote teaching before addressing other Zoom support requests.  
 
For this reason, to host remote meetings, we encourage you to use the following free institutional meeting and collaboration tools as an alternative to Zoom.   
To host remote meetings and events:  
Microsoft Teams: Use MS Teams for remote team meetings where you need to invite McGill and non-McGill participants. Other features include chat messaging, document libraries, document collaboration and sharing.  
WebEx: Use WebEx for remote meetings/events where you would like to give participants (McGill and non-McGill) the option to dial-in by phone. You can also customize permissions for the host and participants.
Employees: Reporting self-isolation or a COVID-19 diagnosis 
We have revised the self-declaration page for employees on the coronavirus site to make it easier for you to determine if you need to report to your supervisor or HR and what the processes are. In general:   
All employees need to report if they have received a clinical diagnosis of COVID-19.  
Employees who are not working on campus do not need to report self-isolation. 
Employees who are required to work on campus need to report if they must self-isolate, or if they have certain risk factors.   
How can you help? 
In recent days, the Quebec government has issued a call for volunteers to help support organizations that offer essential services. The support needed includes everything from making calls to seniors to getting groceries for people with disabilities. 
I encourage anyone who has extra time outside of your work commitments or study time to get involved, even if it is just an hour or two. The new website, jebenevole.ca, allows users to select their region and browse volunteer opportunities near them that are best matched with their skillset.  
Don't forget to consult the McGill coronavirus page, for the most up-to-date information and  FAQs page. If you have a question that isn't answered on the site, please write to COVID-19.info@mcgill.ca. 
In closing, please remember to celebrate your victories, big and small. For weeks now, it feels like the world has been shrinking as restrictions have grown tighter to stem the spread of COVID-19. But today, our teachers are teaching and our students are learning once again. This is a real step forward and one that would never have been possible without everyone's help. Thank you for your part in this achievement. 
Sincerely, 
Fabrice Labeau 
Deputy Provost (Student Life and Learning) 
on behalf of the University Emergency Operations Center 
________________________________________________ 
Chers membres de la communauté mcgilloise,  
Comme vous le savez sans doute, les cours ont repris hier dans des prestations à distance. Nous venons de franchir une étape importante et pouvons, je pense, en tirer une juste fierté. 
Pour transporter quelque 2 000 cours en ligne en à peine un peu plus de deux semaines, enseignants, étudiants et employés de toutes les sphères de l'Université ont dû se mobiliser comme jamais. Toutes mes félicitations aux artisans de cette réussite.  
Voici les nouvelles du jour. 
Rappel sur l'enseignement à distance  
Dans l'ensemble, tout se passe rondement et les nouvelles méthodes d'enseignement sont efficaces, ce qui est fort encourageant. En guise de rappel, nous demandons aux enseignants d'enregistrer leurs cours magistraux et de mettre leurs contenus en ligne dans toute la mesure du possible. Comme les étudiants qui suivent leurs cours ne sont pas forcément tous dans le même fuseau horaire, nous leur demandons aussi de tenir compte de cet état de choses dans leurs évaluations. Le Centre d'enseignement supérieur met à leur disposition des ressources pour les aider à trouver des solutions. Une énorme merci, une fois encore, à tous les enseignants pour ce passage en douceur à des prestations à distance. 
Cyberconférences, téléenseignement et téléréunions  
L'Université s'emploie à mettre en place des solutions de télétravail. Ainsi, plusieurs unités ont collaboré étroitement à la mise en place de services de collaboration en ligne pour les téléréunions et le téléenseignement. Nous vous proposons un survol des outils mis à votre disposition et de leurs principales utilisations approuvées. 
Téléenseignement  
Zoom : Les licences Zoom de l'Université ne doivent servir qu'à l'enseignement à distance. Il se peut que des unités se soient procuré par le passé des licences Zoom pour la tenue de téléréunions (donc pour des fins autres que le téléenseignement); or, ces licences pourraient ne plus être valides en raison de l'intégration récente de Zoom à myCourses et au système d'enregistrement des cours magistraux. Dans les semaines à venir, l'équipe de dépannage des TI se consacrera en priorité aux demandes de soutien Zoom liées à l'enseignement à distance, ce mode de prestation exigeant un service rapide.  
 
Aussi, nous vous encourageons à utiliser plutôt les outils gratuits ci-après pour la collaboration à distance et la tenue de téléréunions.   
Réunions et activités à distance  
Microsoft Teams : Utilisez MS Teams pour la tenue de téléréunions auxquelles vous conviez des participants de l'Université et de l'extérieur. Cette plateforme offre également des fonctionnalités de conversation, de stockage ainsi que de partage de fichiers et de ressources.  
WebEx : Utilisez WebEx pour la tenue de réunions et d'activités à distance si certains participants (de l'Université et de l'extérieur) doivent se joindre à vous par téléphone. Vous pouvez également personnaliser les autorisations pour l'hôte et les participants. 
Employés : déclaration d'isolement volontaire ou de diagnostic de COVID-19 
Nous avons révisé la page du formulaire d'autodéclaration du site Web sur le coronavirus afin de préciser les modalités de déclaration (supérieur ou RH) et la marche à suivre. En résumé :   
tous les employés qui reçoivent un diagnostic de COVID-19 doivent le déclarer;  
les employés qui ne travaillent pas sur le campus n'ont pas à signaler un isolement volontaire; 
les employés qui sont tenus de travailler sur le campus doivent signaler un isolement volontaire ou l'exposition à des facteurs de risque.   
Vous souhaitez vous rendre utile? 
Depuis quelques jours, le gouvernement du Québec lance un appel à la population : les organismes ont besoin de bénévoles pour assurer la prestation d'une multitude de services essentiels, qu'il s'agisse de donner un coup de fil à des aînés ou d'aller au supermarché pour des personnes en situation de handicap. 
Vous avez du temps libre après le travail ou les études? Je vous encourage à donner un peu de ce temps, ne serait-ce qu'une heure ou deux, pour venir en aide aux personnes dans le besoin. Sur le nouveau site Web jebenevole.ca, vous choisissez votre région, et les possibilités de bénévolat s'affichent : vous n'avez qu'à opter pour celles qui vous conviennent le mieux. 
Je vous invite de nouveau à consulter la page sur le coronavirus et sa FAQ pour obtenir de l'information récente. Si vous avez des questions pour lesquelles vous ne trouvez pas de réponse sur le site, écrivez à COVID-19.info@mcgill.ca. 
Ne manquez pas de célébrer toutes vos victoires, les petites comme les grandes. Depuis des semaines, nous avons l'impression que notre monde se referme peu à peu au gré des restrictions visant à freiner la propagation de la COVID-19. Mais aujourd'hui, nos enseignants enseignent et nos étudiants étudient de nouveau. C'est en soi une grande réussite, qui n'aurait jamais été possible sans une mobilisation générale de notre communauté. Du fond du cœur, un grand merci. 
Cordiales salutations, 
Fabrice Labeau 
Premier vice-principal exécutif adjoint (études et vie étudiante), 
au nom du Centre des opérations d'urgence de l'Université McGill