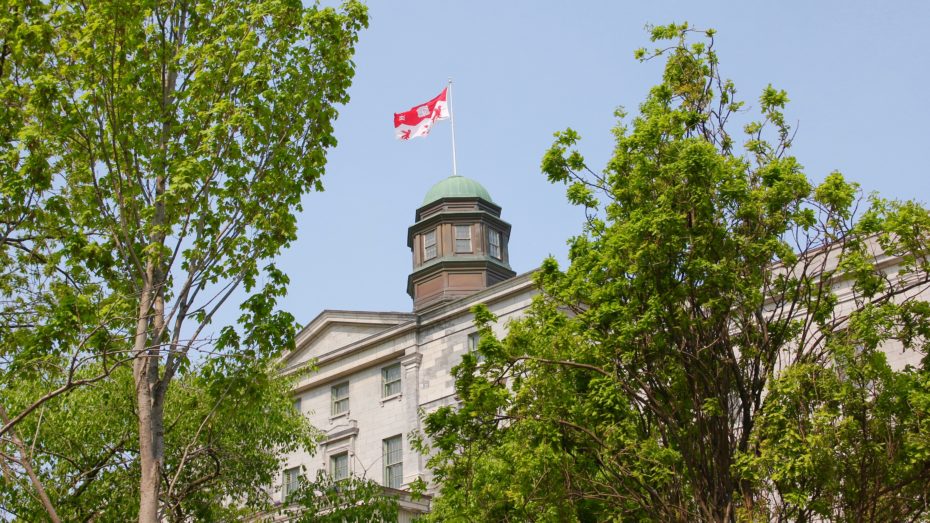 This message was sent on behalf of Fabrice Labeau, Deputy Provost (Student Life and Learning) on April 6.
Le présent message est envoyé au nom de Fabrice Labeau, premier vice-principal exécutif adjoint (études et vie étudiante).
La version française suit.
Dear members of the McGill community,
I hope you were able to enjoy the beautiful spring weather over the weekend. It's wonderful to see slivers of green slowly unfurling on branches and pushing up through the ground. Amidst all the uncertainty and change of recent weeks, there's comfort in these little flashes of familiarity.
Here is the latest information relating to COVID-19 and McGill operations:
University-related travel suspended
On March 14, McGill prohibited university-related international outbound travel, in accordance with the Government of Canada advisory. As of April 6, all McGill-related travel within Canada is also suspended, in compliance with government directives to avoid all non-essential travel. Of course, students and employees who are returning to Canada are excepted from this suspension. Please see McGill's coronavirus page for more travel information.
Two Factor Authentication (2FA) postponed
Although it is important that we remain vigilant about cybersecurity practices, I can appreciate that our current transition to remote work and learning is not without its emotional strain. In recognition of these stresses, McGill IT Services has postponed the mandatory implementation of Two-Factor Authentication (2FA) for Virtual Private Network (VPN) access until May 5.
Zoom security
As Zoom usage has increased during recent weeks, so too has concern over privacy and cybersecurity. If you are using this web conferencing platform, I encourage you to read McGill IT's article about how they are mitigating specific concerns raised by the McGill community.
OSVRSE still open
During these uncertain times, the Office for Sexual Violence Response, Support and Education (OSVRSE) is still offering direct support, virtually or by phone, to the McGill community. Drop-in hours, group activities and volunteering activities, however, are suspended until further notice.  To request assistance and inquire about adapted services, you can email osvrse@mcgill.ca or phone 514-398-3954.  Please allow for a 24-hour response time during regular business hours.  In addition, for immediate assistance in Quebec, you can contact the 24/7 provincial sexual assault crisis line at 1-888-933-9007 or 514-933-9007.
We are continuing to update the McGill coronavirus page with the latest information as it becomes available. If you have a question that isn't answered on the FAQ page, please write to COVID-19.info@mcgill.ca.
I hope you and your loved ones are doing well. Thank you for reading.
Sincerely,
Fabrice Labeau
Deputy Provost (Student Life and Learning)
on behalf of the University Emergency Operations Center
__________________________________________________
Chers membres de la communauté mcgilloise,
J'espère que vous avez pu profiter de la douceur printanière ce week-end. N'est-ce pas merveilleux de voir les bourgeons sur le point d'éclore et la verdure en pleine renaissance? Après l'incertitude et les bouleversements des dernières semaines, ces images ont quelque chose de réconfortant.
Vous trouverez ci-après les nouvelles du jour sur la COVID-19 et les activités de l'Université.
Suspension des voyages pour le compte de l'Université
Depuis le 14 mars, tous les voyages à l'étranger pour le compte de l'Université sont interdits, conformément à l'avis émis par le gouvernement du Canada. Or, à compter d'aujourd'hui même, 6 avril, les voyages au Canada effectués pour le compte de l'Université sont également suspendus, conformément aux directives des autorités publiques sur la restriction des déplacements non essentiels. Bien entendu, cette suspension ne s'applique pas aux étudiants et aux employés souhaitant revenir au Canada. Les voyageurs sont priés de consulter la page sur le coronavirus pour obtenir de plus amples renseignements.
Report de l'authentification à deux facteurs (2FA)
Le passage au travail et à l'apprentissage à distance met les nerfs de notre communauté à rude épreuve, j'en suis pleinement conscient. Aussi, malgré l'importance de la cybersécurité, les Services des TI ont décidé de reporter au 5 mai l'adoption obligatoire de l'authentification à deux facteurs (2FA) pour l'accès au réseau privé virtuel (VPN).
Cybersécurité sur la plateforme Zoom
Le taux de fréquentation de Zoom étant à la hausse, les questions de confidentialité et de cybersécurité se posent avec plus d'acuité. Si vous vous servez de cette plateforme de conférence Web, je vous invite à lire cet article sur les mesures que prennent les TI pour protéger la communauté mcgilloise.
Violence sexuelle : notre équipe est là pour vous
En ces temps incertains, une certitude demeure : le Bureau d'intervention, de prévention et d'éducation en matière de violence sexuelle est là pour soutenir les membres de notre communauté, que ce soit par Internet ou par téléphone. Cependant, le service porte ouverte, les activités de groupe et le bénévolat sont suspendus jusqu'à nouvel ordre. Si vous avez besoin d'aide ou d'information sur les services adaptés, écrivez à l'adresse osvrse@mcgill.ca ou composez le 514 398-3954. Veuillez prévoir un délai de réponse de 24 heures pendant les heures ouvrables. Pour obtenir une aide immédiate au Québec, vous pouvez appeler en tout temps la Ligne-ressource provinciale pour les victimes d'agression sexuelle, au 1 888 933-9007 ou au 514 933-9007.
Nous actualisons régulièrement notre page sur le coronavirus. Si vous ne trouvez pas réponse à votre question dans la FAQ, écrivez à l'adresse COVID-19.info@mcgill.ca.
J'espère que vous et vos proches vous portez bien. Merci de votre attention.
Salutations,
Fabrice Labeau
Premier vice-principal exécutif adjoint (études et vie étudiante), au nom du Centre des opérations d'urgence de l'Université McGill