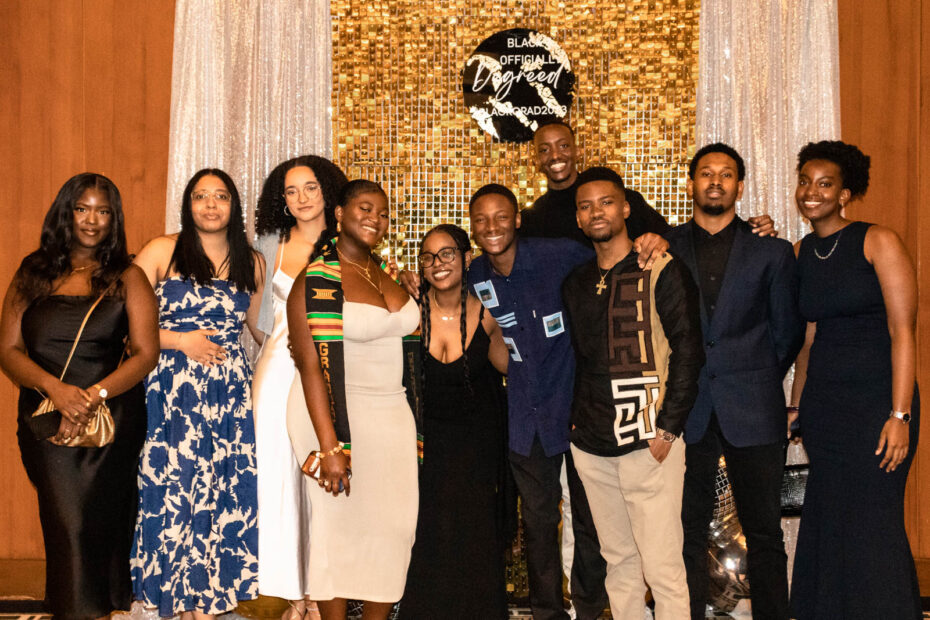 Students, professors, family members and friends gathered to celebrate the accomplishments of Black students graduating from McGill this year at the annual Black Grad event at the Omni Hotel on April 30. Over 100 people attended the ceremony and the sold-out gala celebration that followed, organized by the Black Students' Network of McGill.
"A lesson that was truly reinforced that night is that greatness will always prevail in the face of adversity," said Black Grad organizing committee member Bryana Jean-Jacques. "The confidence with which the grads walked that stage, ready to receive their Kente stoles, made it clear that they were fully prepared to become the future faces of Black excellence."
Academic achievement and community leadership honoured
The event was an opportunity to highlight the achievements of three valedictorians Marie-Perle Nkosi, Ashley Jonassaint, and Julia Ayim. Also honoured were Gattuoch Kuon and Emily-Rose Njonde, recipients of the Audrea Golding Award for community leadership. Sociology major Njonde's words about her time at McGill spoke to the academic rigour, the diverse opportunities for personal and professional development, and the precious friendships that were all part of her student experience.
"Being at McGill has given me the opportunity to be involved with diverse communities and participate in meaningful experiences that have thoroughly made me grow as a person," Njonde said.
"Not only did I grow as an intellectual, as my professors and peers forced me to continuously push myself, but I also gained professional experiences during my time as an intern for Equitas as well as Audace au Féminin. I was also able to step out of my box and develop new skills as a voice actor, a moderator, a writer, and an advocator. These experiences, as well as the deep friendships I have been able to form, will surely impact the rest of my life. It's hard to boil it down to one thing, but the most important lesson I learned in the last three years was how to stay true to myself and follow the path that was meant for me."
Inspirational performers provide soundtrack to "killer" ceremony
Shining as bright as the students themselves were the talented musicians who brought the ceremony to life, including vocalist Dashny and violinist Kayiri. The gala reception continued with live performances from a range of musicians and dancers, all warmly appreciated by the crowd.
Keynote speaker Miro LaFlaga, founder of design agency Six Cinquième, urged the graduating students to live a life without regrets and pursue the things they were most passionate about.
"That one thing that you're naturally good at can lead you places, to people, have a life-changing impact that you will never regret," LaFlaga said. "This impact will not only affect your personal life, but it will inspire other people who look like you to do the same."
Also attending Black Grad were Principal and Vice-Chancellor Deep Saini and Associate Provost (Equity & Academic Policies) Angela Campbell, who extended their congratulations to the graduating students and applauded the accomplishments and contributions of the Black community at McGill.
Check out the photo gallery below. All pictures by Tuza Dulcine