On April 30, the achievements of Black students in McGill's Class of 2023 were celebrated at the annual Black Grad gala. Organized by the Black Students' Network of McGill, the sold-out event was held at the Omni Hotel.
The event included speeches from this year's Black Grad valedictorians, outstanding students who have earned the respect of the peers who they represent through their strong academic performance, leadership and commitment to making the University – and the world – a better place.
Ashley Jonassaint is one of this year's three Black Grad valedictorians. Jonassaint has completed her Bachelor of Arts, with a major in Economics and a minor in International Development. 
As part of the Reporter's Spring 2023 Convocation coverage, we spoke with Jonassaint about her experience at McGill and her future plans.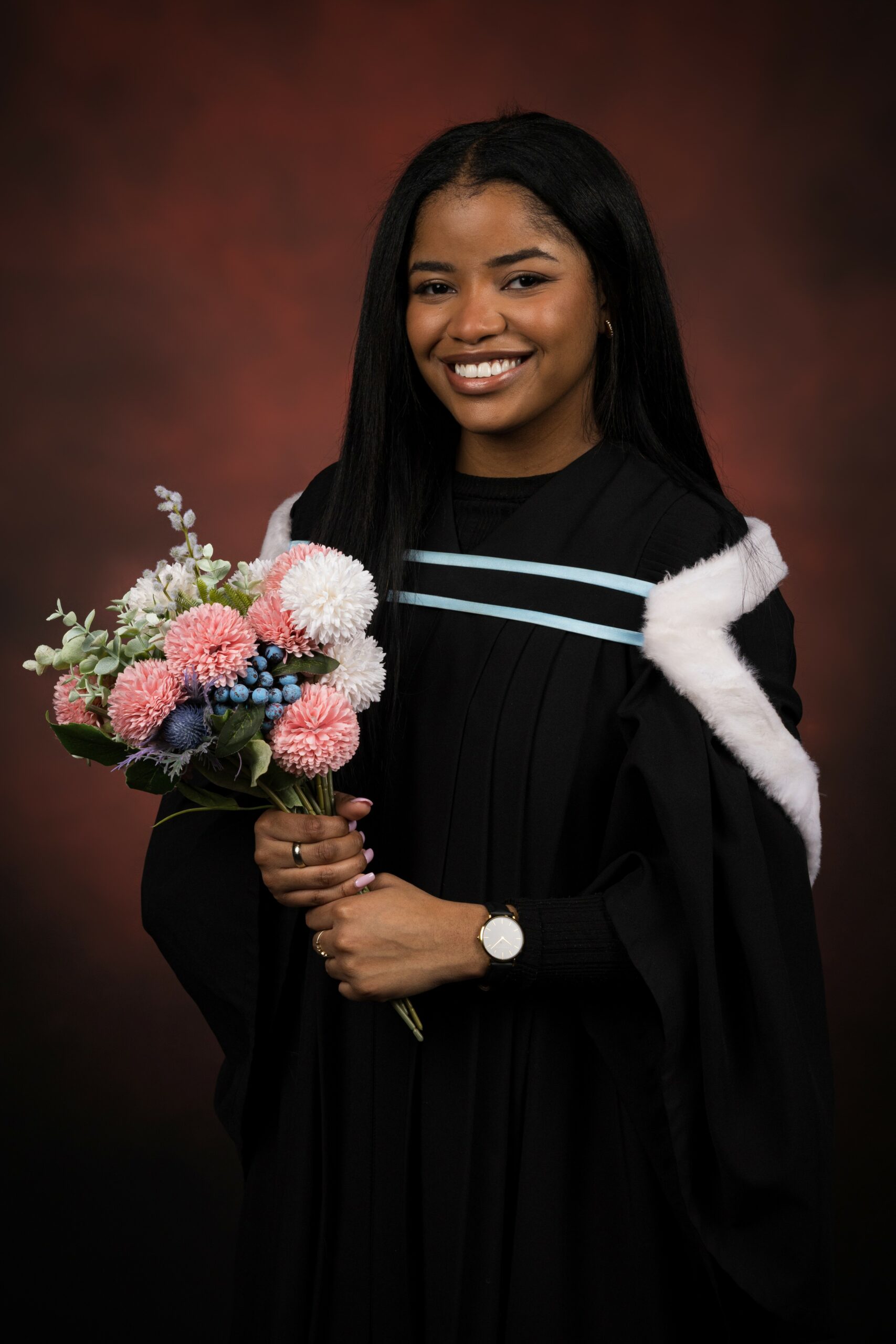 Where is your hometown?
I was born in Miami and I moved to Montreal when I was seven. I've been calling Montreal home ever since.
Why did you choose McGill?
When I came to Quebec I was put into the French education system. Learning French – starting from scratch – at seven was a challenge. And even though I speak French fluently now, I'm more comfortable in English. So, I decided to pursue higher education in English.
Luckily for me, one of the best universities in Canada is a metro and bus ride away. And I was able to stay close to my family.
Three favourite places on McGill/Mac campus?
I realize everyone says this, but, of course, it is the Black Student Space in the Ferrier Building. That's where the Black Students' Network held its weekly meetings. We had a lot of late nights, a lot of chats, and a lot of laughs there.
Plus, I have a Polaroid camera and it lets me print out pictures from events throughout the year and the pictures are there for everyone to see. I want it to be a more personalized space for students that reminds us of all the fun we had at McGill.
Technically, my second choice is not on campus. It's Super Sandwich, right by Desautels. They have the best sandwiches for $5. It's a broke-college-student-friendly place – and I do recommend the chicken salad sandwich!
Finally, University Center is a space that I would go to every single day. The Black Students' Network (BSN) office is there, and so many student events are held there – the SSMU Awards, Black Beauty Day, BSN's Soul Food Fridays. There's always something going on there.
I'd go there every morning, get a coffee, and look down McTavish at the high school students doing the walking tours of McGill and I'd say to myself "this could be them one day."
What are some of the highlights of your time as a McGill student?
One of my real highlights was the recent Black Grad and gala event. As President of the Black Student Network, I put so much time and energy into the event along with the other organizers.
Seeing how efficient we were and seeing how much the attendees enjoyed the event – seeing the smiles and the tears – it made all my dreams come true.
It was our last hurrah as graduating students and we definitely went out with a bang.
What were some of the biggest challenges you faced during your time here and how did you overcome them?
This might sound redundant because we all experienced COVID, but starting McGill during the pandemic was tough. My first year was completely online, and the second year was hybrid. Making friends and finding community was definitely a struggle.
Also, because I live in Montreal and commute, there are less opportunities to be with other students. When you live in rez, you're surrounded by other students, and you can enjoy the McGill experience fully.
McGill doesn't end at school. For people in residence, it continues when they go home, it continues when they study. But I live in the suburbs, so there's always a bus and metro to catch.
That's how I got involved in the BSN. I became VP Social and it was the perfect role for me because my job was to meet people, plan events and bring the community together. It really helped me find my community.
I was also a part of the International Development Student Association (IDSA) and that was another great way to meet students outside of classes.
What's next for you, both short and long term?
I am a great believer that life just happens and it will do what it does. Five years ago, I thought I was going to med school. I never would have thought that I would study Economics with a minor International Development.
Throughout my degree I've come to realize that there are so many opportunities that you didn't know existed, so many job titles that you don't even know of until you're actually in the industry; so many talents that you discover over time.
In the short term, I'm traveling a bit after graduation. When I come back, I will start working as a financial analyst for Intact – so, that's where my career will start.
What will you miss most?
One thing I will miss is the support and services that McGill offers.
When you're a student, you are there to learn. Even when you make a mistake people are so eager to help. But when you are 27, you're into your career and supposed to know what is happening or you'll get fired, right?
I'm going to miss the support I received while I was at McGill. I'm going to miss how centralized the University's resources are. If I needed help, I could go to the Wellness Hub, I could see an advisor, I could speak to a professor.  It's great to have this institution back you up and support you.
As a McGill student, you're always in contact with someone who can help you.
Do you have friends or family coming for Convocation?
Yes, my parents, my brother and my sister will come.
What advice do you have for new students to McGill?
Closed mouths don't get fed. If you want something, you have to ask for it. You have to go for it.
When we see successful people, we assume they are so special, extraordinary. But they are normal, average people. The difference is they asked. They had audacity. They went for it. They had courage.
Three years ago when I was on LinkedIn, I was looking at other people's profiles, and I thought 'my gosh, they've achieved so much.'
Three years later, I look at myself and I think 'I am that person now.' It wasn't that hard, but I learned that, when you want something, you do have to go for it.
Anything to add?
McGill is not perfect, but in my life, McGill was perfect for me.
You have to find your people and find your space. Luckily, McGill has so many services and clubs. We're 40,000 students, so you will most likely find someone somewhere who relates to you. You should take the time to build your community because it's only when you feel good about your place that you will excel.