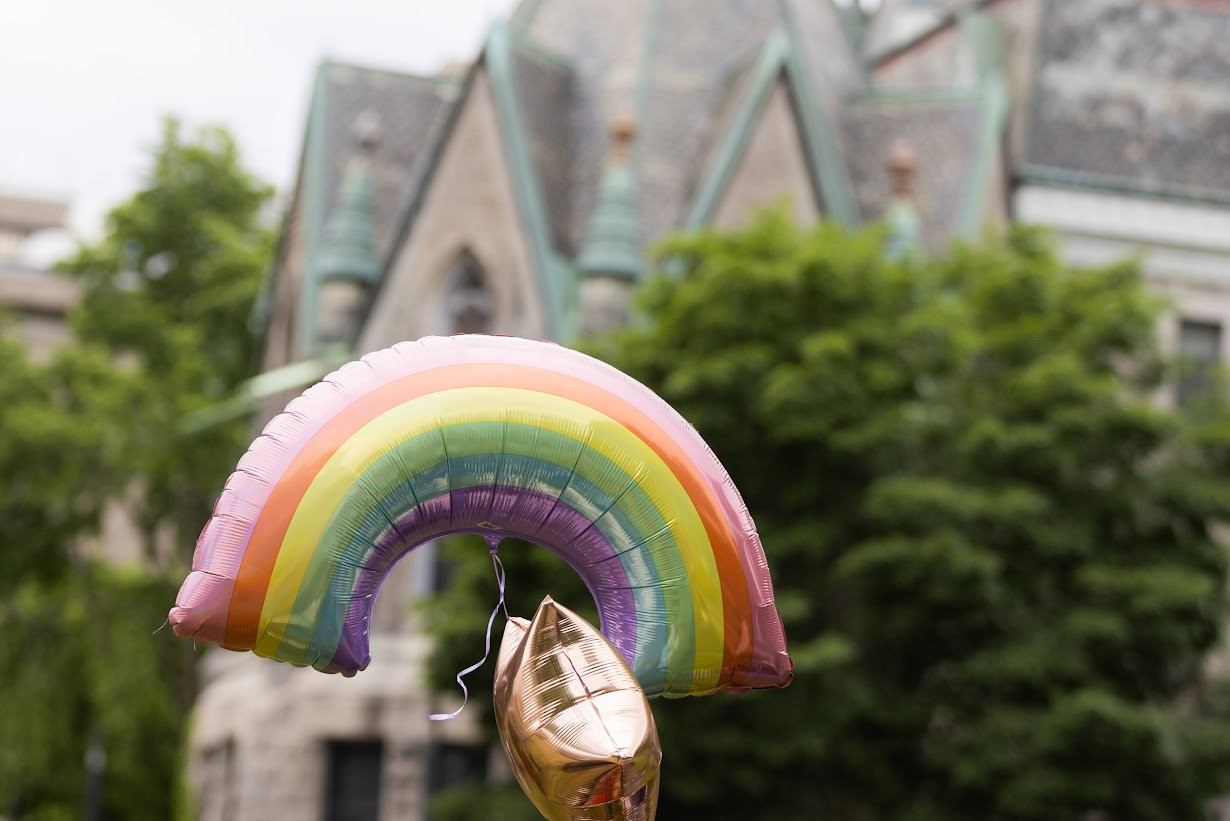 On June 6, over 50 students, friends and family members gathered under the ornate skylight of the Faculty Club billiards room for Lavender Grad, a special event celebrating the achievements of McGill students graduating this spring who identify as two-spirit, lesbian, gay, bisexual, pansexual, asexual, trans, queer, intersex, or non-binary.
"Tonight, we're here to celebrate a remarkable milestone in your lives: the graduation of the 2SLGBTQ+ 2023 class from one of the best universities in the world," said keynote speaker, Tim Thompson, Senior Vice-President of Corporate Evolution and Change Enablement at TD Bank, who completed his MBA at McGill in 1990.
"This is not just a celebration of academic accomplishments; it's a celebration of your resilience and diversity, and our collective journey towards acceptance and equality."
Students urged to keep challenging norms
Acknowledging the start of Pride Month, Angela Campbell, Associate Provost (Equity & Academic Policies), noted the tangible presence of that emotion in the room.
"The pride is tied to your academic success, no doubt, and to everything you've contributed to the McGill community, intellectually, politically and socially," she said.
"You've really challenged things, which is awesome. Don't stop. Continue to test and resist all of the norms that you think are established and received. They're not; things can keep moving. I'm deeply grateful for the inspiring perspectives that you've brought to the McGill community, for your contribution to making it more open and welcoming and, above all, richer in so many ways."
Lavender Grad is organized by the Joint Board-Senate Equity, Diversity and Inclusion Subcommittee on Queer People, the Office of the Provost and Vice-Principal (Academic), and the McGill Queer Alumni Association, with support from the McGill Alumni Association. Reminding her audience that the event is affectionately known as the Launch of the Rainbow, Campbell invoked the rainbow's arc to emphasize that the graduates would always be welcome to return to McGill.
"I'm delighted and honoured that you've chosen McGill as your place to study. You have always belonged here; you will always belong here. This is your home."
Changing times
Extending his congratulations to the graduates, Robert Leckey, Dean of Law and Co-Chair of the Joint Board-Senate Equity, Diversity and Inclusion Committee, reflected on how much things had changed at McGill since his time as an undergraduate, barely 20 years ago.
"When I was a student at the Faculty of Law just up Peel Street, there was obviously nothing like this – it was completely unimaginable that there would be something like this," Leckey said.
"Back then, there was a little outlaw group in the Faculty. But one of the things we had to work through was whether we could actually meet in a classroom – there were some members who weren't even comfortable attending a meeting in a classroom with the other gays and lesbians because people might look through the glass window in the door and see them in there. Some people would only attend a meeting or function in the Village, way off campus.
"It was a very different moment at McGill. But it's clearly come a long, long way."
Congratulations on a journey of self-discovery and acceptance
Yara Coussa, Events Coordinator for Queer McGill who is graduating with a Bachelor of Arts, drew applause and cheers of appreciation with a speech that highlighted the recent emergence of new groups to support queer and trans members of the McGill student community, before concluding with a heartfelt tribute to fellow graduates in the room.
"We have reached a milestone in our life that symbolizes not only academic success, but also a journey of self-discovery and acceptance," Coussa said.
"Today's a celebration of our accomplishments, our resilience and our commitment to embracing our true selves. I don't know if you guys feel how cool it is that we're out and proud – everyone in this room!"