On April 30, the achievements of Black students in McGill's Class of 2023 were celebrated at the annual Black Grad gala. Organized by the Black Students' Network of McGill, the sold-out event was held at the Omni Hotel.
The event included speeches from this year's Black Grad valedictorians, outstanding students who have earned the respect of the peers who they represent through their strong academic performance, leadership and commitment to making the University – and the world – a better place.
Marie-Perle Nkosi is one of this year's three Black Grad valedictorians. Nkosi has completed her studies with a major in International Development Studies and a minor in Education.
As part of the Reporter's Spring 2023 Convocation coverage, we spoke with Nkosi about her experience at McGill and her future plans.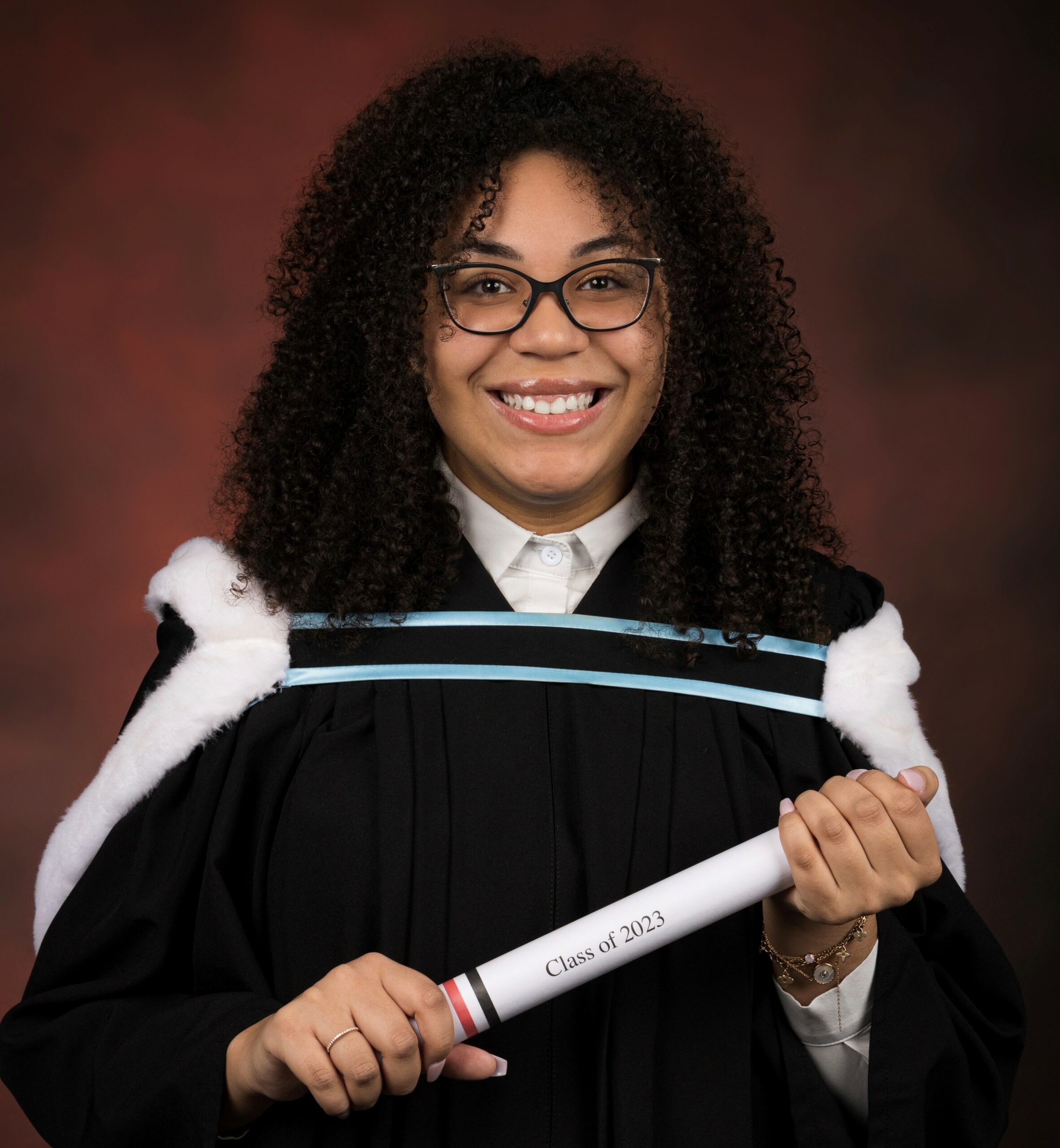 Where is your hometown?
I am from Montreal.
Why did you choose McGill?
As someone from Montreal, I considered myself fortunate to have the opportunity to attend a prestigious institution like McGill University. Choosing McGill meant not only studying at one of the top-ranked universities globally but also being in proximity to my family and support network while meeting students and faculty members from around the world.
What are some of the highlights of your time as a McGill student?
Although most of my degree was during the height of the Covid-19 pandemic, I was able to get involved in various clubs and student associations on campus which led me to meeting amazing students. One of my key memories would be during my tenure as President of the International Development Studies' Student Association. I had the chance to visit the headquarters of International Finance Corporation and the International Monetary Fund in Washington D.C. with my fellow student executives. During our time in Washington we were able to represent McGill and our fellow International Development Studies' Students and network with some of the top executives of each organization.
Three favourite places on McGill/Mac campus?
The International Development Studies' Student Association (IDSSA) office at 3610 McTavish Street. Great place to study while also getting the chance to meet fellow students.
The Education Building study space. The space is newly renovated, and the study rooms are colourful.
The Black Student Space in Ferrier Building. The space is filled with art by Black artists and a great place to meet fellow Black students at McGill.
What were some of the biggest challenges you faced during your time here and how did you overcome them?
During my time at McGill, I struggled with imposter syndrome. Throughout my youth in Montreal, McGill was never an institution where I thought I would be able to study. Once I got admitted, it was hard for me to even fathom how attending McGill would completely change my life and shape my future. Meeting fellow first-generation students, as well as joining various clubs and associations, led me to become more confident in myself and my worth.
What's next for you, both short and long term?
I am very fortunate to have been offered a consultant position at Ernst & Young in their People Advisory Service line! I look forward to continuing my journey in Diversity, Equity, and Inclusion (DEI) while also exploring adjacent areas.
Tell me about your Faculty and your classmates. How important have they been to your overall McGill experience?
Faculty members, in both the Faculty of Arts and Education, as well as students have always been the biggest supporters of all my projects. Throughout the 2022-2023 academic year, I challenged myself to not only create a student-led Diversity, Equity, and Inclusion committee, but also create one of the first student-led DEI report to highlight DEI concerns. The support I received from students and faculty alike helped me and my colleagues advocate for the needs of McGill students while also creating sustainable changes within our department. The staff and faculty members of the Institute for the Study of International Development of McGill have always been present in answering our questions and encouraging us.
What advice do you have for new students to McGill?
Get involved in student organizations and clubs! Joining student associations and clubs allowed me to meet amazing students, gain valuable experiences, and develop new skills. Getting involved can also help you build your network, explore your interests, and find your community on campus.
McGill offers a wide range of opportunities for its students and there are so many amazing resources that will support you when you have an idea, whether it is small or big.