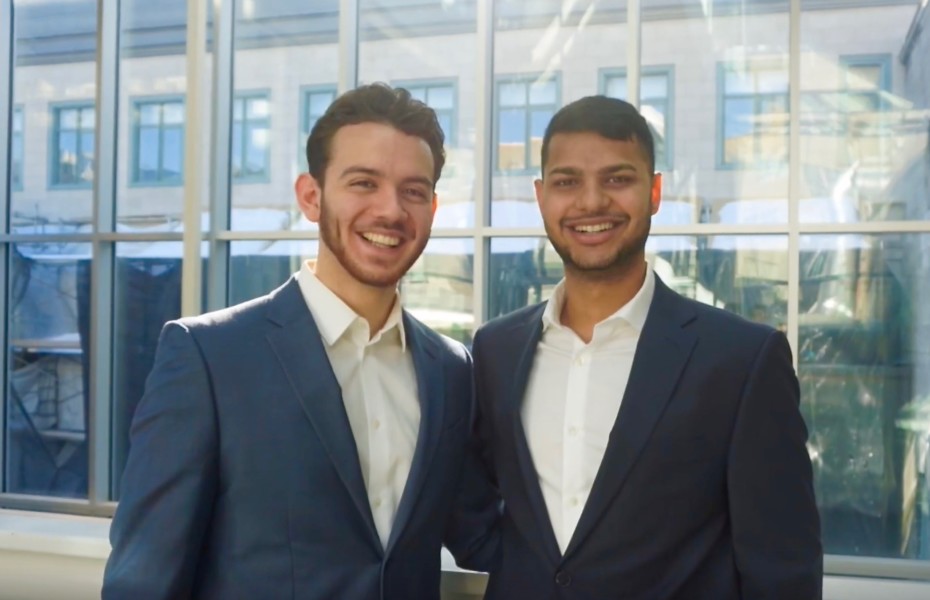 It was a lesson in the disparities of life. After watching cafeteria staff throw out "an abundance of food" at closing time one evening in 2016, McGill undergrads Sanchit Gupta and Milton Calderon were walking back to their campus residence rooms when they came upon some homeless people trying to collect enough money to eat.
"On our way home, we saw an abundance of poverty," said Gupta, who graduated this spring with a major in Anatomy and Cellular Biology and a minor in Entrepreneurship. "We were hit with these two realities. At one location, you have an abundance of food, and very close by, you have an abundance of food insecurity and of poverty – in downtown Montreal."
Out of that seemingly innocuous experience, MealCare was born, a social enterprise Calderon and Gupta co-founded based on the belief that food is a human right and aiming at food sustainability for all on a permanent basis. The project is a bridge between two solitudes – donating untouched fresh food that food providers would otherwise throw out, to homeless shelters, where food is a major expense.
One in eight Canadian families face food insecurity
After that evening, the pair looked into the statistics and issues around food waste and insecurity more closely. They were shocked to learn that in Canada alone, about $31 billion worth of food is wasted annually; and that one in eight Canadian families face food insecurity or don't have access to healthy food on a sustainable basis.
They also found that in poorer socio-economic areas, "food deserts," or neighbourhoods where junk food outlets are ubiquitous, far outnumber areas with easy access to grocery stores.
Gupta, who won Forces Avenir's Personnalité award in the undergraduate category on October 9 for, among other things, his work with MealCare, said that each meal costs a shelter between $3 and $5 , "and you can't buy much in terms of healthy food for that amount."
Mentoring from McGill's Executive Chef
Calderon and Gupta approached McGill Executive Chef, Oliver de Volpi, whom the two credit for his receptiveness and aid in getting MealCare off the ground.
"McGill was the institution that showed us we could do this," said Calderon, "and De Volpi in particular is passionate about sustainability. Chefs like him play a key role – they know how long food is good for and they know all sorts of outside organizations."
De Volpi, Calderon and Gupta worked out a framework in which MealCare would gather surplus food from McGill cafeterias and campus food vendors and transport each shipment to Montreal homeless shelters and soup kitchens. Non-perishable food is delivered to Sun Youth, the long-serving Montreal social services organization.
The core MealCare team consists of between 10 and 15 people, but there is also a group of about 20 volunteers to carry out various tasks at McGill.
At present, MealCare works with McGill cafeterias, Snax, Dispatch and McGill Athletics. "We also divert surplus food from events," said Gupta, with the goal to partnering with local restaurants and grocery stores. On top of providing food for some of the City's most vulnerable citizens, MealCare is contributing to McGill's commitment to become a zero-waste campus.
Going national
MealCare's main chapter is at McGill, but has since expanded to other campuses – Guelph University, University of Ottawa and soon to the University of Western Ontario in London. There are ongoing negotiations with the University of Alberta and UBC to expand the program even further. Over 100 people are involved in the operations of MealCare nationally, said Calderon. MealCare has also partnered with DriveSafe, whose volunteers provide the food transportation free of charge in Montreal.
"The goal is to create similar models as McGill's to address issues of food waste and insecurity in their respective communities," said Gupta.
MealCare made its first delivery in 2017. As of mid-October, MealCare had delivered over 17,000 meals nationally.
The McGill model
Calderon finished his studies in the summer of 2019 and will obtain his honours BA in International Development and Economics. He is in charge of managing the MealCare expansion, and said that its success so far is proof of the commitment students have for "collaborative and sustainable causes."
Gupta said that McGill "has become the mirror for this model. It provided students with not only the academic knowledge but also the translation of this knowledge into practical applications. If McGill hadn't started this, it would have been very hard for other institutions to sign up with MealCare and follow."