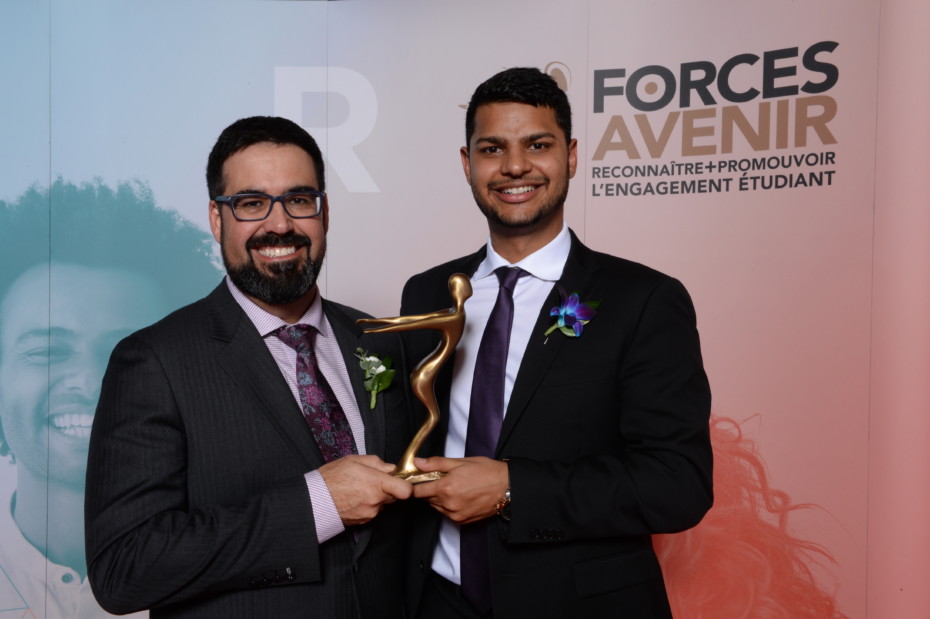 McGill was well represented at last night's Forces AVENIR Gala at Le Capitole de Québec. Sanchit Gupta earned first place in the Personnalité 1er cycle (undergraduate) category for his work diverting excess food to people in need; and the Monthly Dignity – a not-for-profit founded and run by McGill students that supplies menstrual hygiene products to homeless women – won the Mutual Aid, Peace and Justice category. The winners also received a $4,000 scholarship.
The event also highlighted the work of LGBTQ+ advocate Florence Ashley Paré, a graduate student in Law and Bioethics, who was a finalist in the Personnalité 2e et 3e Cycles (graduate) category, in addition to earning a $2,000 scholarship.
The 21st University Forces AVENIR Gala, presented by Desjardins and hosted by Stéphan Bureau, celebrated student commitment and promoted initiatives that will enrich the Quebec of tomorrow. The winners and finalists shared a total of $114,000.
Addressing food waste and food insecurity
The son of Indian immigrants, Gupta has seen firsthand the global food waste and food security crises that exists globally and is a firm believer that access to food should be a human right and not a privilege. During the 2015-16 academic year, he and another McGill student, Milton Calderon, co-founded MealCare, a social enterprise that donates excess food that is still fresh, to the less fortunate.
"I identified two significant issues that could be resolved by bridging them together: food waste and food insecurity. Instead of sitting back, McGill and I created MealCare, a student-run project that has the capacity to make a huge difference in society," said Gupta, who graduated this spring with a major in Anatomy and Cellular Biology and a minor in Entrepreneurship. "The structure of the program is simple; divert edible food that would have otherwise been thrown out and give it to homeless shelters and soup kitchens. This project is not only helping the homeless population of Montreal, but also underprivileged students and community members struggling to eat enough."
With over 10,000 meals donated to the community to date, MealCare relies on the contributions of over 50 partners across Canada to develop a larger network.
Addressing the stigmas of homelessness and menstruation
Since its creation by McGill students in 2017, the Monthly Dignity project has delivered over 54,000 menstrual hygiene products to Montreal's homeless women, while promoting reusable products as part of an environmental education effort.
The not-for-profit organization lists a number of goals on its website including raising funds, finding sustainable partnerships, obtaining menstrual hygiene products and distributing them to the target population. Distribution takes place through collaborations with Montreal homeless shelters and organizations. As well, Monthly Dignity seeks to raise awareness of the societal taboos and political void surrounding homelessness and menstruation. In this way, the group hopes to start a broader conversation about the physical and mental health of homeless women.
"To me, Monthly Dignity is an attempt to solve a problem that shouldn't have existed in the first place. In what world should someone have to choose between buying pads or dinner?" said
Monthly Dignity co-founder and co-President, on the organization's website. "It's also a way to talk about both menstruation and homelessness, two subjects that shouldn't be taboo or make us feel uncomfortable, but do."
The movement is currently expanding, thanks to the contribution of several different partners. It has crossed the ocean and opened an international division in Paris in 2019.
Leader in the LGBTQ+ community
The event also highlighted the extraordinary commitment of Florence Ashley Paré, finalist in the Personnalité 2e et 3e Cycles (graduate) category.
A graduate student in Law and Bioethics, Paré is one of the leaders of the LGBTQ+ movement in Quebec. She actively defends the interests of the entire community in various public contributions, through her 50 published articles and open letters, and her implication in several committees including OutLaw McGill; McGill Equity Subcommittee on Queer People; and the Conseil Québécois LGBT. Paré has made positive changes in her community, and directed the update to the procedure on preferred first names, among other efforts. Alongside her contributions, she has been involved with the Legal Information Clinic at McGill for several years now.
As part of the University and Secondary School Galas presented by Desjardins, Forces AVENIR awarded a total of $174,000 in scholarships. Through these awards, the organization helps shape citizens who are conscious, responsible, active and perseverant; who are both rooted in their communities and open to the world.