Like so many events in recent weeks, the Forces AVENIR virtual gala on October 6, was somewhat toned down due to COVID-19 – but the results were no less spectacular. Showcasing some of Quebec's most inspiring students, Forces AVENIR awarded a total of $122,000 in scholarships to its 36 finalists. Among the finalists, 12 winners and two Excellence award winners were selected, who each received a scholarship of $15,000.
"These people will inspire their friends, colleagues and family members, and will be worthy spokespeople for promoting Quebec's educational system," said François Grégoire, the organization's President and CEO.
In all, two initiatives led by McGill students – MealCare and the Clinique Interprofessionnelle Montréalaise Étudiante – were declared winners in their respective categories. Victoire Kpadé, a third-year Med student, was named one of the Excellence award winners as Personnalité 1er cycle (undergraduate). The common theme for the McGill award-winners? Commitment to the broader community.
Here are McGill's winners and finalists:
Victoire Kpadé – Personnalité 1er cycle
Born in the West African country of Togo, Victoire Kpadé and her family came to Canada as refugees in 1999.
The experience was a formative one, setting her on a path to improve the situation of marginalized populations. "I have seen first-hand how challenging arriving to a new country and integrating into a new culture can be," says the third-year medical student. "It has always been important to me to support newcomers, similarly to how my family was supported."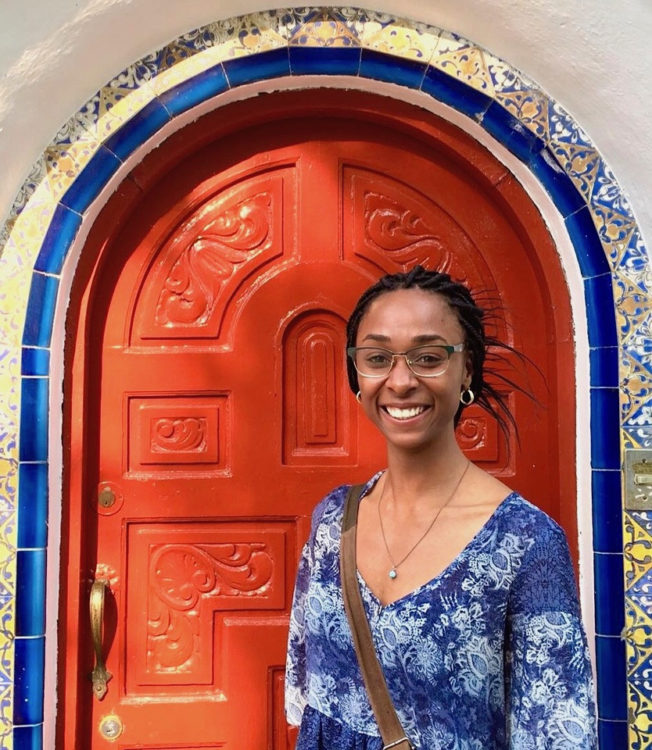 So inspired, Kpadé founded the Refugee Health Initiative at McGill, "with the objective of reducing the barriers faced by refugees and asylum seekers, and training medical students on cultural competency for them to better be able to meet the needs of this group."
Prior to the COVID-19 pandemic, the group offered workshops in shelters for asylum seekers to teach them how to navigate the Quebec healthcare system.
Recently, Kpadé was named Regional Director for the Black Medical Students' Association of Canada, (BMSAC), a student-led organization with the mandate of creating a collaborative network of Black medical students across Canada; increasing the representation of Black medical students; and advocating for more inclusive medical training to better serve the needs of the diverse Canadian population.
"At McGill specifically, with the support of the Faculty of Medicine, I am leading a team conducting a complete review of the medical curriculum to develop an anti-racist/decolonized curriculum," says Kpadé. "Decolonization involves confronting and challenging the colonizing practices that have influenced education in the past and continue to do so today; challenging one's own biases; learning how to be an ally; and including the voices of marginalized communities."
She is also working with the Admissions office and the Social Accountability and Community Engagement (SACE) office to develop a program addressing the underrepresentation of Black medical students at McGill.
When asked about her career ambitions, Kpadé says she is thinking of pursuing family medicine – while helping train future doctors so they can better serve a diverse population. Given her commitment to community and her wholistic view of medicine, it seems like a perfect fit.
"I love the versatility of the field, the ability to build longitudinal relationships with patients and the ability to not only treat diseases but communities as a whole," she says." I hope to be a clinician identifying issues faced by communities and adopting a multidisciplinary approach in solving these, as well as a professor teaching the next generation of medical students to see healthcare in a broad social context."
Collaboration interprofessionnelle montréalaise étudiante – Health category
Winning awards is great – the recognition, the praise, the accomplishment. But sometimes awards can have an impact far more profound.
Take the Clinique Interprofessionnelle Montréalaise Étudiante (CIME) project, for example. Prior to the Force AVENIR gala, CIME was down to its last few dollars in funding after spending the bulk of it buying food and basic supplies for asylum seekers living in Montreal's Park Extension neighbourhood.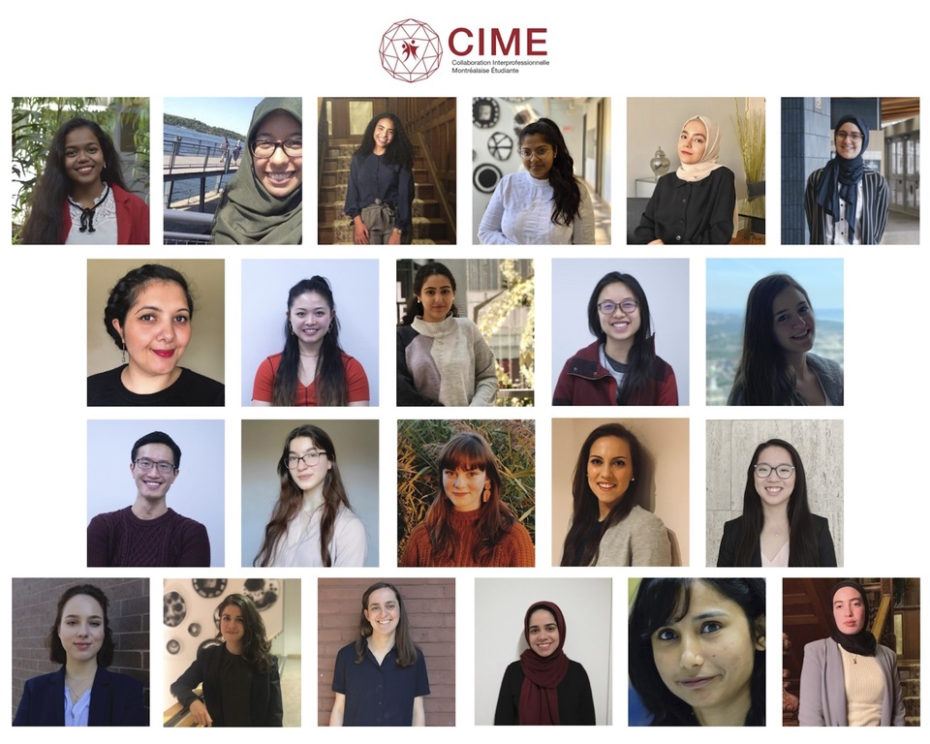 Composed of McGill students from nursing, medicine, dietetics and social work, CIME promotes health and wellness among some of the city's most vulnerable newcomers.
"During this pandemic, Monique Léger from Ressource Action-Alimentation told us she saw a sharp increase in the need for emergency food deliveries and basic supplies for asylum seekers. To answer this need, our team unanimously agreed to use our funding to purchase food for these deliveries," says Brandon Au, a third-year Med student and a co-founder of CIME. "We had $2,906 of funding, and the last bulk food purchase left us with $35.53."
"In accordance with our mandate and culture, we believed in addressing the immediate need of the community we had committed to serve," he says. "We would find a way to raise funds for our future operations later," he says.
As fate would have it, 'later' came sooner than Au and his CIME colleagues thought, with CIME winning the Forces AVENIR Health category – and $4,000 in prize money.
"This monetary reward from Forces AVENIR has secured CIME's financial future, and gives us the freedom to pursue new avenues of serving the community," says Au. "For example, we have wanted to pursue programs for addressing a major barrier to care for asylum seekers: the lack of understanding amongst healthcare professionals over how to use Interim Federal Health Program billing. This award may allow us to re-approach this problem with additional resources."
Au began working with asylum seekers in 2018, organizing health promotion workshops for them as a member of the former McGill Student-Led Clinic (SLC) project. When the SLC project ended, Au knew there was still work to be done.
"In terms of what drove us to create CIME, our interactions with the community in our first workshop were critical," he says. "When we asked the asylum seekers what they wanted to learn and what concerned them most, they would ask how to improve their children's health. What they should feed them, how to get them vaccines, how to make sure that they would grow up strong. They just wanted to create a better life for their children. In seeing this common humanity, and the needs that we could address, we knew we had to do something.
"After asking these questions and listening to them, an elderly asylum seeker woman came up to me, took my hand, and said 'My son.' Looking back, that moment cemented my conviction to help create something that could benefit them."
MealCare – Environment category
One of the beauties of student-run MealCare is the simplicity of its concept: Divert surplus food from McGill's cafes and cafeterias to help feed people in need. And since it first started operations in 2017, the organization has delivered in spades, serving more than 25,000 meals to Montrealers facing food security challenges.
On top of providing food to the less fortunate and reducing McGill's environmental impact, MealCare also looks to raising the University community's awareness regarding food waste.
"To tackle food waste and insecurity, we organize food collections from food vendors within the community," says Mathilde Ensminger, a third-year student at the Desautels Faculty of Management and the Co-President of MealCare. "Our team of students and volunteers gathers surplus edible food from cafes and cafeterias around campus, transport it with our delivery partners (Drivesafe), and redistributes it to homeless shelters and soup kitchens in our communities. Food waste is carefully tracked during each collection with the goal to share this data with donors for long-term waste reduction."
The success of MealCare has not gone unnoticed, with chapters opening, at Western University, the University of Ottawa and the University of Guelph. "We are focused on opening University chapters and are working with interested people all over Canada to see how they can best apply the MealCare model to their specific situation," says Ensminger.
This is not the first time Forces AVENIR has recognized MealCare. Last year Sanchit Gupta, MealCare's co-founder who recently graduated from McGill with a B.Sc. in Anatomy and Entrepreneurship, was named winner of the Personnalité 1er cycle.
Ensminger, and all the members of MealCare are grateful to Force AVENIR for highlighting their work.
"It definitely means a lot. First, it is an acknowledgement of the hard work that has been put into this project and its expansion by everyone – volunteers, partners and donors. A project like this needs solid and sustainable foundations in order to grow," says Ensminger. "It also shows that issues related to food waste do matter and are important to talk about so that we can work toward resolving them.
"This recognition from Forces AVENIR definitely put MealCare on the map at McGill and in Montreal. Because of that, we hope to be able to do more and engage more university resources around our mission. With the grant that we will receive, we'll also be able to fund and grow our future initiatives."
McGill's other Forces AVENIR finalists were:
Ffion Hughes – Undergraduate Personality Category
 Forces AVENIR citation: "Ffion Hughes, an Honours History student at McGill University, was chosen as a finalist in the 1st Cycle Personality category. Ffion, an energetic student who is highly sensitive to mental health problems, has been a member of her student association's mental health committee for the last three years. Through this committee, she promotes the importance of psychological support services and participates in implementing the mental health policy and an intervention plan. Hughes regularly meets with the less fortunate at Accueil Bonneau to distribute meals and to offer support."
Beyond Me – Mutual Aid, Peace and Justice Category
The Force AVENIR citation: "Since 2011, thanks to Beyond Me, McGill University students have offered individual coaching to Montreal youth aged 3 to 18 years in need of an older best friend and a model to socialize with. To date, hundreds of children have benefitted from the presence of a university buddy. This year, before the pandemic, the program had accumulated over 700 volunteer hours, and 60 students had visited with their buddy for a total of about 8 hours per week. The friends were able to play together, go to the movies, and participate in the organization's events free of charge.