McGill's Faculty of Medicine proved to be the big winner at the recent Forces AVENIR Gala celebrating Quebec's exceptional high school, CEGEP and university students. All four McGill winners are affiliated with the Faculty of medicine, including Lahoud Touma, who was crowned Personality Par Excellence; and Aifred Health, which was named Project Par Excellence.
As grand prize winners, Lahoud Touma and the students behind the Aifred Health project received a $15,000 grant in recognition of their involvement in the community.
Lahoud Touma: Helping others achieve their dreams
A fourth-year medical student at the time of his nomination for the Forces AVENIR prize, Touma has since graduated and has begun his residency in neurology at the Université de Montréal.
While at McGill, Touma served as co-chair of the Medical Students' Society of McGill University. During that time also served as also the regional coordinator of the International Federation of Medical Students' Associations' Standing Committee on Human Rights and Peace.
The Syrian-born Touma is dedicated to improving healthcare services for disadvantaged groups. Touma devotes much of his time as a volunteer, be it assisting at the Doctors of the World free clinic for uninsured migrants, or raising funds to help raise awareness about human rights issues around the world.
Working with Syrian refugees, Touma does everything from greeting new arrivals at the airport and helping them integrate into Canadian society, to assisting them to complete their files and apply for United Nations High Commissioner for Refugees protection.
"The main drive for my involvement stems from a feeling of a duty to give back," Touma told the Reporter. "I am extremely fortunate to have studied in the field that I love, in one of the most prestigious universities in the world, while living in a great city surrounded by family and friends.
"After coming to Canada from Syria in 2001, my parents have always been very thankful for the opportunities we had in this country and all the services we had access to. This gratefulness was transmitted to me," continued Touma. "I simply want to see others achieve their dreams while contributing to make our world a better place."
Aifred Health: Helping people suffering from depression get better faster
The second Par Excellence recipient, the Aifred Health project, strives to push the boundaries of precision psychiatry. The group of 20+ students developed an artificial-intelligence and deep-learning based predictive tool used to determine the most efficient treatment for patients suffering from depression.
"Globally, depression affects over 320 million people and is the leading cause of disability. While numerous treatment options exist, the way that patients respond to these treatments is variable. This means that many patients spend months to years undergoing what is essentially a trial-and-error process before finding a treatment that works for them. This process prolongs the suffering of patients and their families," says Kelly Perlman, an Aifred's co-founder who is pursuing her graduate studies in the Integrated Program in Neuroscience.
"We at are developing data-driven tools for doctors that can help them predict which treatments will work best for a given patient," she says. "We can use a combination of patient data including symptom profiles and biological markers to predict the treatment choice that is most likely to be effective, so that patients can get better faster. In other words, we are using AI to bring personalized medicine to mental health."
The desire to help patients "get better faster" is rooted in the vision of Aifred's founders. "Aifred started very organically, out of a genuine mission to improve the lives of those suffering from mental illness. Several of the co-founders had previously worked together as executives on McGill's neurotechnology group (MENTAL) and together we decided to apply to the IBM Watson AI XPrize with our idea for Aifred," says Perlman. "From there, everything has escalated very quickly and we've worked really hard to turn our idea into a real product that can eventually be implemented in routine clinical practice."
The long-term goal is to build AI models for treatment selection of other mental illnesses including anxiety disorders, eating disorders, schizophrenia, and substance abuse, amongst others. "Mental illnesses are highly comorbid, meaning that it is likely that a patient will have more than one condition simultaneously, which highlights the importance of expanding the capacity of our models," said Perlman.
Other McGill winners and finalists
Other McGill-based, student-led projects were highlighted at the Forces AVENIR Gala, winning their respective categories and a $4,000 grant.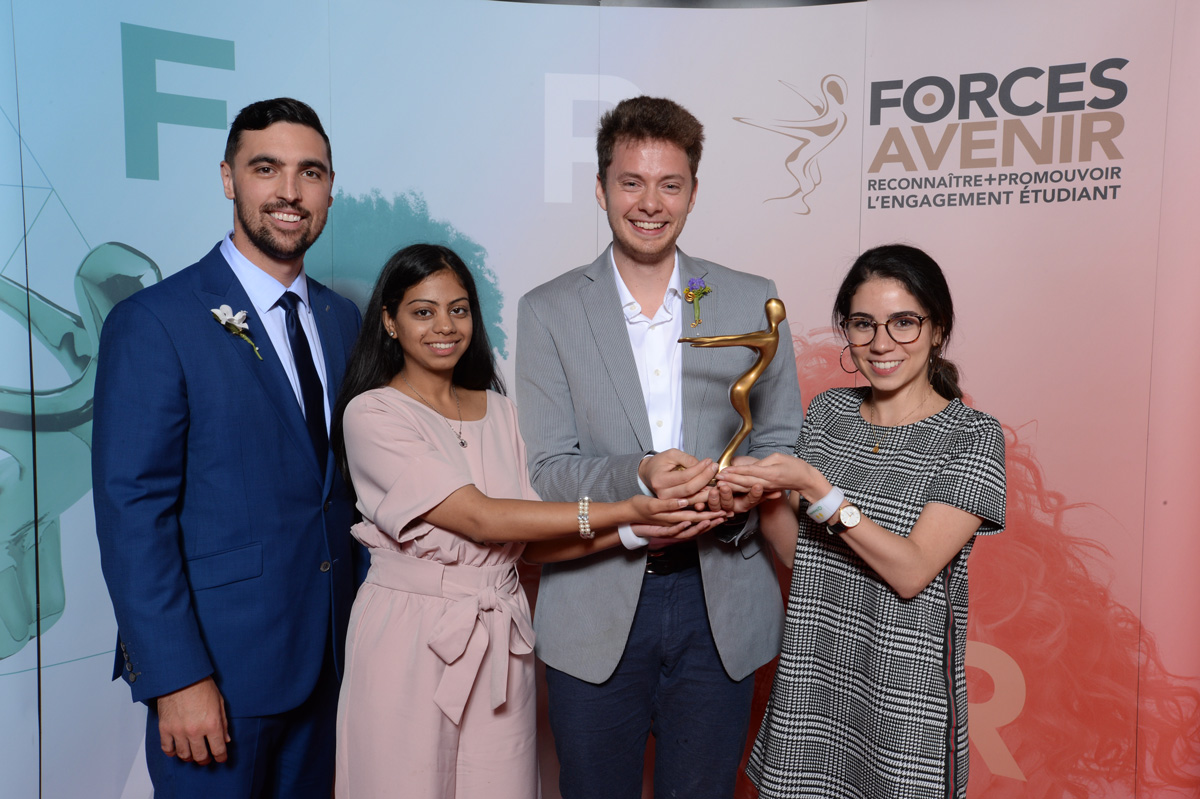 In the Health category, top honours went to the Intensive Care Unit Bridge Program (ICUBP), another project based in the Faculty of Medicine Through its actions and a team of over 160 volunteers from six universities the program offers support for visitors to intensive care units at the Montreal General Hospital, Jewish General Hospital, Royal Victoria Hospital, and the Montreal Children's Hospital
"The ICUBP is a volunteering and shadowing program where University volunteers help increase communication between ICU staff/patients and families/visitors," says Adamo Donovan, a third-year fast-track PhD student in Experimental Medicine and one of ICUBP's founders. "The ICU is a traditionally confusing and emotionally charged environment, and as such, our volunteers help ease this difficult time for visitors through heartfelt gestures and by guiding them throughout the unit. It is a win/win/win situation for volunteers, staff and families."
The ICUBP's three-pronged design enables:
Volunteers to enhance their communication skills and to gain insight into the Intensive Care Unit and medicine in general through shadowing experiences, where they get to witness medical procedures and how the ICU staff go about their daily duties
Staff to better concentrate on their patients, knowing that the families are being well taken care of by the ICUBP volunteers.
Families to be greeted by friendly faces when they come to the ICU and to be guided by the volunteers who are well acquainted with the hospital's flow and facilities
On top of the short-term plans to increase shadowing opportunities for volunteers, the team is in the process of creating a comprehensive ICU manual that will explain the ins-and-outs of the unit, including common medical terminology used within the unit, so that volunteers can better familiarize themselves and understand the complex terminology used when shadowing.
"We also are developing an innovative electronic ICU Diary program whereby volunteers, staff and families journal the patient's experience throughout their ICU stay," says Donovan. "Many patients have no or false recollections of their ICU stay (sometimes in the form of nightmares) and there's a high incidence of mental disease post-ICU for patients and families. These journals have been shown in the research literature to decrease the incidence of these diseases. The program is present at two of our sites thus far: the Montreal General and Jewish General Hospitals
Long term, Donovan hopes to expand the program to other sites "We've received interest in incorporating the ICUBP into other ICUs, both on and off the island of Montreal," he says.
Portable, low-cost dialysis machine
The Dialysave project, which works with people with kidney disease, was crowned the winner in the Science and Technology category. The students behind this project have developed a portable, low-cost dialysis machine that enables people affected by this type of disease to receive adequate, affordable treatment. Find out more about Dialysave.
Two other projects from McGill were selected as finalists in their category and received $2,000 grants.
The Community Health and Social Medicine (CHASM) Incubator, launched by four students, aims to transpose the model of corporate incubators into social medicine and community health. The incubator equips and supports projects aimed at tackling social inequalities in health care among marginalized groups.
A finalist in the Personality Par Excellence category, Emélie Sarah Elkrief set herself apart, among other things, through her work in Malawi as a member of a mobile health clinic offering medical care to people in rural areas. She intends to return in 2019, to continue helping people in difficulty.