McGill was well represented at the 23rd annual Forces AVENIR gala, which recognizes outstanding students from across Quebec for their social engagement work, and their unique initiatives aimed at creating a better society. A pair of student-led initiatives, Black Girls Gather and the WeCare Project, won top honours in their respective categories, while Élise Guerrero, won the Personnalité 1er Cycle (undergraduate) award.
This year, Forces AVENIR honoured 21 projects, involving 15 students from 17 Quebec universities at the gala on Wednesday, Oct. 6 at Quebec City's iconic Capitole Theatre.  The program rewards finalists and winners with grants totaling $122,000.  
Black Girls Gather: Laureate in the Art, Letters and Culture category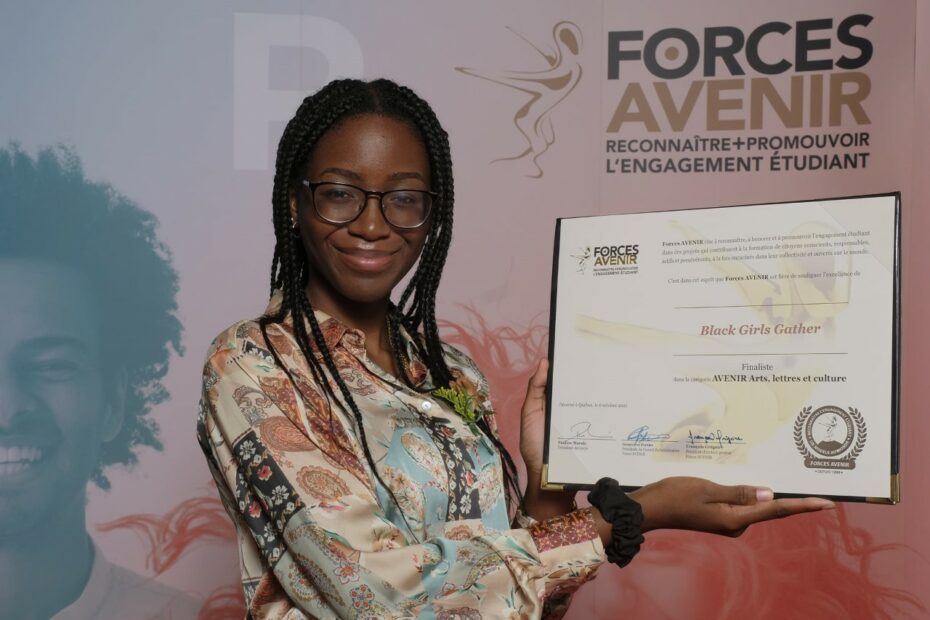 In the Art, Letters and Culture category, Black Girls Gather won top honours. Black Girls Gather was launched in September 2020 by eight Montreal-area university students, including three from McGill:  Amélia Souffrant, Joanna Kanga and Samantha Nyinawumuntu. It's a weekly book club for young Black women and girls to discuss literary works by Black authors. The purpose is to expose the young women to Black literature and engage in discussions around themes such as coming of age, racism and identity, all while building networks of support and mentorship for young Black women and girls in Montreal.  
"Black Girls Gather shows them the importance of community and the knowledge of self," said Souffrant, a second-year student at McGill's Faculty of Law. "It reminds them that they do not have to navigate this world alone, and that they are deserving of representation, that they are worthy of attention and recognition of their uniqueness." 
She says the honour from Forces AVENIR shows the initiative is necessary. 
"We are very proud to be recognized by a Quebec-based prize," Souffrant said. "It shows that our project brings something unique to our province through putting the spotlight on Black authors and voices of minorities." 
Eventually, the group aims to create a festival highlighting Black artists, and invite people from all backgrounds to discover a culture that is all too often maligned in our society. 
WeCare Project: Laureate in the Mutual Aid, Peace and Justice category
Meanwhile, the efforts by a group of McGill students to combat homelessness were recognized by Forces AVENIR with the top prize in the Mutual Aid, Peace and Justice category. The group created the WeCare Project in November 2020, at the height of the COVID-19 pandemic, after the students noticed the growing number of people living on the streets. 
Through their Facebook page, and with the help of several partners, the members of the WeCare Project assemble care kits, which include essential items such as clothing and food, and distribute them to people in need. While handing out the kits, they initiate conversations with the recipients, as a way to break the isolation of people experiencing homelessness. During the past year, the WeCare Project has distributed more than 1,000 kits to people in the Montreal area. Its members are looking to see their project expanded to other Canadian cities, and their goal is to challenge stigmas and change social perceptions and dynamic now, and for generations to come. 
Élise Guerrero: Laureate in the Personnalité 1er Cycle (undergraduate) category
Élise Guerrero, a recent McGill graduate in Global Food Security, was honoured by Forces AVENIR with an outstanding individual award for her work in organizing numerous events which brought together hundreds of students around crucial topics such as food autonomy and permaculture.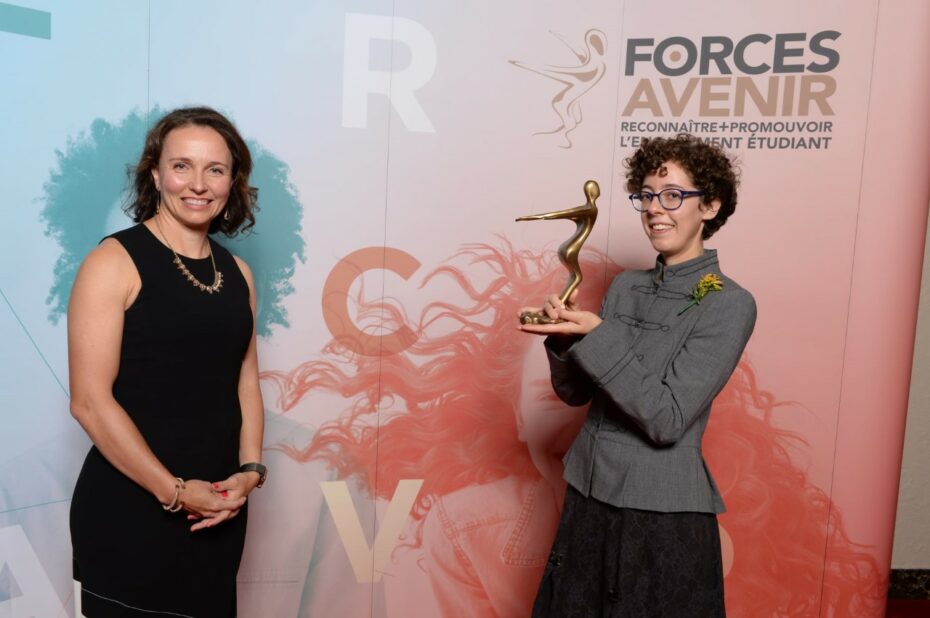 While at McGill, Guerrero had been the coordinator of the McGill Permaculture Club, and she says she was recognized for her long-term involvement in the community, in the realms of climate action, urban agriculture and beekeeping, among other things.  
"I am deeply honoured to have received this award," Guerrero said. "I am grateful for the light that it brings on my long-standing and consistent efforts to improve my environment and community. I still have a lot to learn! This award boosts my motivation to continue to learn and to act." 
After graduation, Guerrero continued her community involvement, now working as a youth mobilization project agent at the group ENvironnement JEUnesse (ENJEU), where she guides and supports youth groups to create projects for the benefit of the environment and the climate. She has also been involved in the current Montreal municipal election campaign, volunteering with a group whose goal it is to support environment-minded candidates.