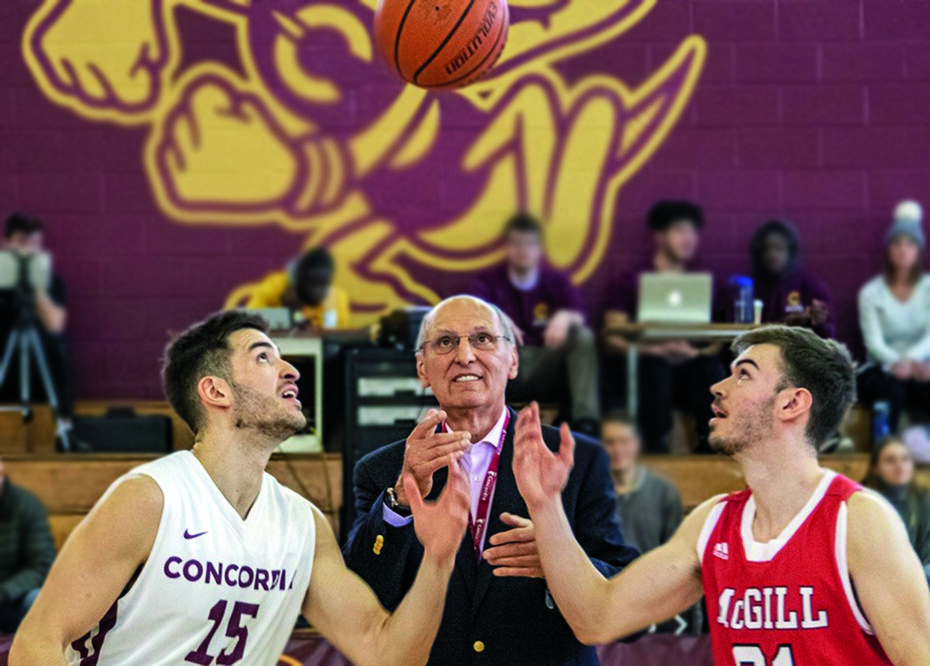 Varsity basketball players at Concordia and McGill will have an extra bounce in their step, thanks to the generosity of George Lengvari, the recipient of the 2021 U SPORTS Mitchell Family Alumni of the Year Award.
The Montreal-raised businessman and former university basketball star is supporting varsity basketball through a $2-million gift — $1 million to each school through the Campaign for Concordia: Next-Gen. Now and Made by McGill: the Campaign for Our Third Century.
Lengvari's gift is believed to be the first time in the history of Canadian university sports philanthropy that an alumnus has made a simultaneous million-dollar gift to multiple alma maters.
"I was very fortunate to have the support I needed to play basketball and advance my education at the same time," says Lengvari, expressing gratitude for his success that resulted from his time on the court and in the classroom at both Concordia and McGill. "I can say with confidence that I would not be where I am today without that opportunity. Sports is a critical part of the university experience — it fosters people and leadership skills, while creating a wonderful sense of community. I want to pass this on to the student-athletes of tomorrow at Concordia and McGill."
Lengvari's gift will support players through annual awards — five for the men's program at both schools and, at Concordia, an annual award for the women's program named after his mother, Trudy Lengvari. At McGill, one of the awards will be named in memory of Ben Zwolak, a student-manager on the men's team who died suddenly in 2020.  Funds will also be used to enhance coaching, training, recruitment and other activities.
"Before embarking on his remarkable career, where he collaborated with many sports greats, George Lengvari was a sports great of his own," says Concordia President Graham Carr. "Varsity basketball imbued in George a sense of teamwork and achievement that he later applied in business. We thank him for graciously supporting his alma maters, Concordia and McGill, so that the next generation of students can triumph on and off the court."
Lengvari, whose Hungarian family immigrated to Canada when he was nine years old, obtained his bachelor's degree in economics in 1963 from Loyola College, one of two institutions that would merge into Concordia. He later enrolled in the Faculty of Law at McGill and completed a civil law degree in 1966.
"We are very grateful to George Lengvari for this unique joint gift and for his dedication to supporting student-athletes at a pivotal time in their lives," says McGill Principal Suzanne Fortier. "This new commitment generously builds on his longstanding support for Athletics at McGill and is an inspiration to our community. It will provide varsity basketball players at McGill and Concordia with the means to emerge as well-rounded individuals, ready to make their mark on the world."
 A dedicated athlete, scholar, volunteer
As a forward at Loyola College, Lengvari earned most valuable player honours and helped his team clinch a historic league title. This led to a berth in the inaugural Canadian Intercollegiate Athletics Union basketball championship tournament.
At McGill, Lengvari played basketball for three seasons and served as team captain. He has since volunteered his time as a mentor to players and coaches at both schools.
Lengvari previously established three different annual Athletic Financial Awards at McGill. Most recently, in conjunction with the Rossy Foundation, he helped support a new athletic scholarship for women's basketball named after Alex Kiss-Rusk, a two-time All-Canadian who captained the McGill Martlets to their first-ever national basketball championship in 2017.
Lengvari sits on the Board of Governors for the Martlet Foundation, which has promoted combined excellence in both athletics and academics at McGill since 1954.
As part of his long-standing service to Concordia, Lengvari launched the university's alumni chapter in London, U.K., and was a member of the University's Board of Governors from 1993 to 2000.
Achievements and honours
Lengvari's contributions were recognized by the Concordia University Alumni Association with the Humberto Santos Alumni Award of Merit in 2002 and when he was inducted into the Concordia Sports Hall of Fame in 2011.
Lengvari was made a member of McGill basketball's Wall of Honour in 2013. Seven years ago, he implemented the Jean Béliveau Awards at McGill in support of student- athletes who best combine leadership with athletic performance and academic proficiency.
Two years ago, in recognition of his impact as a generous supporter and former standout player, the men's basketball programs at Concordia and McGill put aside their rivalry to name an annual challenge matchup the George Lengvari Cup.
In recognition of Lengvari's legacy of service and philanthropy, U SPORTS, a national governing body, presented him with the inaugural Mitchell Family Alumni of the Year Award in May 2021. Today's announcement is partly the result of this recognition along with the encouragement of the Mitchell family to do more. 
Professional wins
Between 1968 and 1994, Lengvari practiced international fiscal and corporate law in Montreal and also represented future Hall of Famers such as Jean Béliveau and Guy Lafleur of the Montreal Canadiens, and Gary Carter of the Montreal Expos. From 1994 to 2009, he served as vice-chairman of Weider Health and Fitness, a Los Angeles-based holding company that had operations in publishing, nutrition and fitness equipment.
He is currently chairman of Lengvari Capital, a private investment company