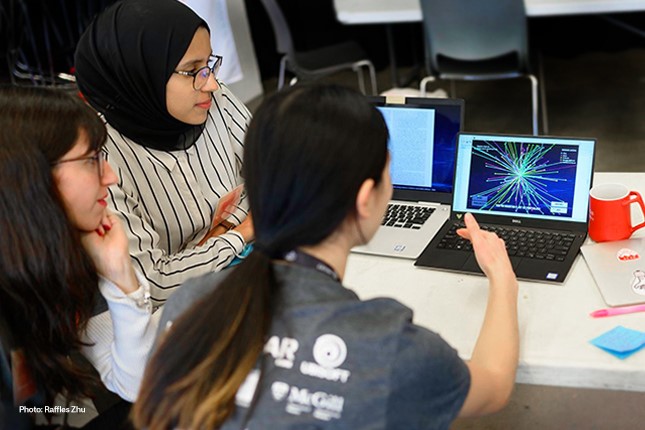 Artificial intelligence (AI) is transforming our world in powerful ways, from improving medical care and changing the retail landscape to enabling convenient features on our smartphones. But as AI increasingly underpins our daily lives, important questions about its application – and potential misuse – will continue to arise.
A new cohort of students will soon be poised to tackle these crucial questions head on, thanks to a fellowship and award program being established at McGill University through a generous $2-million donation to the Faculty of Science from BMO Financial Group.
The fellowship program, open to graduate students, and the award program, open to undergraduate students from across the University, aims to train the next generation of professionals in the important ethical considerations surrounding the use of AI. The program will equip not just computer scientists and software developers, but also future industry leaders and policy makers with the necessary grounding and skills in the responsible and ethical use of AI, while attracting a diverse group of voices to the field.
"We are very grateful to BMO for this forward-looking gift, and for its generous and steadfast support of McGill over the course of our history, and particularly now as we celebrate our 200th anniversary," said Principal Suzanne Fortier. "This fellowship and award program is another example of BMO's philanthropy aimed at helping to prepare McGill students to be future-ready. The program will help ensure that our students feel empowered to take on questions about the responsible use of AI and lead these conversations, whether it be in an academic setting or in their future place of work."
Growing the good
"AI plays a powerful role helping BMO to serve our customers with innovative products and services that help them to make real financial progress. To boldly grow the good in business and life, we must ensure that while students are acquiring the skills to break new ground in AI research and application that they are also leading in navigating the responsible use of these technologies," says Darryl White, Chief Executive Officer of BMO Financial Group.
"It's a deliberate choice to enable students from all disciplines to think about how to put AI to its best use without negative consequences," says Bruce Lennox, Dean of the Faculty of Science. "A broad discussion that spans disciplines is very necessary and requires a broad array of voices to bring potential problems in the application of AI to the fore."
"There is always the potential for AI to make mistakes," says Derek Ruths, Associate Professor at the School of Computer Science. "And while any error is problematic – of particular concern is when the AI tends to make more mistakes on a particular group of people – this creates unfair outcomes that can be biased by race, gender, or income. We've already seen this happen in AI that's been applied in areas like policing, parole evaluation, and hiring decisions."
Responsible use of AI technology
"McGill has a unique opportunity and responsibility to lead in the area of responsible AI because we can draw on disciplines from across the University," says Nicholas King, Associate Professor in McGill's Faculty of Medicine and Health Sciences and Max Bell School of Public Policy. "These fellowships will allow a diverse group of students to tap into faculty expertise and deepen their knowledge of how to responsibly use this technology in ways that don't amplify inequities or pose a threat to social cohesion."
The program will start recruiting fellowship and award recipients for Fall 2022.
BMO is a longstanding supporter of McGill and its academic mission. Its generous commitment to McGill dates back more than a century; its contributions include a transformative gift to the Centre for Interdisciplinary Research on Montreal, the establishment of the Bank of Montreal Chair in Finance and Banking at the Desautels Faculty of Management, as well as important support to graduate fellowships and to brain tumour research at The Neuro.
Philanthropic gifts, like this from BMO Financial Group, contribute to Made by McGill: the Campaign for Our Third Century, the University's ambitious $2-billion fundraising campaign to support its bold aspirations for research, discovery and learning.