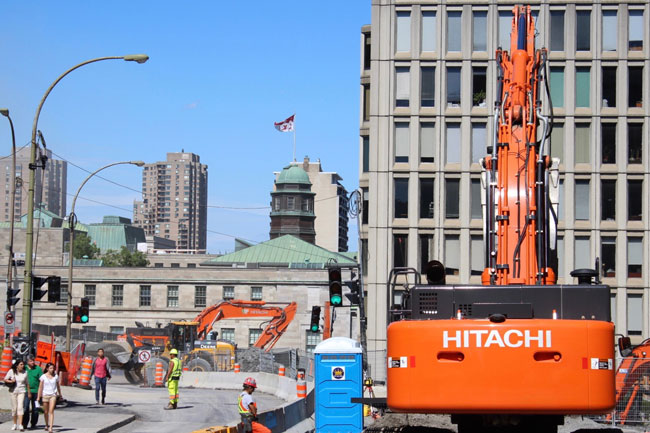 By Doug Sweet
As McGill girds for the start of another fall term next week (move-in weekend is on Saturday and Sunday), it faces some significant challenges in terms of the movement of people, vehicles and stuff.
The continuing major construction projects ordered by the City of Montreal to replace aging infrastructure and prepare the Promenade Urbaine Fleuve-Montagne walkway that will pass through the downtown campus have brought dust, noise, frustration, confusion and exasperation to many corners of the campus. Many are concerned that the influx of roughly 30,000 students next week will make an already difficult situation intolerable.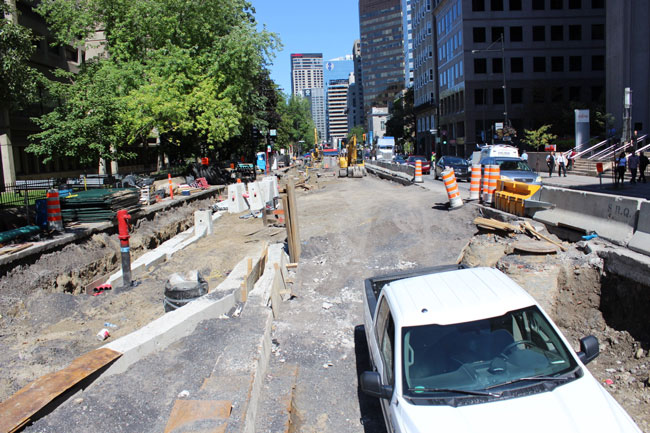 But University personnel have been meeting and working with officials from the City of Montreal, the SPVM (police service) and contractors to try to improve the flow of pedestrian traffic into the campus, make construction sites safer and find ways to minimize disruptions to the extent possible.
Deputy Provost (Student Life and Learning) Ollivier Dyens issued a message to students on Tuesday, Aug. 23, outlining some Dos and Don'ts when it comes to navigating McGill from now until next May.
Here some of his tips to help you cope and be safe:
Give yourself extra time to get to your classes, especially if you have to cross one of the streets under construction. Professors are being asked to be lenient with those late for class, especially in the early weeks of the term.
Don't drive. Leave your car at home or park it well away from the downtown campus. Take public transit, walk or ride your bike.
Don't chain your bike to fences surrounding construction sites. The fences are often moved and your bike could be damaged or its lock cut off to allow movement of the fences.
Obey all signs and instructions from police. These construction sites can be very dangerous.
Stay on designated pathways to cross the street and navigate north-south. McTavish, in particular, is very difficult to navigate.
Once on campus, look for people in bright red McGill t-shirts for assistance and keep your eye out for signs that will point you to key locations, such as Service Point on McTavish.
The presence of security personnel will also be increased. Don't hesitate to approach them at any time if you need assistance.
If you're driving into the City, keep an eye on this website for updates about Montreal road construction, which is happening city-wide.
For updates on the construction projects on or around campus, have a look at this website.
If you notice anything out of the ordinary or that could potentially affect your safety or that of others, you can reach Security Services at 514-398-3000 or campus.security@mcgill.ca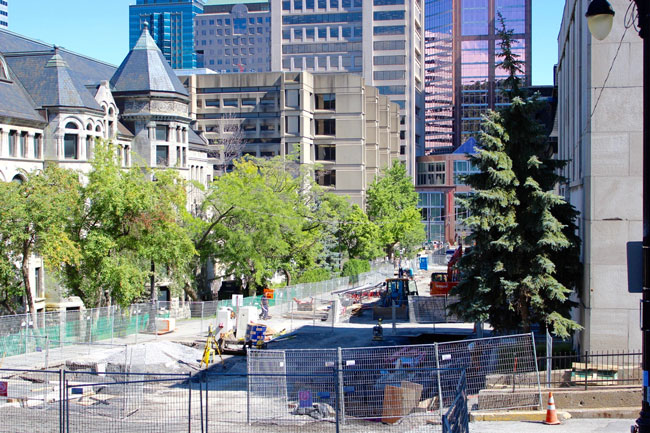 "Above all, be patient, keep calm and carry on," Dyens said. "We're stuck with this City of Montreal road construction for several months. The University is in close touch with the City to try to minimize the disruption, but these are massive infrastructure improvement projects and they will be noisy, dusty and inconvenient."
As part of the work required to create the City's signature Promenade Urbaine Fleuve-Montagne project to mark next year's 375th anniversary of the founding of Montreal, the extensive roadwork is taking place on Sherbrooke and McTavish streets and Dr. Penfield Ave.
The big picture looks like this:
Sherbrooke St., from University St./Robert Bourassa Blvd. to Peel St., is being ripped up to redo sidewalks and curbs as well as replace sewer, water and gas mains and other infrastructure. At least one lane of traffic will be open in each direction. Bus stops may be moved.
The Macdonald Campus shuttle bus stop will move to the north side of Sherbrooke St. in front of the Strathcona Music Building (555 Sherbrooke St. W.) as of Tuesday, September 6, 2016. The Strathcona Building is recognizable by the large statue of Queen Victoria in front of its entrance.
McTavish St., from Sherbrooke to Dr. Penfield and from Dr. Penfield to Pine Ave. will be rebuilt and reshaped to install a more pedestrian-friendly infrastructure while maintaining access for emergency vehicles.
Dr. Penfield Ave. will be rebuilt from Peel St. eastward. A major portion of that work will involve digging into the street at the intersection of McTavish (eliminating the stone steps on the south side of the street at McTavish and replacing some aged infrastructure). Much of this work will involve jackhammering through approximately about 1.2 to 1.5 metres into rock. This noisy work is especially resonant in the Leacock and Brown buildings.
"The University will monitor the situation and determine on an ongoing basis whether ameliorative action is necessary, for example if classes are disrupted by the noise," said Registrar and Executive Director of Enrolment Services Kathleen Massey.