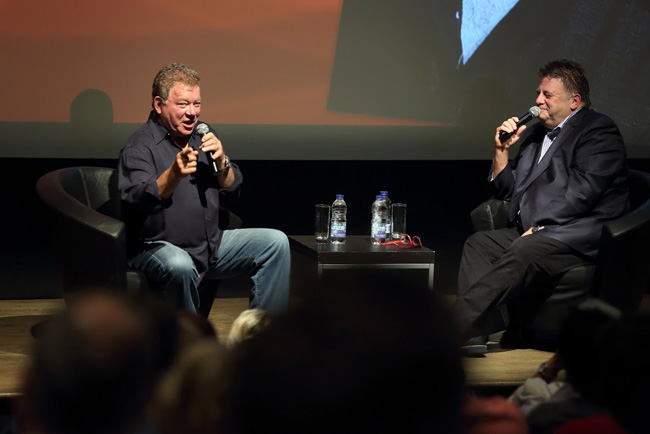 By Andrew Mahon
Shuttling craftily between gigs in his native Montreal, William Shatner was transported to a McGill breakfast with alumni last Saturday morning with more than 250 graduates and friends, all eager to 'cling on' to his reminiscences about life, acting, Star Trek, his formative years at McGill, and the lost art of garlic spare ribs.
Although most assume his preferred mode of transportation is a Federation starship, Shatner arrived at the event (at the Montreal Museum of Fine Arts) in a black Lincoln Navigator travelling at a decidedly sub-light speed. Once ensconced in the Captain's chair on stage, Shatner charmed a rapt audience over the course a brisk 60-minute interview with local radio host Terry DiMonte, first setting the record straight about his unparalleled academic achievement and unique study habits.
"I was the single worst student at McGill," said Shatner. "I enjoyed school, I just didn't go to class"
Instead Shatner was drawn to McGill's extra-curricular thespian activities. He immersed himself in the university's Red and White Revue theatrical productions while studying for his Bachelor of Commerce degree, something he says he achieved through "osmosis" – once he learned what the word 'osmosis' meant. While he missed his own convocation due to a minor academic technicality (he failed a math course), he returned to McGill in 2011 to receive an honorary doctorate.
"They rang me and said would you accept a doctorate," he recalled. "I said 'sure'."
In many ways, Shatner's remarkable career was the result of a series of accidents starting while he was at working in summer theatre in Montreal after graduating from McGill.
"By accident I went to Stratford," he said. "Then, by accident, I went to New York for a limited run of the play 'Tamburlaine', then I started playing roles in live television in New York. Then Hollywood noticed me and cast me in the movie of 'The Brothers Karamazov'."
From there, Shatner's journey took him where one man had gone before.
The Star Trek pilot had already been made with another actor (Jeffrey Hunter) cast as the lead. When that pilot failed, Star Trek producer and creator, Gene Roddenberry, decided to re-work the show and the search was on for someone to become Captain James T. Kirk 2.0.
"Roddenberry ('a wonderful creative mind but rather chaotic') calls me and says we're recasting. Would you come to Hollywood and look at the pilot?" said Shatner. Shatner said he loved the show and was happy to lead the USS Enterprise on its five-year mission. Unfortunately the cruel vagaries of network television shortened the mission to just three years after which the actors dispersed, never imagining how the show would thrive in conventions, spin-offs and movies.
The rest is earth history. Apart from those few people who are unfamiliar with Star Trek and still think the Captain's Log is some kind of wood product, the franchise has lived long and prospered thanks to the show's legion of fans (including many McGillians).
"You're here this morning because of Star Trek and that was 50 years ago," said Shatner whose impressive CV includes numerous acting, directing, producing, writing and album recording credits, as well as a current one-man show entitled 'Shatner's World: We just live in it'.
The far-reaching and profound impact of the show still astounds Shatner who recounted the story of a documentary he wanted to make based on interviews with all the actors who played Star Trek captains. Lacking the $250,000 travel budget to make the film, Shatner called up Bombardier's president of business aircraft and asked for his help. Before you could say 'dilithium crystals', Bombardier agreed to loan him an aircraft. Shatner later found out that the president volunteered his help (and aircraft) because he had been inspired by Star Trek to become an aeronautical engineer and pursue a career at Bombardier.
In a rare serious moment, Shatner mused about the transient nature of an acting career and the rarity of true friendships in Hollywood.
"Actors form a friendship based on mutual need. I spent five years with James Spader [on the popular TV series Boston Legal which ended in 2008]," said Shatner. "I haven't heard from him since."
Talk of friendships inevitably leads to his complicated relationship with Star Trek co-star Leonard Nimoy who died in 2015 and is the subject of a recent memoir by Shatner entitled, 'Leonard: My Fifty-Year Friendship with a Remarkable Man'.
"He was a Jewish guy from Boston, I was a Jewish guy from Montreal," said Shatner. "We shared so many similarities and had so much in common."
Now 85, Shatner says he's not interested in slowing down or ending his demanding work schedule. His Saturday alone entailed a press conference with Montreal Mayor Denis Coderre ("with all the reconstruction going on in the city, I asked him he was considering cosmetic surgery. He didn't laugh") and an appearance at Montreal's ComicCon ("a lot of bizarre people are there. It's an opportunity to express themselves").
Last, but not least, Shatner, opined on some of his favourite Montreal experiences: dinner with his older sister at a Chinese restaurant, bagels, smoked meat, and garlic spare ribs which he used to enjoy with his family every Sunday night at Ruby Foo's.
"You can't get them anywhere else," he said. "It's a lost art."