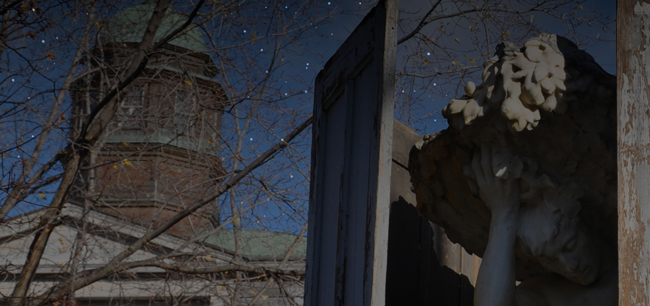 Alive at Night is McGill's celebration of the annual rite of spring across Montreal called Nuit Blanche, part of the winter festival called Montréal en Lumière. McGill's main event is a collaboration between the Visual Arts Collection and the Schulich School of Music. It includes a flashlight tour of historic Redpath Hall, followed by a concert by McGill Music students on the Hall's famous pipe organ.
On the first Saturday of every March for the last 15 years, McGill and Montreal's winter festival Montréal en Lumière celebrate the Nuit Blanche, which loosely translates to "all nighter" or "sleepless night." The theme for the 2018 Nuit Blanche at McGill is (re)MIX-repurposing the old, and mixing media.
Since 2003, the Montreal en Lumière festival has hosted a Nuit Blanche, with hundreds of indoor and outdoor cultural activities put on by partner organizations, organized around a unifying theme.
Alive at Night: Art and Music at McGill is McGill's main Nuit Blanche event at Redpath on March 3. Flashlight in hand participants will rediscover Redpath Hall, a renowned 19th century Richardsonian Romanesque building, and one of the oldest at McGill. Redpath's carved creatures and gargoyles, stained glass and our Hall of Portraits will all appear in a different light. Each tour will feature a live performance by McGill music students on Redpath's French Classical-style pipe organ. There will be guided tours at 9 p.m. (Fr), 10 p.m. (En), 11 p.m. (Fr) and at midnight (En). There is no charge for the tours.
"Redpath Hall is home to several sets of fully intact 19th-century stained glass, each depicting artists, scientists, and writers," says Vanessa Di Francesca, Assistant Curator of the McGill Visual Arts collection. "Cows, dragons, and green-men are carved into the interior walls and are so numerous that they disappear into the moulding until pointed out. Two of the gargoyles lining the wood-beamed ceiling are actually portraits of the Hall's founder, Peter Redpath, and architect, Andrew Taylor. Trying to find the gargoyle portraits will be a lot of fun for visitors, especially in a dark hall with the help of their flashlights only."
This year's main Nuit Blanche event, in line with the (re)MIX theme, is a collaboration between the Visual Arts Collection and the Schulich School of Music, bringing together visual arts, architecture, and musical performance, in a way rarely seen before at McGill.
"The idea this year is taking something old and making it new again," says Di Francesca. "Redpath Hall, the centrepiece for our Nuit Blanch event, was built in 1893, and is one of the oldest buildings on campus. Time and again it has been made new."
Redpath was McGill's first Library and one of the first libraries in Quebec. It was made into a concert hall in the 1950s. It is now a concert, reception, and unofficial portrait hall, and has undergone many expansions and repurposings. With this event, we are giving the Hall yet another new purpose…"remixing the space, in a way."
McGill's chemists will also be celebrating Nuit Blanche on March 3, with an open house at Otto Maas (801 Sherbrooke Street West). The Chemistry Outreach Group has organized a photo exhibition in the lobby and magic shows in the auditorium.
Chemists will perform in a show entitled Le Cirque de la Chimie. Show times are 7 p.m., 8:30 p.m., 10 p.m. and 11:30 p.m.  Shows are free.
Last year McGill's Nuit Blanche featured a tours of McGill's outdoor public art, the centrepiece of which was the sculpture in front of James, created for Expo 67, as well shows by the Chemistry Outreach Group. The tours and shows were very well-attended, despite the fact that it was an outdoor event on one of the coldest nights of the year.