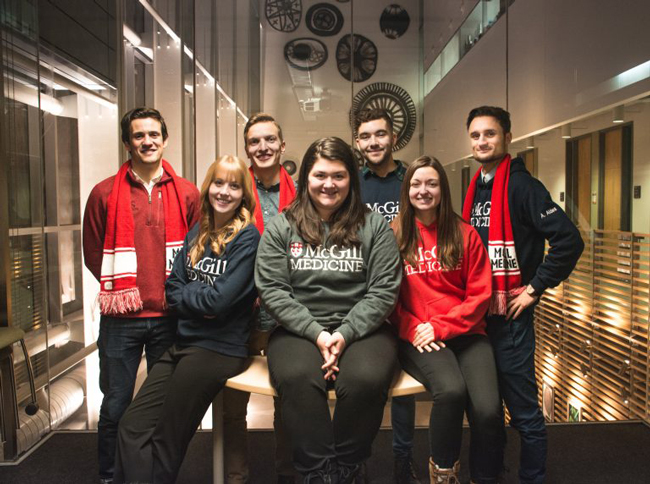 McGill medical student group hopes to shed light on oft-ignored cadre of diseases
A rare disease is defined as a condition that affects less than 1 in 2,000 people. However, when combined, the nearly 7,000 identified rare diseases affect tens of millions of people worldwide, including 1 in 12 Canadians. "We all likely know someone who suffers from a rare disease," says Jessie Kulaga-Yoskovitz, a second-year McGill medical student and the President and Founder of the McGill MSS Rare Disease Interest Group (rareDIG), one of the first student groups focused on this topic in Canada.
Because each rare disease affects, in addition to the burden of their disease, patients must also deal with inequities in care ranging from the cost of medication to a lack of access to medical professionals familiar with their condition.
Prompt and accurate diagnosis is a critical component in proper care, yet due to a lack of awareness of these specific diseases, the journey from the presentation of symptoms to diagnosis is often described as being an odyssey. "There's an example of one patient who didn't receive a diagnosis for 30 years and not until his own daughter developed the same condition," says Kulaga-Yoskovitz. "Late diagnosis leads to late intervention and prolonged suffering. Rare diseases will remain, appropriately, low on our list of possible diagnoses. But a shift in attitude can help. This includes listening to parents who complain about seemingly mundane problems, reevaluating the diagnosis when the clinical picture doesn't fit the most likely diagnosis and being self-aware about the limit to our own knowledge."
Kulaga-Yoskovitz founded rareDIG with the aim of encouraging medical students to adopt attitudes that will benefit patients with rare diseases right from the outset of their careers as well as to raise awareness of rare diseases in general.
Along with Kulaga-Yoskovitz, the rareDIG committee is composed of seven other McGill medical students brought together by a common desire to improve quality and access to care for patients with rare diseases. Two of the committee members have rare diseases themselves. "Improved awareness of the challenges patients with rare diseases face will encourage health care providers to target their efforts in their advocacy of their patients and encourage the creation of public policy which will reduce inequities in care," explains Kulaga-Yoskovitz. The students also hope to inspire medical students at other universities to start rare disease groups of their own.
International Rare Disease Day
On Feb. 28, people in more than 80 countries will take part in activities designed to raise awareness of rare diseases. Inspired by TED talks, McGill rareDIG has put together an event open to the public that will feature idea-focused and passionate talks presented in a way that makes them accessible to the average person.  Speakers lined-up for the inaugural event are Natalie Cinman, a patient-advocate with osteogenesis imperfecta; Joseph Galli, the founder of Loeys-Dietz Canada; Dr. Eric Shoubridge, Chair of the Department of Human Genetics at McGill and a researcher at the Neuro; and Adrian Thorogood, a lawyer at the Center for Genomics and Policy.
"Our goal is to bring people together with diverse perspectives to share ideas on how to tackle the challenges that patients with rare diseases face," says Kulaga-Yoskovitz. "We hope that the talks will inspire and provoke important conversations about rare diseases while simultaneously raising awareness of rare diseases among the public."
RareDIG's inaugural Rare Disease Day will be held in the Martin Amphitheater of McIntyre Medical Building at McGill University on Feb. 28. A reception will begin at 6 p.m. and the talks will begin at 7 p.m.
More information about the event is available online or by contacting raredig.mcgill@gmail.com