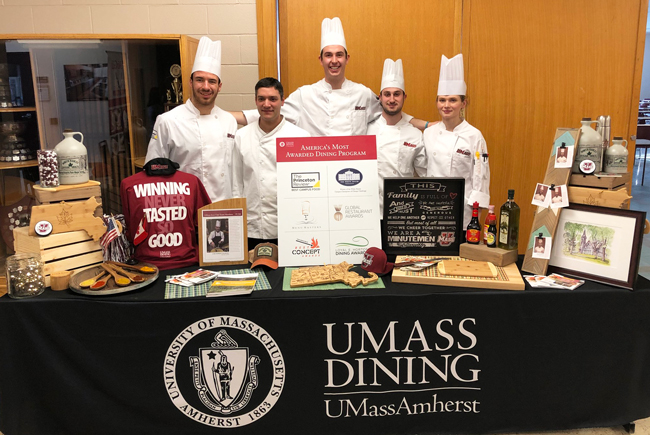 On Saturday, Feb. 24, the cilantro flew and the paring knives flashed as talented student chefs from five North American universities took part in the hotly-contested Inter-University Iron Chef Competition.
After the final succulent morsel had been devoured, the panel of judges named the University of Massachusetts Amherst as this year's champion. The win was UMASS Amherst's fourth in five years, sparking whispers of a Dine-esty in the making.
Like the Super Bowl, the competition had its share of thrills and (occasional) spills. It also had coaches (school chefs), standing on the sideline (behind the yellow tape on the floor) barking advice – and encouragement – to their student charges.
"Start boiling it, put a little bit of sugar and then a couple of drops of wine vinegar for acidity."
"Wipe your cutting board and then onto the black garlic."
"As thin as you can cut it. When you cut it as thin as you can, cut it even thinner."
"Put a dollop of sauce where you're going to put your eggplant."
"Beauty! La mousse est belle!"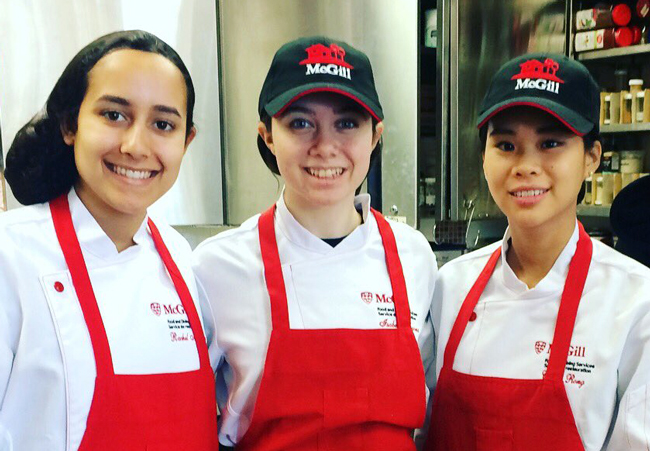 McGill, one of the competition's founders, hosted this year's event at the at the Mary Catherine Freeman Food Laboratories School of Human Nutrition Centennial Centre located on Macdonald Campus. Proudly sporting their school's aprons, teams from McGill, University of Toronto, UMASS Amherst, University of Ottawa and Carleton squared off in what proved to be a savoury showdown.
Each team consisted of three student cooks and a chef who acted as coach. The challenge was to create two courses from a "black box" of ingredients – a First Course (a soup, or salad, or appetizer) and a Main Entrée (protein, starch, vegetable, sauce) in two hours. With the clock ticking down, tension mounted, as teams scrambled to put the finishing touches on their culinary creations. "Have I told you today that I love you guys?" shouted one coach to his team, trying to lower the stress levels. "We love you too, chef!" came the reply from one student-cook, not looking up from the plate she was preparing.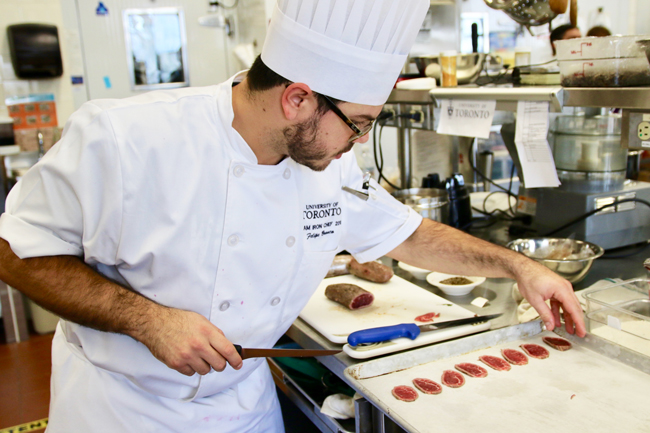 "Even experienced cooks can start feeling the heat when time is of the essence. The fact that [members of the McGill team] kept their cool the whole time and didn't get too stressed was very impressive," says  Zach Suhl, chef of the Bishop Mountain Hall and Douglas Hall Student Residences and the McGill team's coach for the weekend. "We had talked about it before and how, if you start to feel overwhelmed, to take a step back, take a couple of deep breaths, go back to your checklist, refresh yourself on where you are and where you have to be… We made a game plan, sorted out the work beforehand and they stuck to the game plan. And, honestly, there was very little help from me as far as the culinary part was concerned. I just was there to keep them on track."
This year's ingredients included Canadian whole salmon filet, beef shoulder filet, pomegranate, Canadian wild rice, sun chokes, Mac Farm Eggs (two days old) and beets. The teams only received the list of ingredients the night before and were given a small stipend to by extra items to enhance their recipes.
UMASS' award-winning menu included an appetizer of Teres Major Steak Tartar, Sun choke purée, porcini puffed wild rice, horseradish aioli and pomegranate gastrique. The entrée included slow poached salmon, Parisian beet gnocchi, grapefruit, fennel, pickled mustard seeds, beet emulsion, crispy skin.
The Iron Chef contest arose from a 2011 culinary contest between 10 McGill residences. The competition grew to include other Canadian and American universities in 2014.
McGill picks its team by holding a preliminary round between the University's residences so the students are almost all in their first year.
This year's McGill team was made up of Royal Victoria College resident students Isabella Lyons, Rachael Madore and Carrie Rong. Suhl says he is proud of the team. "For sure, when you compete, you always want to win, but that isn't the kind of pressure I wanted to put on them. I wanted them to have fun and to cook something delicious," he says. "It's an extracurricular activity for them, it's not for credits and it isn't attached to their academic career. It should be enjoyable, fun and expose them to new things. They got to meet students from other schools and, in the end, they all said they were going to cook this for their friends and family when they had a chance. What more do you want?"
The panel of judges included McGill's Dr. Joe Schwarcz; Juliette & Chocolat owner Juliette Brun; and food critic and columnist Lesley Chesterman.