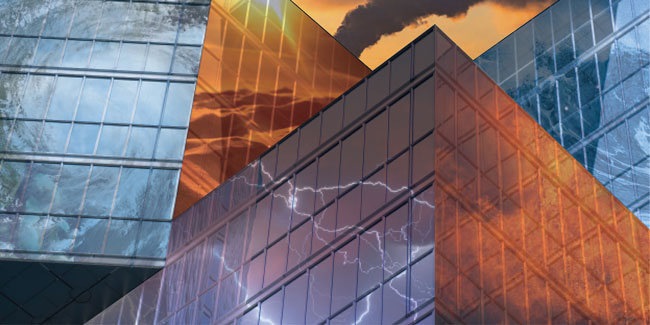 It may feel a long time coming, but there are telltale signs that spring is indeed near: Coats are getting lighter, snow drifts are receding, bulbs are slowly stirring in campus flower beds — and the Trottier Symposium on Sustainable Engineering, Energy and Design is back. The fifth annual symposium runs from April 4-5. This year's theme is "Planning for Resiliency in the Face of Climate Change."
McGill's Trottier Institute for Sustainability in Engineering and Design (TISED) and the Institut de l'énergie Trottier (IET) at Polytechnique Montréal take turns hosting the annual event. McGill is this year's host.
As our cities face an increasing number of extreme weather events, water shortages and other climate change-driven concerns, engineering and design are proving crucial to the development of sustainable strategies for adaptation, reorganization, and evolution. This year, five experts will present their ideas for how our cities can not only survive, but thrive in the face of great change and challenge.
The symposium consists of two evening events (6-8 p.m.) at the Centre Mont-Royal (2200 rue Mansfield), across the street from the downtown campus. The events are free and open to the public. To guarantee a seat, please register online.
There will be three speakers on Wednesday, April 4. Pippa Brashear, director of planning and resilience at the SCAPE Landscape Architecture firm, will discuss the need for interdisciplinary collaboration in order to successfully translate ideas of resilience into realizable actions and implementable designs. Guy Nordenson (Princeton University School of Architecture) will discuss his work, which includes a collaboration with the U.S. Army Corps of Engineers to design and deploy structural, non-structural, and "natural and nature-based features" to protect vulnerable coastal populations from floods. Saint-Laurent mayor and Montreal city councillor Alan De Sousa will also speak about the city's climate-change resilience strategy.
On Thursday, April 5, Professors Philippe Gourbesville (University of Nice Sophia Antipolis) and Karen Seto (Yale University) will share ideas relating to, respectively, water engineering and urban geography. Prof. Gourbesville will explore how to incorporate resilience, or the ability to restore a city's water functions after a crisis, into daily engineering practice. Prof. Seto will focus on global trends, in particular how future urbanization may increase the risk of, and our vulnerability to, bomb cyclones, wildfires, floods, and droughts.
More information about this year's speakers is here.
The Annual Trottier Symposium on Sustainable Engineering, Energy and Design is made possible through the generous support of Lorne Trottier (BEng 1970, MEng 1973, Hon. DSc2006), McGill alumnus and co-founder of the Matrox group. The symposium is a forum for students, professors, government and industry professionals to connect with the general public on advancements for sustainability through engineering and design.