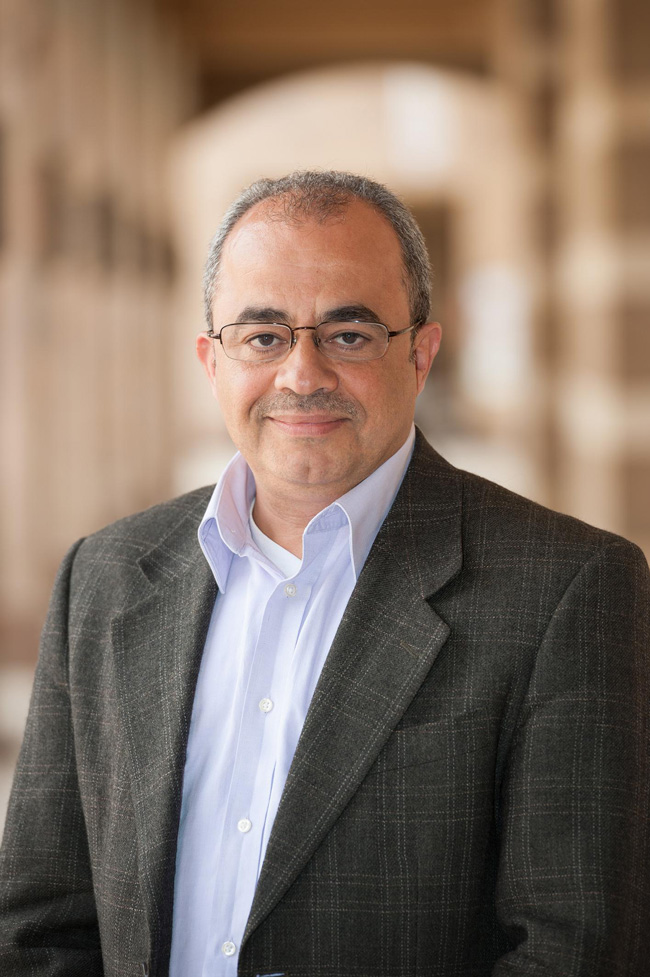 McGill to host Scholars at Risk Network Congress in June
By Lauren Crain
Sentenced to death in absentia, Egyptian political scientist Emad Shahin would face, at best, life in prison were he to return to his home country. Dr. Shahin and over 100 other individuals were tried in the same hearing before a specially-convened court and were convicted and sentenced en masse, almost entirely on the basis of military and police officers' testimony.
Some of Dr. Shahin's co-defendants were imprisoned or even dead at the time of their alleged crimes. Such disregard for due process and the fundamental rule of law would be problematic in any case, but what was Professor Shahin's crime? Was he a terrorist? Was he a revolutionary plotting to overthrow the government?
To the contrary, it is widely understood that Dr. Shahin was prosecuted merely because of his research and public criticism of President Abdel Fattah el-Sisi's policies, including the government's violent crackdown that resulted in the death of approximately 1,000 peaceful protesters. Dr. Shahin points out that the government's unwillingness to tolerate dissent is not limited to professors, noting, "In addition to the 255 professors detained by security forces since July 2013, 5032 students have also been arbitrarily detained – 3,028 of whom remain in detention. These are not just numbers, but they show the extent of the regime's draconian measures. It's a wide cycle of violence and repression."
While Dr. Shahin's story is deeply troubling, it is far from unprecedented.
On April 22, four academics in Turkey will stand trial for signing a petition in January urging Turkish authorities to renew dialogue efforts with factions in the southeastern area of the country, and another 800 signatories have faced some type of retaliation by their university or state authorities.
In Venezuela, professors, students and university administrators are facing unprecedented levels of harassment and interference from State authorities. In Thailand, academic conferences on topics related to democracy and rule of law have been routinely cancelled, while students and professors daring to speak or write on these topics risk arrest and prosecution. Sadly, the list goes on.
The work of the Scholars at Risk Network
The staff of the Scholars at Risk Network hears variations on these themes in applications for assistance from virtually every corner of the globe, and those applications are on the rise. This erosion of the safe space to freely think, question, and share ideas – the bedrock values that the higher education sector represents – is deeply troubling. These issues are truly global, and any one individual or university looking to make an impact or even just avoid the pitfalls would be hard-pressed to go it alone.
This is where Scholars at Risk comes in. The Scholars at Risk Network is an international network of more than 400 universities – including McGill – in 39 countries, representing thousands of individuals who are committed to defending everyone's freedom to think.
Every two years the Network assembles for its Global Congress to discuss the most pressing issues facing the higher education sector in order to develop best practices for navigating this challenging and constantly changing terrain. This year, the Global Congress, titled "Universities in a Dangerous World: Defending Higher Education Communities & Values," will be hosted McGill from June 8-10, with co-sponsorship from the Center for Human Rights and Legal Pluralism and the Scholars at Risk Network Canada Section.
The theme of the Congress invokes two dimensions of the challenges facing higher education today. The first is security, especially during conflict and violence, which goes to the heart of Scholars at Risk's advocacy for individual scholars. The Congress will be a place where SAR network members share best practices for helping more individuals, especially this year those fleeing the crisis in Syria and Iraq. The second is the challenge of values. Higher education is undergoing a historic transformation, presenting many positive opportunities for global activities but also challenges for institutions, researchers and students from or working in places where academic freedom, autonomy and related values may be limited.
Dr. Shahin of Egypt, now Hasib Sabbagh Distinguished Visiting Chair in Arabic and Islamic Studies at Georgetown University, will be among the speakers, in addition to Nathalie Des Rosiers, University of Ottawa; Lloyd Axworthy, St. Paul's University College at the University of Waterloo; Adam Habib, University of the Witwatersrand; and many more.
People are encouraged to take part in the Global Congress for a unique opportunity to engage in discussions with truly inspiring academics and activists that can help shape the course of higher education around the world.
Scholars at Risk is pleased to offer a special registration rate of $75 for members of the McGill community. Get more information and to register now.
Related story: