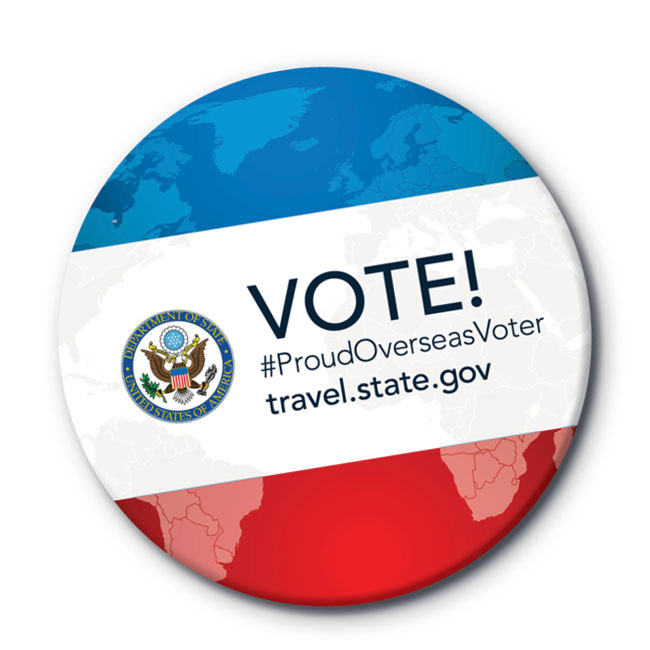 By Neale McDevitt
Many experts say the Nov. 8, U.S. presidential election pitting Hillary Clinton against Donald J. Trump, could be one of the most pivotal moments in recent U.S. and world history. Because the stakes are so high, every vote is crucial.
With an estimated 2.6 million eligible American voters living abroad, including some 2,500 studying at McGill, absentee ballots can carry significant clout – should they actually be cast. Many absentee voters simply do not exercise their democratic right because they are worried the process is too complicated.
Nothing could be further from the truth, says Jeff Osweiler, Consul, American Citizen Services, at the Consulate General of the United States here in Montreal. "A lot of these elections, especially at the state and local level, are decided by a very narrow margin, so something like the overseas vote can make a real difference," says Osweiler. "Our role is to really help people understand that the process is fairly straightforward."
Osweiler is promoting Absentee Voter Week, a global initiative to encourage U.S. citizens – including first-time voters – to participate in the upcoming election. It is a process he understands intimately, having cast his own absentee vote several times in the 1990s, first while he was completing his Master's degree in Political Science at McGill and then while working for Student Services.
While individual states may have somewhat different requirements for voter registration and absentee ballot requests, a standardized template, which can be found online (see below), has greatly simplified the process.
In order to register and receive a ballot, eligible voters must follow four steps.
1. Complete a Federal Post Card Application (FPCA)

Whether you are a first-time voter or have voted absentee in past elections, complete an FPCA to receive your ballot. It allows you to register to vote and request absentee ballots for all elections for federal offices (presidential and state primaries, run-off, special, and the November general elections) during the course of the year in which you submit the FPCA. Local election officials in all U.S. states and territories accept the FPCA.The online voting assistant available at FVAP.gov is an easy way to complete the FPCA.  It will ask you questions specific to your state and tell you if electronic ballot delivery is possible. No matter which state you vote in, you are encouraged to ask your local election officials to deliver your blank ballots to you electronically (by email, internet download, or fax, depending on your state). Be sure to include your email address to take advantage of electronic delivery. The online voting assistant will generate a printable FPCA, which you can then print and sign.2. Submit the Federal Post Card Application (FPCA)

American voters can drop off their completed FPCA or ballot in person at the U.S. Embassy in Montreal (1155 Rue St. Alexandre) to be returned to the United States via pouch free of charge. The Embassy work hours are Monday to Friday, from 8:30 a.m. to 4:30 p.m.If it's more convenient for you, you can have a friend or family member drop off your FPCA at the Embassy on your behalf or you can send your FPCA or ballot directly to your local election officials via international mail or professional courier service at your own expense.

3. Receive your ballot After submitting your FPCA, most states allow you to confirm online your registration and ballot delivery selection. States are now required to send out ballots 45 days before an election (on or around September 24) for federal office (President, U.S. Senate, or U.S. House of Representatives) to any overseas U.S. citizen who has completed an FPCA.
4. Return your ballot

As with the FPCA, you can return your voted ballot to your local election officials free of charge via the U.S. Embassy in Montreal (1155 Rue St. Alexandre) or mail it directly at your own expense.
Osweiler stresses that while the process has been streamlined, people should begin sooner than later. "One of the reasons why we are doing Absentee Voter Week now is that Oct. 10 is the deadline for most states to receive requests for absentee ballots," he says. "You don't want to miss the election just because you put off registering too long."
To further expedite the process, representatives of the U.S. Consulate in Montreal will be available on campus to help assist people with their questions about registration and voting. The sessions will be held in the Brown Building (3600 McTavish, Suite 2200) on Thursday, Sept. 29, from 1 – 2:30 p.m. and again on Tuesday, Oct. 4, from 1 – 2:30 p.m. Students, staff and faculty are welcome.
Osweiler also notes that people with questions about registering to vote overseas can contact Consulate Montreal's Voting Assistance Officer at 514-398-9695, or at VoteMontreal@state.gov.
For more information about absentee voter registration and overseas voting, visit the Federal Voting Assistance Program website.