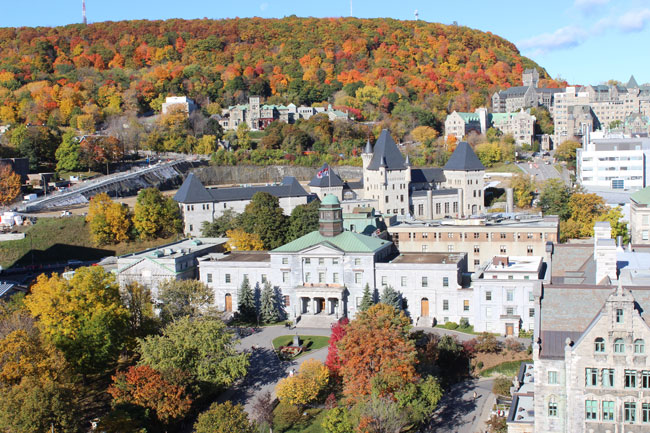 By McGill Reporter staff
McGill is responding to U.S. President Donald Trump's Executive Order restricting travel to the United States from seven Muslim-majority countries, Provost and Vice-Principal (Academic) Christopher Manfredi said Tuesday, Feb. 7.
As of Tuesday, the Order is suspended. A three-judge panel of the San Francisco-based U.S. 9th Circuit Court of Appeals declined on Sunday to immediately block an order last Friday from a federal judge in Washington that had halted the travel ban, but were scheduled to hear arguments Tuesday. Experts quoted in U.S. media outlets believe the Appellate Court will rule quickly on the matter, likely within a week, but a reference to the Supreme Court of the United States remains a distinct possibility.
But regardless of the judicial proceedings, McGill is making financial support available to McGill graduate students, postdocs and faculty members "to offset unexpected costs resulting from restrictions on travel that is directly related to academic pursuit," Manfredi said in a posting on his website. Such costs could be in the form of non-refundable academic conference registration fees or travel costs, for example. This will be reviewed if the suspension of the Executive Order continues indefinitely, Manfredi said.
"McGill remains committed to supporting international collaboration, partnership, and the free exchange of ideas and knowledge sharing, all of which are hallmarks of the modern academic world," Manfredi said.
In addition to the financial support for unexpected costs, Manfredi outlined other steps the University is taking or will be prepared to take to help Individuals outside McGill who are citizens of the affected countries, if the travel ban comes back into force:
Deadlines to apply to certain undergraduate and graduate programs will be extended for citizens of the seven affected countries (Iran, Iraq, Yemen, Syria, Libya, Somalia and Sudan). Application fees for admission to programs in Fall 2017 and Fall 2018 will likewise be reimbursed.
McGill will establish a financial assistance fund for newly admitted students who are citizens of the seven affected countries to offset unexpected costs associated with changed academic plans or additional costs incurred as a result of the application of the Executive Order.
Should the Executive Order be reinstated:
McGill will cooperate with Association of American Universities (AAU) member institutions to facilitate temporary exchange arrangements for citizens of the seven countries currently enrolled at U.S. institutions and whose mobility is inhibited by the Executive Order.
McGill faculty who are willing to host a colleague from a U.S. institution who is prevented from returning to his or her home institution as a result of the Executive Order may also apply to the financial assistance fund to offset the cost of welcoming these scholars to McGill. This might include, for example, support of the cost of office-set up or the acquisition of basic materials. The University will facilitate the granting of Visiting Scholar status to these individuals.
These measures arise from a working group Manfredi established quickly last week at the request of Principal Suzanne Fortier. In his website posting, Manfredi thanked "the nearly 400 respondents to last week's survey on the effects of the Order for their thoughtful responses."
Also last week, McGill confirmed its support of the Universities Canada response to the Executive Order.
Read the Provost's full statement