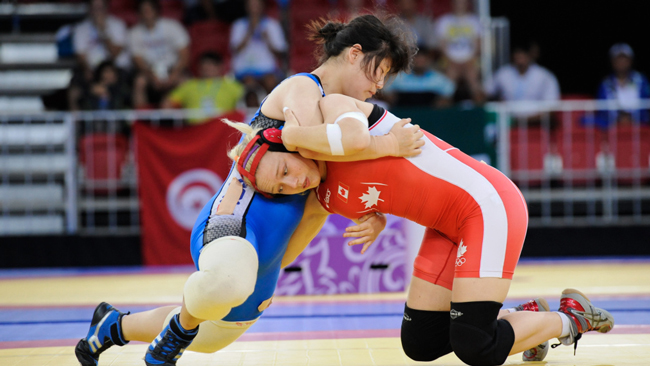 By Earl Zukerman
Three athletes are among a 23-member entourage of McGill graduates and students headed to Rio de Janeiro to serve in an official capacity at the Summer Olympic Games, Aug. 5-21. The athletes, all from Montreal, include wrestler Dorothy Yeats, an engineering student, and a pair of fencers – both recent graduates – Maximilien Van Haaster (B.Ed. Kinesiology '16) and Joseph Polossifakis (B. Com '14).
Among the 14 officials and coaches heading to Rio are a number of former prominent McGill athletes, including IOC Member Richard Pound (swimming, BCom'62, BCL'67), IOC director of legal affairs Howard Stupp (wrestling, BEng'78, LLB'83, BCL'83) and IOC Culture and Olympic Heritage Commission member; Sylvia Sweeney (basketball; B.Mus '75) – all natives of Montreal.
The Canadian Olympic Committee contingent includes modern pentathlon coach John Hawes (swimming; BSc '72, DipEd '73) of Pointe Claire, Que., COC director of team services Derek Covington (track & field; MA'92) of Montreal, manager of team services Marie-Andrée Lessard (volleyball; BCom '01) of LaSalle, Que., and COC board member Julie Payette (BEng '86), a former astronaut who previously competed on the McGill cross-country running team.
Danielle Dobney, currently a doctoral student will serve as a therapist with the Canadian women's basketball team.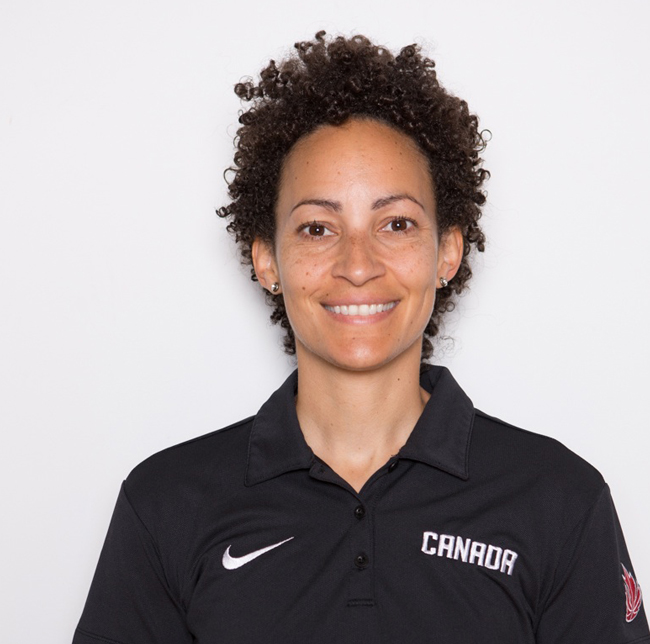 Rounding out the squad of McGill grads on the mission staff is Eric Myles (COC executive director, sport; Executive MBA '10), Sophie Gadoury (COC project manager, team services; BEd PE '09), Shane Fombuena (COC assistant manager, Performance Centre; BEd PE '13), Hayley Wyatt (COC outfitting exchanges officer; BEd PE '09), director of National Sports Federation leadership Marg McGregor (Masters in Management '08) and athlete performance officer Martine Dugrenier (BEd PE '08) of Laval, Que.
In addition to those listed above, five McGill alumni are off to Rio with the CBC and SRC, the Canadian TV rights broadcaster, namely CBC president Hubert T. Lacroix (BCL '76, MBA '81), Olympic Games Daytime co-host David Amber (BA '93), rowing and canoe/kayak commentator, senior consulting producer Bob Babinski (BA '86), Douglas Dirks (BSc PE '86) and Chantal Vallée (MSc '01), who served two years as an assistant coach with the basketball Martlets (1999 to 2001) and will be working at the Rio Games as a hoops analyst for CTV. Finally, Benoit Suire, currently enrolled in the McGill-HEC Montreal Executive MBA program, will serve as head of security for CBC/Radio-Canada.
Not included in the count above are a couple of non-graduates with close ties to the University. Governor General David Johnston will serve as Canada's official representative to the Games and Marie-Claude Dion is a therapist with the Canadian judo team. Johnston served as principal and vice-chancellor at McGill from 1979 to 1994, while Dion is currently employed in the McGill Sportmedicine Clinic.
McGill has a long tradition of involvement with the Olympic Games and the University's Percival Molson Memorial Stadium served as the field hockey tournament venue for the 1976 Montreal Olympics. The athletes heading to Rio de Janeiro are among 125 McGill students or grads that have gone on to Olympic glory over the past century. These McGillians have won a combined total of 31 Olympic medals, nine of them golden, in addition to eight silvers and 14 bronzes.
McGill's first-ever Olympian was the legendary Percival Molson, who competed in track and field at the 1904 Summer Games in St. Louis. The University has also had two of its athletes serve as flagbearer in the opening ceremonies – boxer Dr. George B. Maughan at the 1932 Games in Los Angeles and track star James Worrall at the 1936 Games in Berlin.
R. Tait McKenzie, a renowned McGill gymnast, was the only artist to take part in five Olympics art competitions, winning a bronze medal at the 1932 Games in Los Angeles in "mixed sculpturing – medals and reliefs."
The most decorated McGill Olympian is the late Dr. Phil Edwards, a graduate from the faculty of medicine, who racked up five bronze medals while representing Canada in track & field at the Olympic Games in Amsterdam (1928), Los Angeles (1932) and Berlin (1936). He was the first Canadian male to win medals in three different Olympiads and his achievement stood for 66 years until matched by short-track speed-skater Marc Gagnon (1994, 1998, 2002), who claimed three golds and a pair of bronzes.
Six McGill students have struck gold, five of them at the Winter Olympics.
Hockey goaltender Kim St-Pierre earned gold at three Olympiads (2002 in Salt Lake City, 2006 in Turin and 2010 in Vancouver). Two of her McGill teammates – Charline Labonté and Catherine Ward – also were part of the golden squad in 2010, which added to the gold that Labonté won in 2006. Freestyle skier Jennifer Heil struck gold in 2006 and silver in 2010.
Swimmer George Hodgson, who reached the top of the podium twice at Stockholm in 1912, is the only McGillian to strike gold at the Summer Olympics