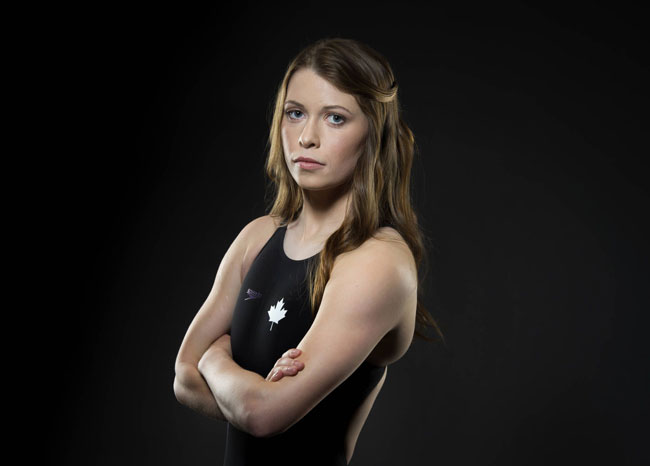 By Earl Zukerman
One McGill student-athlete and three graduates are currently in Rio de Janeiro to serve in an official capacity with Team Canada at the 2016 Paralympic Games, scheduled to begin on Sept. 7.
Swimmer Sarah Mehain, a senior from Vernon, B.C., is joined by three grads on the mission staff, namely wheelchair rugby coach Patrick Côté (B.A.Sc. '06) of Baie-Comeau, Que., chief executive officer Karin O'Neill (M.Ed. '84) of Halifax and Alison Korn (BA '93), who serves as senior manager of media relations and communications.
Korn, a native of Nepean, Ont., is a former McGill basketball player and rower who previously won Olympic silver (1996) and bronze medals (2000) in rowing and was a two-time world champion in women's pairs (1997 & 1998).
This is the second Paralympic Games for Mehain, who swam two of the last three seasons for the McGill Martlets. The 5-foot-3 sprinter competed at the 2012 Games in London and reached the final in four of her six events, where her best result was a sixth-place in the 50-metre butterfly. A 21-year-old Arts & Science student, majoring in sustainability science and sociology, Mehain has cerebral palsy and is hemiplegic. It results in one side of her body being weaker than the other and not as coordinated.
"I am obviously, very proud of all Sarah has accomplished," said Peter Carpenter, head coach of the McGill swim team. "And I am particularly excited for her, knowing all that she is experiencing in the Paralympic Village in these final days before competition starts. She's worked harder than ever this year and has a terrific mindset right now."
Mehain spent the entire summer in staging camps in Gatineau, Que., and most recently at the Toronto Pan Am Sports Complex in Scarborough. She will be swimming five events over the course of the competition (Sept. 8-18), but her primary focus will be on the 200m individual medley and the 50m butterfly, events for which she came fourth and third, respectively, at the International Paralympic Committee world swim championships in Glasgow, Scotland last summer.
Mehain also claimed bronze in the 100m backstroke at the 2013 IPC world championships in Montreal. At the 2015 Parapan American Games in Toronto, she collected four medals, including gold in the 50m butterfly.
Mehain is one of 162 Canadian athletes slated to compete in 19 sports at the Rio Paralympics.
BROADCAST COVERAGE: The Canadian Paralympic Committee Media Consortium will bring unprecedented broadcast and digital coverage of the Paralympic Games. Check the broadcast schedule online.